The playoff races are taking shape.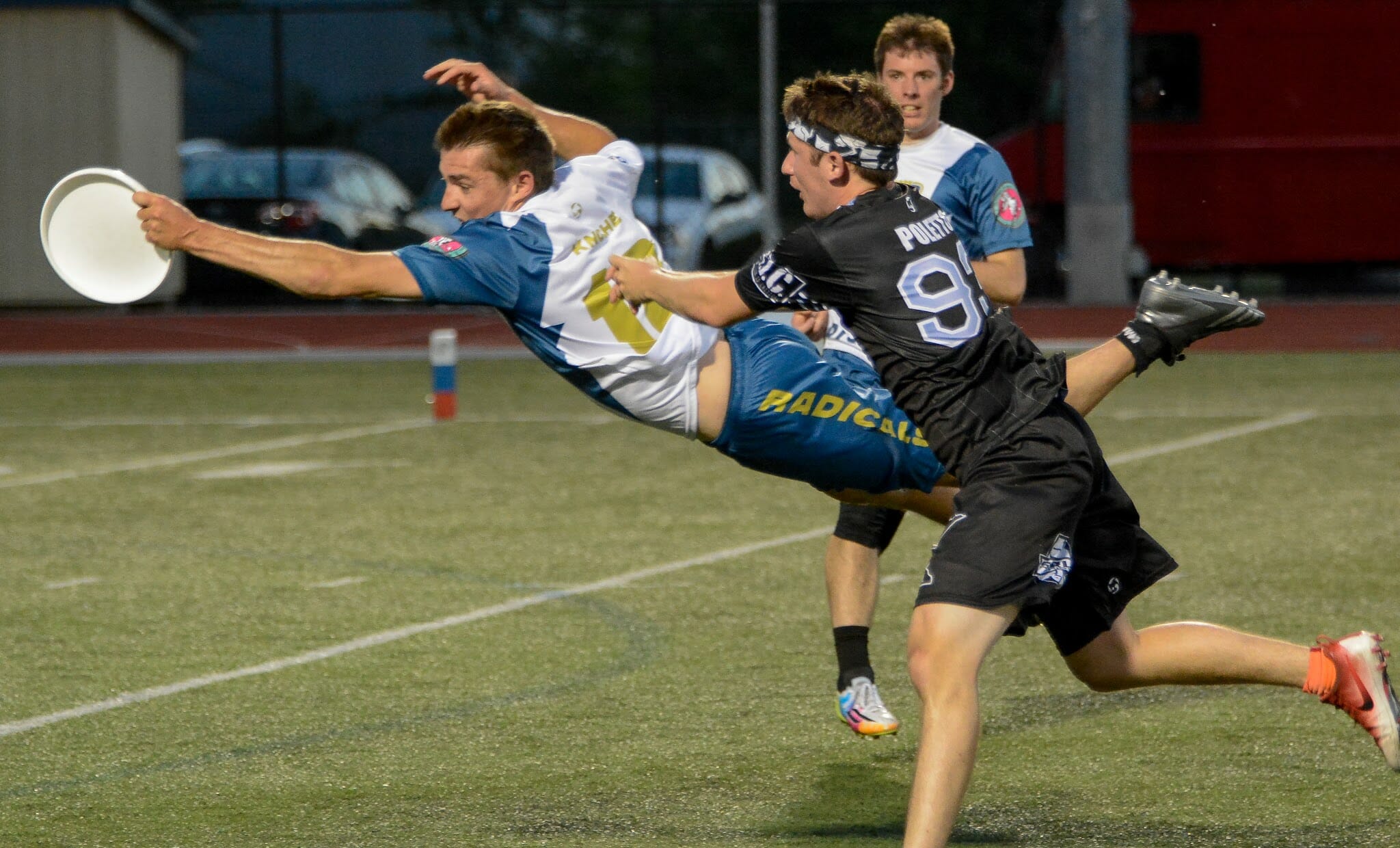 Throughout this AUDL season, Ultiworld will be publishing a weekly Throwaround, a chance for you to catch up on the amazing, funny, and interesting moments that you might have missed from the weekend's games.
A Tossup In The Midwest
When the Minnesota Wind Chill fell behind the Madison Radicals 11-4 in the second quarter, it felt like a familiar script. The Wind Chill have lost to the Radicals so many times and, in recent years, by gargantuan margins. Minnesota was committing simple mental mistakes against the Madison zone and letting the Madison defense score easily in transition after committing the turnover. Their early season win against Madison seemed like a distant memory, a fluke. In the interim, the Wind Chill have kept winning, but have too often played down to their opponents. They hadn't stepped up their game against Madison, a far more formidable opponent than Chicago, Indianapolis, or Detroit. And it showed.
In many ways, the game mirrored their matchup from earlier in the season. Much like Madison in the first game, the Wind Chill were missing some key components and fell behind early. But when Madison fell behind in that first game, a rally felt inevitable. The Radicals, even without players like Tom Annen and Peter Graffy, were too good and too tested to lose big to a divisional rival. But when the Wind Chill fell behind, a comeback seemed like a faint hope. Minnesota hadn't done this before. Playing behind against Madison has meant only one thing, a loss.
That's what ended up happening Saturday night too, but it was a wild ride getting there. The Wind Chill came all the way back from a seven goal deficit to force overtime. Players like Colin Berry, Logan Weiss, and Jimmy Kittlesen made big plays for the defense to make a run. By the time overtime came around both teams were fatigued and only scored three combined goals (two by Madison). The Radicals made some nice plays and the game was over.
The implications of this game can be looked at a few ways. It'd be easy to say that this was a blown opportunity by Minnesota; perhaps it was. If the Wind Chill hadn't started so sloppy, they'd probably be 8-0 with a potentially insurmountable two and a half game lead over Madison with six to play. And while the Wind Chill may have played well so far against the Radicals at home, they haven't yet played them in Madison.
The better takeaway is that this race is a genuine tossup. Both teams have mounted comebacks against one another. In their next game on July 1st, no lead will seem safe. Pittsburgh has challenged Madison before and even beaten them once, but the Thunderbirds have always been the challenger, not a contender on equal footing. For years, the Midwest has held the dullest path to Championship Weekend. That is no longer the case in 2017.
-Nathan Jesson
Growlers Down Seven, Come Back To Beat Seattle
https://twitter.com/theaudl/status/874628347510218753
MVP Race Check In
Most Valuable Player defining moments aren't made in games against the Nashville Nightwatch. But Jonathan Nethercutt's 12 assist performance on Saturday night against Nashville wasn't his capstone to the season, it was just the latest in a line of eye-popping outings. It wasn't even as many assists as his 13 against Dallas. With four games left in the season he has already thrown 59 assists, with a 94% completion rate. He's been named the AUDL Player of the Week twice already.
https://twitter.com/theAUDL/status/873193277201145856
A SportsCenter Top 10 appearance. A huge performance in the biggest game of the season. He certainly has the credentials.
Sure, throwing to guys like Ben Dieter, Terrence Mitchell, Goose Helton, Matt Bode, and Jacob Fairfax does make life a little easier. But Nethercutt isn't the only one in the league throwing to elite receivers. And Raleigh is on top of the league in no small part thanks to his play.
Some of the other early contenders had good weekends too. Mark Burton threw 14 assists for the Seattle Cascades over two games, even if both were losing efforts. The Spiders lost by eight without Justin Norden to San Francisco, which exemplified his importance to their team. Cassidy Rasmussen had six assists and three goals for the FlameThrowers in that same game. Dallas didn't play but you could pick a number of Roughneck players as potential contenders as well.
Raleigh has four games left, and a 13-1 record looks very achievable: two games against Nashville, an away game in Atlanta, and a home game against Jacksonville are definitely not sure things, but the Flyers have to be considered favorites in both.
So Nethercutt could potentially not only end up as the guy with the best numbers, but also as the guy that meets the "best player on the best team" qualification. Value over replacement player? Noah Saul, Dave Snoke, and Brian Casey have all played well in supplementary handler roles for Raleigh, but does anybody really think Raleigh would be 3-0 against Jacksonville and have that seven point win against Dallas without the Beard?
Having a pure handler win the award in back to back years feels off, but if Nethercutt keeps producing like this and the Flyers finish strong, there may not be another choice.
-Nathan Jesson
DC Thumps A Sluggish Toronto
The Toronto Rush, for the second time this season, went down to Washington DC for the second game of a back-to-back. And for the second time this season, they got smashed by the Breeze 25-17. It was the Rush's lowest scoring performance of the season.
In oppressive 95 degree heat (and even hotter on the turf), the Rush's thin roster did not have nearly enough gas in the tank to slow down a full-strength Breeze team. The Rush managed just a single break against the Breeze in the entire 48 minutes. Yikes.
The Rush were down a number of starters (Andrew Carroll, Geoff Powell, and Mark Lloyd) due to World Games practice; Adrian Yearwood and Johnathan Martin also didn't make it on the road trip.
This was the third and final meeting between the two teams, who split the series 2-1 in DC's favor. The home team won every game.
That DC now holds the head-to-head tiebreaker1 has gotta leave a bad taste in Toronto's mouth. Both of Toronto's losses to DC came on the back end of a road trip. Don't be surprised if the AUDL's schedule makers hear from Rush management about the imbalance.
With the Rush now set to face San Francisco in the Cross-Coast Challenge, things don't get any easier. They should probably starting getting ready for yet another road trip down to DC for the Eastern Division final in August.
-Charlie Eisenhood
---
If they finish the season with equivalent records, DC will get the higher seed ↩