Some scattered thoughts on the USA's U24 teams.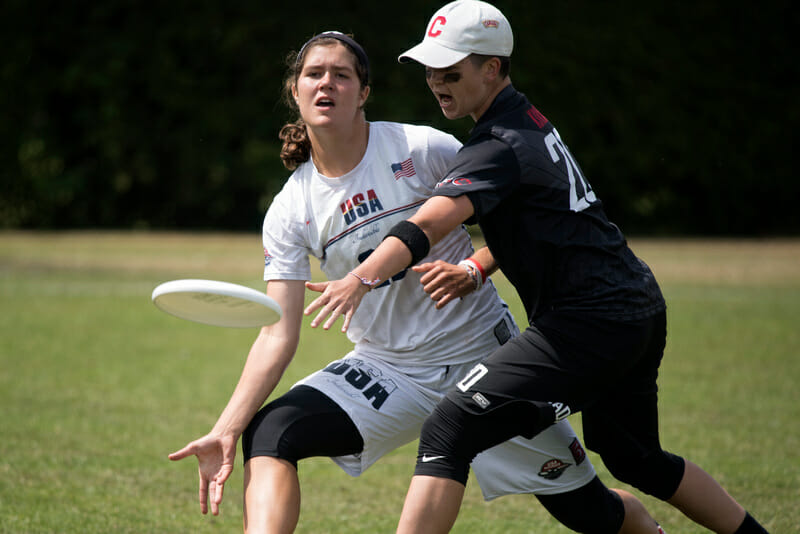 ATLANTA — The three US National Teams that will represent the nation in Perth, Australia, at the Under-24 World Championships just wrapped up their first practice weekend on Sunday. Each team was given room to operate on their own schedule, with team leadership organizing team building and practice schedules for the two days. While one team might be designing and defining their team philosophy, another might be finishing up a round of morning drills in anticipation of their lunch break.
To cap off the weekend, local club players gathered at the Georgia Soccer Park to take on the three U24 squads. The men's and women's games took place simultaneously, while the mixed matchup got the top billing and a nice little crowd as the final game.
Women's
The women's team took on a mostly-Ozone group from Atlanta and were defeated 15-11.
Carolyn Normile (Pittsburgh) was a standout with her ability to open up the field with deep throws, even from trying positions. As the game wore on, her teammates seemed better in tune with her aggressiveness.
Danielle Runzo (Case Western) had the play of the game with a nice layout block on an under. She also displayed her hard-running abilities as a handler.
The poise and leadership of Angela Zhu (Dartmouth) is palpable. Years of representing the US internationally and a string of Club and College championships makes her perhaps the most experienced player in these types of contests.
Like seemingly all of Team USA, the women's team struggled defending deep lanes and were targeted frequently by deep shots from the Atlanta women, who were in form led by Paula Seville and Katherine Wooten.
The game was a little short on big plays, as everyone seemed to be working things out.
Men's
The men's team took on a mix of club players and Atlanta Hustle contributors and won 17-12.
The most frequent center handler isn't a big name star but Codi Wood, a Penn State grad who is entering his 5th year of college ultimate as a grad student with Minnesota. He looked very comfortable with a lot of touches.
Joe White (Carleton) and Jake Fella (Purdue) were two more standouts, especially as rangy downfield defenders. White had a very nice deep block on what looked like a wide open goal.
The red zone offense for the men was in fine form, with nice upline cutting and throwing counters. They will be tough to stop if they can get near the goal line.
Keegan North (Cincinnati) flashed some real potential to make a big impact, getting up to make difficult grabs and throwing a nice crossfield blade for a score.
Thematically, the men struggled to defend the deep space well and rarely utilized that part of the field when they had the disc.
Mixed
The "USX" was the most dominant of the three teams, rolling through the collection of Atlanta talent on the other side, maybe 15-7.
The downfield person defense was smothering, creating a ton of pressure, near-blocks, and forcing mistakes. Matt Gouchoe-Hanas (UNC) nearly had a layout Callahan on a centering pass after running down the pull, but it was called back on a strip. Brett Gramann (UMass) was in on a double-layout that forced the offensive player into a drop. It was their best weapon.
Joe Freund (Virginia Tech) looks A) really big and B) really good. He was a menace deep, but also showed some touch, with a beautiful inside out backhand huck to a streaking Gramann for an early goal.
Utilizing her speed, Alissa Soo (Whitman) showed she could grind out unders as a non-stop roadrunner that kept the disc moving quickly.
Representing the west coast, Kristen Pojunis (UCLA) hit Lior Givol (UC Santa Cruz) with a beautiful sailing flick huck for one of the game's prettier scores.
Newly-crowned Club Mixed Player of the Year Runner-Up and Breakout Player of the Year Anna Thompson (Penn) came close to numerous impressive blocks, and showed off the fearless playstyle that helped her take home so many accolades.
To be honest, there weren't a ton of big plays from any of the teams, with the Mixed team providing the most fireworks. Mostly, the teams seemed focused. While their inability to defend the huck could prove problematic, it's so early that they could have simply been focused on winning under lanes, knowing they will be bigger and more athletic than most teams they face in Australia. But that lack of deep D could get exposed by athletic outfits like Canada, Australia, and Colombia.
The women faced the toughest opposition and didn't really play much worse than the Men, despite vastly different final scores. They had a few more miscues, but they were execution problems, and there very few bad decisions or undue risks. Mixed was the most impressive unit; they have so much explosiveness that they will be a handful in any matchup.
All three teams will be definite favorites in Perth, but USA dominance is no foregone conclusion given recent trends. The women, in particular, have struggled to find international success lately, including at this year's US Open, which was won by a Revolution team that will have some crossover with the Colombian U24 National Team.