A new, fully-sublimated wearable that looks good and decreases your laundry pile.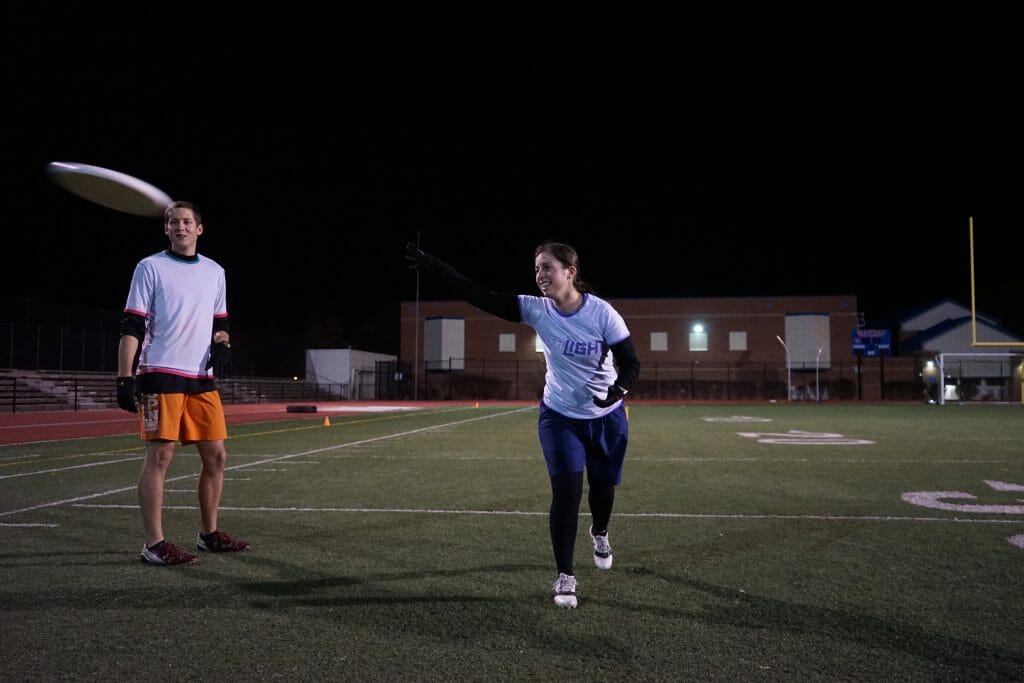 Disclosure: Ultiworld was compensated for writing this product review. All opinions are the reviewers' own and are not subject to approval from the sponsor. Please support the brands that make Ultiworld possible and shop at Mint Ultimate. 
Mint Ultimate is best known for their ultimate gloves, "The Cutter." They are driven by their philosophy: "Cut with Purpose" and design products with deliberate functions to help ultimate players achieve their potential and improve their performance. Mint is gearing up to expand beyond just gloves and enter the jersey market. Mint believes the DarkLight jersey, their debut ultimate top, will be the "only shirt a player needs for practice or pickup.
What is the DarkLight?
The DarkLight jersey is a single-layer, fully sublimated, reversible jersey. The jersey is made from a soft, silky fabric that is similar to many other sublimated jerseys on the market. It has exposed stitching on both sides and it's unclear whether the exposed stitching serves a purpose or is for style points. Overall, it is lightweight, soft, breathable, and allows for unrestricted movement.
User Group And Testing
Here in Colorado, we are still experiencing beautifully sunny days in the city and powder days up in the mountains. I was sent two short-sleeved DarkLight jerseys, one in Mint's signature red and the other in lilac. Both had white on their reverse sides . I tested each jersey in a variety of conditions and situations:running on the treadmill, lifting in the gym, snowboarding, and league games.
While the innovation of the jersey is in its functional reversibility, it is still important to know the jersey quality and that it can withstand the variety of activities for which ultimate players rely on their gear.
Fit
I am short —5'2"— and I nearly always wear small ultimate jerseys. On occasion, I have issues with restrictive sleeves or a restrictively fitted torso style, but I don't typically have much variation when ordering. The Mint DarkLight fit quite well. The sleeves were comfortably loose and are not restrictive at all. The raglan style, which means the sleeve extends in one piece fully to the collar (for you fashion aficionados out there)), allowed for easy and comfortable arm movement in any direction.
The jersey seemed to have a slightly longer torso than others in my rotation. Along with my height, I also have a short torso. From what I've heard from taller female players, a jersey that provides some extra length is desirable. At least for me, a short player, the extra length gives a loose, comfortable fit.
I like the feel of the collar and I really like the sublimated tag, which eliminates irritating and annoying synthetic tags, but is expected for a reversible jersey.
Fabric
I'm not sure that there is anything that particularly stands out about the fabric. It is comfortable, but is also what I've come to expect from ultimate jerseys.
The exposed stitching didn't bother me from a style perspective, however I did layout on turf at league and the turf stuck to the bottom stitching like velcro and couldn't be brushed off. It was both a small detail and small sample size, but it stood out to me, especially in the context of the futile battle to not bring the turf home with you after a game.
Concept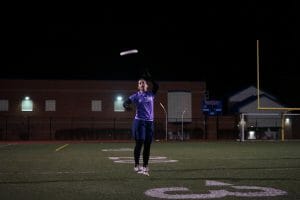 I think this is my biggest issue with the DarkLight. As someone who owns quite a few sublimated jerseys, I regularly turn them inside out to go from dark to light. This is not a new concept, but rather something that Mint attempted to repackage and sell as a jersey revolution. Essentially, they've simply printed the logo on both sides of the jersey. I am not sure that the "DarkLight" concept in and of itself is enough of a differentiator to buy this jersey, unless you're desperately looking for new ways to shrink your laundry pile (who isn't?!).
The DarkLight isn't alone in the ultimate marketplace, but the DarkLight is available for $30 per jersey, which makes it a solid value option. I found the DarkLight designs to be simple, and it's worth noting that stepping up in price may land you with more customizable options.
I do think there is a ton of potential for this concept. Organizing and paying for your team's kit every season can be a big pain for players and teams. The potential for each player to spend less by only having to buy one jersey could be huge for players and teams.
Currently, the DarkLight is only available in a few colors: dark blue in men's sizes and lilac in women's sizes. These choices felt slightly heteronormative to me and the lilac is dangerously close to an ambiguous "dark." Mint also offers the jersey in graphite and their signature red (in both men's and women's sizes), but only in a combo set.
With such limited colors, the jersey really is best marketed for practice, pickup, or other activities where a specific color isn't needed. For example, I wore the lilac to league but my team is blue. Fortunately we played a black team, so it didn't matter.
Additionally, for a limited time, the jerseys come with a drawstring Mint bag, which was a nice little bonus perk.
Overall
The DarkLight is a comfortable, well-made jersey that stands up to a variety of activities in a variety of conditions. It fits well and is made from a light, breathable, silky fabric. The concept of a reversible sublimated jersey, while not revolutionary or ground-breaking, has obvious benefits. There is great convenience and cost saving potential should Mint offer team customization options for the DarkLight, which currently is not available.
Overall, the jersey felt similar to many options currently on the market. The reversibility was not enough of a differentiator for me to put it in another playing field than its competitors.
In rating speak, I'd rate my time so far with the Mint DarkLight jersey a favorable four out of five stars.