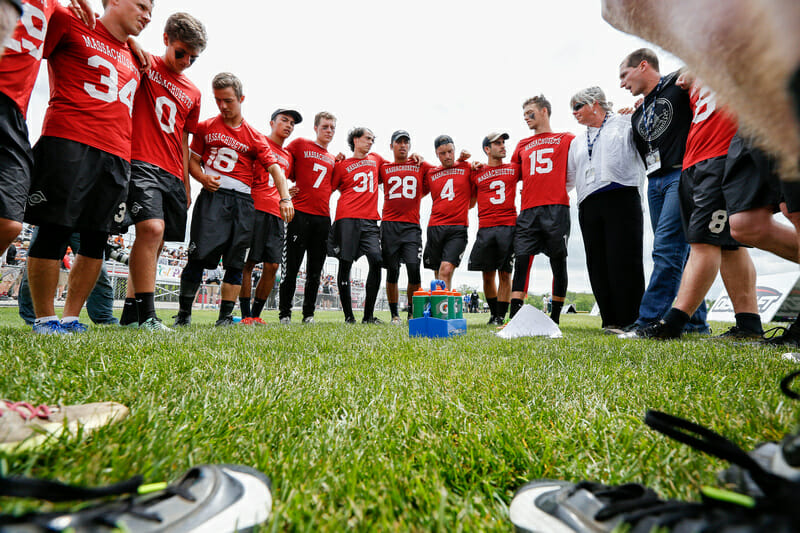 During the 2018 college season, UMass Men's coaches Tiina Booth and Russell Wallack will be writing a weekly Coaches' Corner for Ultiworld subscribers. Their intention is to offer a template for coaches (or captains) on how to put together a new team or how to help a struggling team. Topics will include setting goals, introducing mental toughness, designing effective practices, and avoiding the traps of competition. Throughout the series, they will also answer questions periodically in a Coaches' Mailbag feature, freely available to all readers. Tiina and Russell look forward to sharing their expertise with the coaching community, as well as sharing their empathy when things do not go as planned, on and off the field.
***
I coach because I teach. Having been a public school teacher for 25 years, I see little distinction between standing in front of a classroom and standing in a huddle. And just like I was once an inept and stressed-out teacher, I was the same as a coach. Chaotic management, misplaced priorities, and emotional upheaval characterized my early days of both teaching and coaching. I was lucky to have a few mentors to help me along the way. Russell and I wish to serve in that capacity for new and struggling coaches through this series of columns.
Ultimate coaches are so hard to find that often we do not have to go through a formal interview process with an athletic director. We lose an opportunity to reflect on why we want this job, so please take a few moments and conduct a "self-interview."
Why do you want to coach?
What are your strengths and challenges as an educator?
What is your vision for your team?
Now I will not presume to answer these three questions for you. Everyone has their own reason for joining the ultimate coaching corps and we thank you for undertaking this enormous challenge. After decades of observing and mentoring, however, I am well aware of the pitfalls that await those who are unclear about what the job really entails. Here are some common traps with, of course, a few suggestions on how to become a successful ultimate coach.
Coaches' Corner: Introduction & Preparing For The Season is only available to Ultiworld Subscribers
Already have a subscription? Log in
Whether you visit Ultiworld for our reporting, our podcasts, or our video coverage, you can help us continue to provide high quality content with a subscription. By becoming a subscriber, not only do you receive benefits like exclusive articles and full article RSS feeds, you also help fund all of Ultiworld's coverage in general. We appreciate your support!