There are a lot of ways to add value to your scrimmages at practice.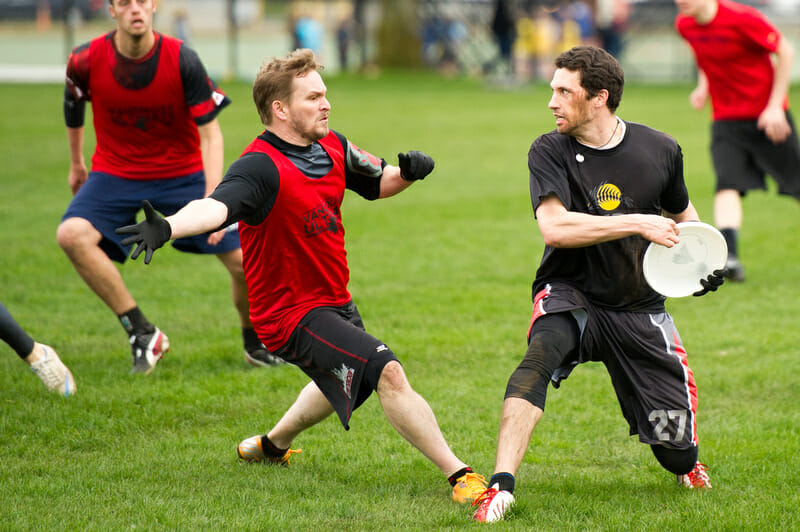 This article is part of the Coaches' Corner series from UMass coaches Tiina Booth and Russell Wallack. See every article in the series here.
UMass practices consist of five components: huddles, dynamic warm-up, conditioning, drills, and scrimmaging. The only specificity to the order of these activities is that a huddle and dynamic warm-up always come before the other activities. Beyond that, we heavily integrate drills and conditioning into our scrimmage time. Drills put our players in positions to develop, and then scrimmages double down on the developmental opportunity. The aim with our combinations of scrimmages and conditioning is to increase the adversity and diversity of the situations the players face. Players are not "being trained for every situation," but they are developing their ability to adapt their training to any situation.
Our Basics for Scrimmage Design
Every scrimmage is an opportunity to practice competing. If players are holding back in a scrimmage, they are building bad habits, and they are not challenging the growth of their teammates. No matter how smart you think your commentary is as a coach, if your players are not pushing each other, you are missing out on a lot of value at your practices.
Over the past few years on UMass, we have implemented well over 20 different scrimmage varieties — every time we have chosen a new variation, it has been for a reason. With any scrimmage design, this might be the most important part: know what you are trying to accomplish with the scrimmage.
Here are a couple of examples of scrimmages that we use and why.
Coaches' Corner: Getting The Most Out Of Scrimmages is only available to Ultiworld Subscribers
Already have a subscription? Log in
Whether you visit Ultiworld for our reporting, our podcasts, or our video coverage, you can help us continue to provide high quality content with a subscription. By becoming a subscriber, not only do you receive benefits like exclusive articles and full article RSS feeds, you also help fund all of Ultiworld's coverage in general. We appreciate your support!