The stars were out in both divisions, with underdogs winning in both championship games.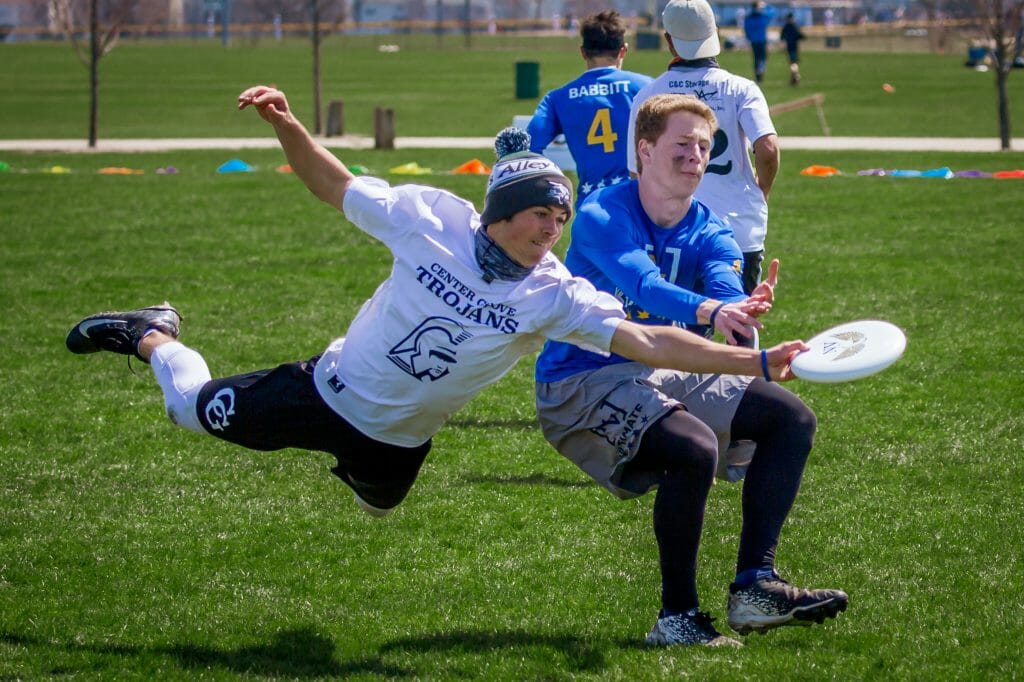 Ultiworld's coverage of Neuqua Knockout is presented by CUT Camps; all opinions are those of the author. Please support the brands that make Ultiworld possible and check out CUT Camps!
AURORA — Some exciting rematches, narrow victories, and impressive performances from top teams and players made Neuqua Knockout 2018 an awesome weekend of ultimate. Center Grove boys and Roosevelt girls came away deserving champions with very different journeys, but it's clear both should be considered top teams moving forward. There was a lot to learn about the rest of the field, including many teams making their debuts for the season.
Boys' Division
Back to Back Wins for Center Grove
#10 Center Grove secured a second straight tournament crown at Knockout with a 9-8 win over #9 Neuqua Valley. On Sunday, Center Grove played with a different pace and intensity. While on Saturday, they avenged their Indy Invite loss to Lexington Pi, they did not look like the polished athletic juggernaut they ultimately became on Sunday.
"We talked on Saturday about the fact that even though we won our games, we shouldn't be satisfied by the score or our record," explained head coach Jake Phillips.
Center Grove opened its Sunday run to a championship with a 10-6 beatdown of Paideia. The key weapon in Center Grove's arsenal of athletes was senior center handler Alex Henderson. In the 10mph crosswind, which became a significant element on Sunday, Henderson showed a level of poise and maturity with the disc representative of his high level experience. Henderson combined the perfect balance of discipline and aggression on offense, using every throw in his large arsenal to bust open zones and get the offense moving. On the defensive end, Center Grove's athleticism showed, particularly in the air on Sunday, as discs that hung up in the wind became easy prey for their players.
The final against Neuqua Valley was the game of the weekend in the boys' division. It was an energized game with the sideline packed full of parents and fans of both squads. Center Grove's game plan was to get the disc out of the hands of Joey Kennedy and force NV to put up shots deep in the vicinity of Center Grove's athletic defenders. The host squad started off slow against Center Grove and the Trojans went up 2-0 to start. Center Grove's athletes weren't the only ones roaming the skies in the final however. After a clean hold, Neuqua Valley's Joe Cercello earned the first of several big skies, helping his team rally to take the lead 3-2.
The game seesawed back and forth as both teams traded leads all the way to half. At one point, Center Grove was up 5-3 before Neuqua Valley rallied again once again, breaking to tie the game at 5-5 off of a sky by Cercello. As both teams closed in on half, the stars of the show took over. Henderson demonstrated his throwing prowess with huge huge backhand through Nequa's zone. Joey Kennedy answered out of an NV timeout by shaking Henderson for the 6-6 goal.
Chaos ensued on the subsequent point as both teams battled to take half. Cercello set Neuqua Valley up perfectly for a break for half with a pull into the back of Center Grove's endzone. Center Grove's offense stayed collected despite their position. Henderson spied Carter Franklin deep and launched a pristine huck that blew open Nequa Valley's zone. Neuqua got the disc back, however, when Henderson dropped a wide open pass from Franklin on an upline cut up the backhand sideline. Both teams exchanged turnovers and blocks before Cercello finally sealed the break with a perfect flick huck to a wide open Kennedy.
Neuqua Valley was fired up with their 7-6 lead, but Center Grove was unfazed as they received the pull to start the second half. Once again, the Trojans' offense worked patiently to move through Neuqua Valley's zone until Henderson found Cameron Thatcher with a flick blade. With hard cap closing in, the decisive moment came on the subsequent point, when Franklin got a big layout block and the bookends score as Henderson aired out a forehand to his teammate for the 8-7 break.
After receiving the subsequent pull on their goal line, NV was able to march up to midfield but the Center Grove defense stifled the lanes against their horizontal stack. Their receivers were pushed further and further away from the backfield as the stall count rose. A high stall flick sailed into the grass on the sideline and Center Grove punctuated their final goal of the game as Dustin Baird skied a pile of players on Neuqua Valley's goal line and notched an assist. The hard cap horn sounded as Center Grove locked up in a huddle to send out another line. Cheers broke out from the squad as they realized that no matter who scored the next point, Center Grove had just secured its second straight Neuqua Knockout Championship.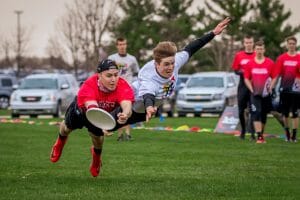 Henderson was visibly emotional after putting on a wall to wall performance on Sunday. He would sit the final point of the game, coming of the field clutching the shoulders of two of his teammates as he walked off to the sideline. The job was done and his weekend was over.
"The first thought going through my mind was 'We did it again'," said Henderson after the game.
Neuqua Valley scored the final goal of the game to close out the final 9-8. A second straight Knockout title solidified Center Grove as the best boys' team in the Midwest for arguably a second straight season. Phillips was proud of the Trojans' ability to deal with the windier conditions and play at a different level on Sunday.
"I love seeing them build the skill to fight through adversity. I love breeding that into these kids and I feel like they get it. They're going to go one hundred percent and be proud of their effort. Whatever they face at Paideia Cup or Nationals, they will have this lesson. Never quit."
Neuqua Valley came away with plenty of lessons moving forward from the weekend. While NV certainly played well at multiple points during the weekend, they also showed offensive inconsistency that allowed teams to put up runs against them. In their pool play matchup against Edina on Saturday, NV went up 6-3 only to let up four straight. Neuqua Valley won on double game point, but the game was a symptom of the problems Neuqua Valley faced during the weekend. In the final, NV's inability to convert break opportunities efficiently kept them from taking hold of the game.
"I think it's those little execution mistakes that you can't have in a game like this," reflected head coach Arnoush Javaharian. "They were able to capitalize on our mistakes and we weren't able to capitalize on their mistakes and I think that's 100 percent the difference."
Kennedy and Cercello were particularly instrumental in the final for NV. Kennedy is a very well rounded lefty and his ability to break the mark inside was a big asset in moving Neuqua Valley's horizontal stack. Cercello, on the other hand, was a vital factor in NV's ability to get blocks in the air against Center Grove's big athletes. He also had several impressive shots downfield that propelled Nequa Valley to breaks.
Elsewhere in the Field
A few teams made strong impressions elsewhere in the bracket.
One such team was #20 Great River, in their first opportunity to play outside so far this season. A 1-2 pool play record doesn't look great on paper, but those games helped the team build their chemistry and get used to playing with one another, especially when they had not yet held an outdoor practice in the 2018 season. In quarterfinals, they played with an intensity on the field, particularly on defense, as well as off the field that helped buoy the team, contributing to the long grind to win on double game point over Lexington Pi.
The same intensity was on display in the semifinals where they took a time out after Neuqua opened the game 2-0, coming back to take three unanswered points against the home team. The execution errors that affected them to start the game appeared less often; as coach Donovan O'Dowd remarked, "We refocused and went back to what was working for us all day–taking the little swings and staying patient on offense." That, paired with zone defense looks as the wind picked up and the high energy on the sideline, kept Great River trading points back and forth until Neuqua scored the final two points of the game to win, 8-6. The energy on the sideline "really showed up in our last game…it just took over and got us a lot of D's," coach Isaac Ruff noted.
The other semifinalist, #14 Edina, had a more difficult time matching up against the talents of Center Grove. Edina struggled to win their downfield matchups, as well as stop the deluge of break looks Center Grove got off. Edina started taking ground where they could, particularly as Center Grove's marks got sloppier later in the game as the point differential grew. For this team, especially at their first tournament of the season, making it to the semifinals in itself was an accomplishment. For coach Nate Wohl, the big effort was to get his players experience against "a good, experienced team like Center Grove–I can't simulate that in practice." While not able to crack their defensive looks in the 9-4 loss, Edina knows what they need to work on in the rest of their season to square off against high caliber teams.
Despite coming into the tournament as the one seed, #7 Lexington Pi failed to impress this weekend. They certainly showed the ability to play big against the top teams but lacked the depth and the legs to match up on squads that were familiar with the upstart Indy Invite champion. Center Grove won their rematch in pool play decisively.
Girls' Division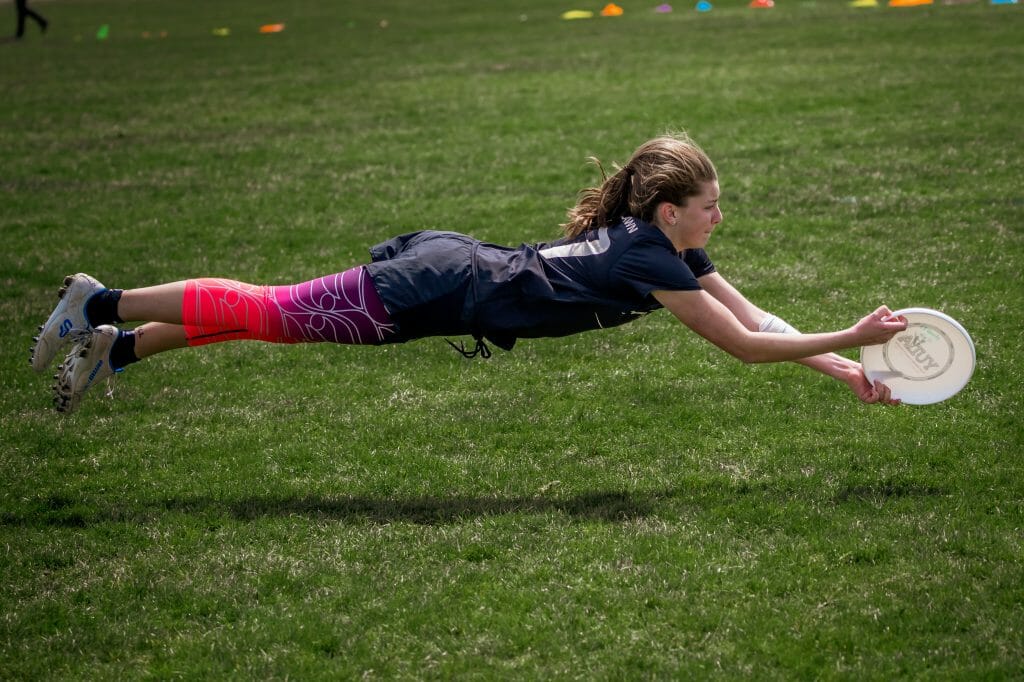 Roosevelt Tramples Over Bracket
Girls' bracket play was largely made up of uneven matchups. Teams that won their prequarters games by giant margins then went on to themselves lose by large margins. Players went down injured and differences between talent were exposed. The team that delivered those serious losses to everyone did so all the way through the final, which #5 Roosevelt Rough Riders took 9-1 over #3 HB Woodlawn Pandamonium.
As the wind picked up, Roosevelt's patience on offense and stifling person and zone defensive looks helped the squad rack up the points. Even towards the end of the match, as legs tired out and impatience ramped up, Roosevelt kept their focus, overworking Woodlawn's zone spacing with patient swings and crashing upline cuts where needed. Woodlawn struggled to time their throws in the wind, regularly overthrowing their cutters, as well as struggling with misreads of the disc. Even so, Pandamonium worked hard, forcing Roosevelt to dig deep for long points in the wind; more than a few times they worked the disc up to the end zone but just did not make the catches needed to put more points on the scoreboard.
For Roosevelt, the tournament win and overall weekend marked a culmination and clicking of team goals as the high school team enters the postseason of league play back home on the west coast. As coach Charlie Eide noted, their efforts "all season to use our sets and hustling into position, executing with discipline…instead of trying to out-athleticize" were on display and in no small part helped bring the championship home. Bailey Shigley was extremely steady for Roosevelt in the backfield and Roosevelt's ability to match up on any team was evident throughout the weekend. They were a step ahead of the pack and it showed.
Gritty HB Woodlawn Off to Strong Start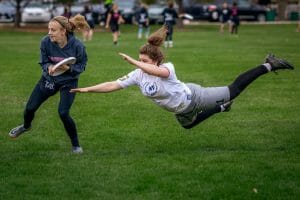 Chemistry and tenacity defined HB Woodlawn's journey this weekend. The "All In" identity that Woodlawn brought to the tournament went through a serious test of strength as they gritted their way to the final with a roster of 17. By the time the weekend was over they were down to 15, with star Ella Juengst sidelined with an ankle sprain after a scary collision in the final round of pool play.
"All of our focus and all of our energy is in our team" commented captain Maya Nir on Saturday. "Coming into this tournament we knew we'd have to grind for every game and I think we did that."
Caroline Tornquist had a big Sunday for Woodlawn, with very crisp throws in the wind and a commanding presence on defense reflective of her experience. Woodlawn's defense was particularly effective in their semifinal, and Woodlawn took the game away early from Neuqua Valley eNVy, in a rematch of their double game point win in pool play. A four person cup slowed eNVy's typically aggressive offense down to a crawl in the wind. Woodlawn finally ran out of gas in the final against Roosevelt. A second place finish in the face of competition that tested this team to its core bodes well for the coming weeks.
"I think we grew [stronger] mentally in the sense that each player was a vital part of every point and we had to trust each other in new roles," said Nir after the tournament.
Elsewhere in the Field
The path to that girls' final was largely, other than Roosevelt's semifinal match, the Rough Riders and Pandemonium dominating the rest of the competition. Roosevelt did feel pressure in their match against Holy Family Omega, a game that ended 11-8. Meanwhile, HB Woodlawn defeated no. 7 seed Neuqua Valley by a score of 7-3. Each of those teams had had, in turn, a relatively easy path through quarters, handily defeating Edina and Paideia Groove, respectively.
In particular, Paideia's bowing out in the quarterfinal match was a both a strong showing for #22 Neuqua Valley, who took half 7-0, and a game of jitters and defensive struggles on the part of #15 Paideia against Neuqua's vertical stack. Paideia found their rhythm (and groove) to get out of their funk by resetting in the second half, scoring five unanswered points as they changed up their defensive efforts. It was too little too late to prevent eNVy from advancing.
Of the teams that did not earn a bye into quarters on Saturday, eNVy showed the greatest promise. Double game point losses to Omega and Woodlawn may have consigned eNVy to the prequarters round, but they challenged the top squads with high energy and spunk all weekend. Allie Swiatek was the motor driving eNVy's offense with very aggressive throws and quick handler movement.
While falling in the semifinals, #10 Holy Family Omega also had a strong weekend, trouncing weaker opponents and holding their own against eNVy and Pandamonium. Their play over the weekend was characterized by limited miscues and smart decision making on offense; their girls also excel at using upline cuts with deadly effectiveness. Holy Family reminded the competition just why they shouldn't be counted out in bracket play.
Looking Ahead
Looking forward from this weekend the number one thing on the mind of many coaches was the potential for rematches at Paideia Cup. Several top squads from both divisions will be in attendance and the drama of this high school season, one which has featured some great games up to this point, is just beginning to hit its zenith.