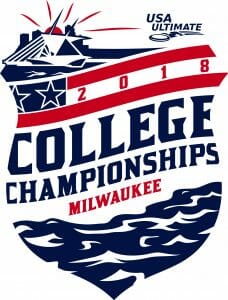 Ultiworld is thrilled to announce that, in partnership with USA Ultimate, we will be streaming 11 games LIVE from the 2018 Division I College Championships in Milwaukee, WI, on Friday, May 25; Saturday, May 26, and Sunday, May 27. We will have coverage of nine pool play games, a Women's prequarter matchup on Saturday afternoon, and a Men's quarterfinal matchup on Sunday morning.
The Ultiworld streaming schedule will be supplemented by 11 games being broadcasted by USA Ultimate, giving fans at home the option of a high quality Women's and Men's Division game during every early round.
Here is the full livestreaming schedule. All Ultiworld games will be easily accessible on our Live page (also available for free on our YouTube channel) alongside our extensive reporting from the tournament. We will also have links to the USA Ultimate games on their social channels. Ultiworld game replays will be available in our archives to subscribers.
If you enjoy the games and our reporting, please consider getting an Ultiworld subscription!
All times Eastern.
Friday, May 25
9:30 AM: Florida State vs. Pittsburgh (M): Ultiworld
9:30 AM: Michigan vs. California-San Diego (W): USA Ultimate

11:30 AM: West Chester vs. Colorado (W): Ultiworld
11:30 AM: Massachusetts vs. Carleton College (M): USA Ultimate

1:30 PM: Minnesota vs. North Carolina (M): Ultiworld
1:30 PM: Western Washington vs. Carleton College (W): USA Ultimate

3:30 PM: British Columbia vs. North Carolina (W): Ultiworld
3:30 PM: Georgia vs. Oregon (M): USA Ultimate

5:30 PM: Washington vs. Brown (M): Ultiworld
5:30 PM: Oregon vs. Stanford (W): USA Ultimate
Saturday, May 26
9:30 AM: California-Santa Barbara vs. Tufts (W): Ultiworld
9:30 AM: Pittsburgh vs. Brown (M): USA Ultimate

11:30 AM: Wisconsin vs. Oregon (M): Ultiworld
11:30 AM:Pittsburgh vs. North Carolina (W): USA Ultimate

1:30 PM: Stanford vs. Massachusetts (M): Ultiworld
1:30 PM: Ohio State vs. Oregon (W): USA Ultimate

3:30 PM: Carleton vs. Texas (W): Ultiworld
3:30 PM: Wisconsin vs. Georgia (M): USA Ultimate

6:15 PM: Pre-Quarterfinal (W): Ultiworld
6:15 PM: Pre-Quarterfinal (M): USA Ultimate
Sunday, May 27
9:00 AM: Quarterfinal (M): Ultiworld
9:30 AM: Quarterfinal, Teams TBD (W): USA Ultimate

12:30 PM: Semifinal #1 (M): ESPN3, ESPN App, TSN GO
3:30 PM: Semifinal #2 (W): ESPN3, ESPN App, TSN GO
6:30 PM: Semifinal #3 (M): ESPN3, ESPN App, TSN GO
9:00 PM: Semifinal #4 (W): ESPN3, ESPN App, TSN GO
Monday, May 28
3:00 PM: Men's Division Championship Game: ESPNU, ESPN App, TSN GO
5:00 PM: Women's Division Championship Game: ESPNU, ESPN App, TSN GO