Brute seeking 2nd US Open title.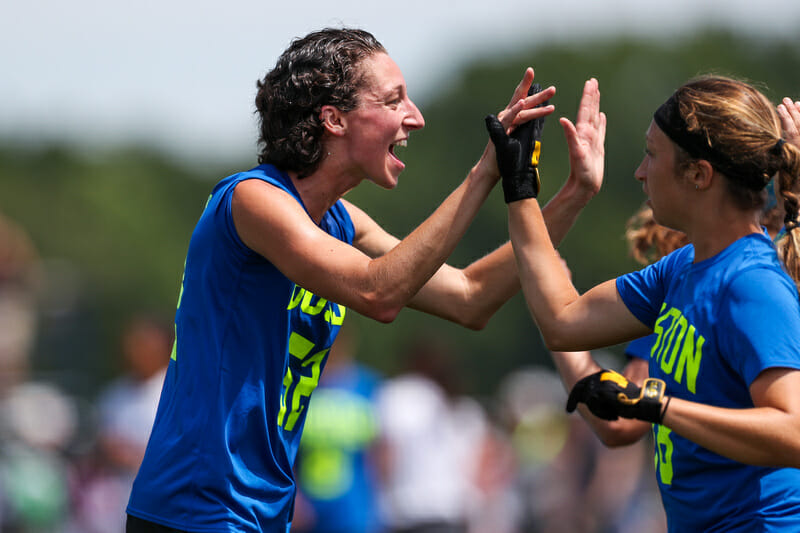 Ultiworld's coverage of the 2018 Women's Division is presented by VC Ultimate; all opinions are those of the authors. Please support the brands that make Ultiworld possible and shop at VC Ultimate!
MINNEAPOLIS — Boston Brute Squad survived Denver Molly Brown's comeback bid to win their semifinal matchup 15-13 and move on to the U.S. Open final. In the early stages of the game, it looked as though Brute Squad would run away with the game. With three breaks in the first five defensive points and zero turns on their first four offensive points, Brute Squad surged out to a 7-3 lead, but that three break advantage evaporated before the half.
Brute had been flawless with the disc at the start of the game, but suddenly they lost their touch. After committing three total turnovers in the opening 10 points — all of them coming on defense — Brute Squad committed seven over the next four points. One of those came on a D-line possession at 7-3, but the other six were on their three ensuing O-points.
Molly ratcheted up the defense, and Brute Squad's offense did not cope at all well with the increased pressure. Molly captain Lauren Baecher said that came from a sense of urgency created by that early deficit. "We went down at the start of the game and it got to a point where there was no other time to go but then," she said. "We had to get into a second gear. I think we grinded out those points and our O on turns really took care of the disc to get us back into the game."
"It was a combination…of Molly Brown ramping up the pressure and then us responding to it an a way that exacerbated the problem rather than alleviated it," said Brute Squad coach Ariel Jackson. "Our movements on the field were such that we were out of system. We were holding the disc for a long time, and we were in a negative feedback cycle."
After calling a timeout, though, Brute Squad was able to right the ship at 7-7, getting a quick hold on a Elana Schwam huck to Becky Malinowski to take half on serve.
The other side of halftime was owned by first year Brute Squad member Nicole Canning. The former Boston Siege player got bookends on the first point of the half for a Brute break, and got another set two D-points later. The second bookends was comprised of two of the most impressive plays of the entire game: she got a huge layout block underneath for her D, and then chased down an Angela Zhu forehand to the back corner that seemed like it would be out of everyone's reach.
The game was something of a coming out party for Canning. She finished with three goals, one assist, and two blocks but was also impressive as a handler defender all game. She earned player of the game honors for her efforts. It was her period of dominance at the start of the second half that felt like the most pivotal stretch of the game, especially since it came so soon after Brute had given up their three break lead.
"She had a great game," Jackson said after the game. "She has stood out to us at practice as an elite handler defender, and we were excited to unleash her in that role this game. Some of the goals were just, how much do you want it compared to the other people around, like the one she caught in the back of the endzone where it was floating and she ran past three defenders. She has that drive and amazing footwork on handler defense, and put those together and she's bound to have a blowup game. It's awesome that it happened in front of the cameras."
What made the Canning-led stretch so important for Brute was how tight the rest of the half was. Molly found a second burst later in the half and were twice able to break to get within one. They broke to make it 11-10, taking advantage of a Malinowski turn, and again to make it 13-12 after an Amber Sinicrope throwaway. They couldn't find that second break, though, to get the game back on level terms. Their best chances to do so came at 14-13, but a pair of turns from Dena Slattery prevented them from being able to force double game point.
A lot of credit for that should go to Brute Squad better coping with Molly's breaks and not allowing them to turn into huge swings of momentum. But Baecher felt their inability to fully reassert themselves over Brute was due to their lack of efficiency with the disc. "I think in the second half of that game we managed to get turns off of them but we didn't really value the disc on those possessions, which is why I think we couldn't really maintain it," she said.
For Molly, though, the losing performance was still a big improvement from their earlier matchup against the other top team of the tournament, San Francisco Fury. "We came out with more intensity and energy in this game," Baecher said. "We always have a tough battle against Brute. We've seen them in a lot of semifinals and lost to them a lot, so I think we came out with more intensity and it was a more aggressive game as well. We are really itching to get that victory over them."
They were unable to this time, so Brute moves onto the final to face that Fury side that has been in great form all weekend. Jackson chose not to look ahead to that game after the win, choosing instead to take a moment to enjoy the semifinal victory.
Brute Squad will be looking for their second U.S. Open title in that final, and a little bit of revenge for their double game point loss in the national final last year. But after a close win over an elite team, in which a new star for his team may have emerged, it's hard to blame Jackson for letting the emotional high run its course before preparing for this afternoon's final.