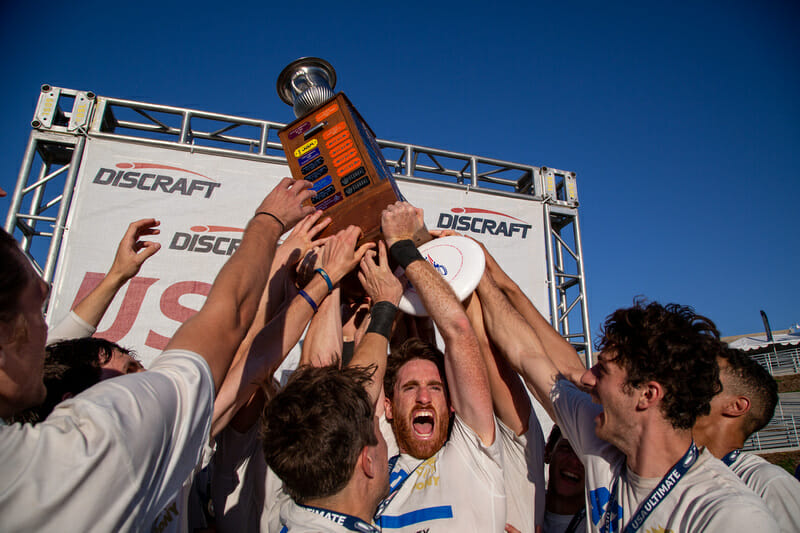 Ultiworld's coverage of the Men's Division at the 2018 Club Championships is presented by Spin Ultimate; all opinions are those of the authors. Please support the brands that make Ultiworld possible and shop at Spin Ultimate!
SAN DIEGO — A team that wins a national title gets their names etched in the history books, right at the top of the table. Their plaque gets forever added to the trophy. But fans forget title-winners, or jumble the year, or mix up the location.
Last night, New York PoNY played an unforgettable game. With the O-line at full gallop, New York's defense completely dismantled the vaunted San Francisco Revolver offense and ran away with the Men's Division title in a 15-7 blowout. And—as if for a moment fate was directing—it was none other than Beau Kittredge who sent Revolver packing.
As the pull at 14-7 went up, the New York sidelines and fans in the bleachers took a deep breath, held it, and scooted to the edge of their seats. In the blink of an eye, San Francisco coughed up another turnover and Mike Drost was snagging the disc on the flick sideline, setting his feet as Kittredge turned his hips toward the end zone and took off, showing flashes of his legendary ability. Drost aired out the flick and Kittredge leapt higher than his former teammates (and higher than he had all weekend, it seemed) to bring in the winning goal, throwing his hands in the air in immediate celebration as the stadium exhaled a collective roar.
It was a rare moment of pure success for the aging star, who played D-line all weekend and earned more attention for his turnovers and rough coverage on Sockeye's Matt Rehder during semifinals.
After returning from a post-game interview with ESPN, Kittredge was still revelling in the feeling of winning another title and taking down the team that made his career.
"Amazing," said Kittredge still somewhat out of breath. "Those guys are some of my best friends, the people that I've grown up with and realized how to play ultimate with. It's kind of like playing against your brother or something. Just being on the field with them was so much fun."
For a blink, he was back in the spotlight, but as the waves of euphoria generated from PoNY's raucous celebrations spread out across the stadium, Kittredge's moment was pulled under by the tide of his outstanding teammates. It was their outstanding work that generated the eight holds and seven breaks to win PoNY's first-ever title in their first-ever appearance.
Sean Keegan was one of those players. Four years after winning a title with Denver Johnny Bravo, he was back on the field looking more efficient than ever. Sam Little saw Keegan wide open behind the Revolver defense and hit him with a 30-yard backhand to open the game for New York with a hold, 1-0. It was the first of many moments where Keegan looked fast, confident, and skilled over the course of his Nationals weekend.
PoNY newcomer Josh Stevens-Stein stepped up on the next point, notching a block on an inside backhand from Grant Lindsley and quickly scoring a break for the two-point lead.
San Francisco's offense returned to the field—they'd been broken plenty in Saturday's semifinal against Ring of Fire and still won the game. They thought, just like any other break, they'd adjust.
Off the pull, Revolver was staring a junk defense that morphed into to matchup as PoNY defensive coordinator Bryan Jones echoed the "Fire!" call from the sidelines. Jordan Marcy and Ashlin Joye worked together to push the disc to Eli Friedman at the front of the end zone and Marcy took off for the overlapping cut and goal but couldn't secure the short pass. Joye needed to sky for a block on the ensuing possession to find Friedman again and work in the Revolver's first point of the final for 2-1.
The defending champs had managed a hold, but "manage" was the operative word. In three points, PoNY had already forced two turnovers out of the Revolver offense. New York was onto something—Lindsley, Joye, and the rest of the O-line needed to figure it out quick before the game turned bad.
For Jones and Van Heuvelen, this was part of the plan.
"All of our defense is designed to make teams go to their Plan C over and over and over again. And the more we can do that, the better," he said after the game.
At 4-2, San Francisco had already coughed up more turnovers—one as a D-line when Cassidy Rassmussen double-clutched on a flick for Eli Kerns and another as an O-line when Kittredge smacked down a backhand from George Stubbs. Revolver's Plan C—tossing into tiny windows and difficult hucks to away cuts—was coming into view. Then Laurent Loiseau put up two blocks for the PoNY defense in the same point, Marcelo Sanchez dropped a disc for Revolver, and Ben Spielman came out on top with a break goal for the 5-2 lead.
Revolver was starting to look a little stunned.
"I think we just failed to come out with our full intensity and focus," said Lindsley. "I think it's pretty simple, that seems like the bottom line."
Two holds later, Revolver's offense blurred just a bit more. Lindsley came out of a deep fake and started to accelerate, only to see a PoNY defender fly into his field of vision. As if in slow motion, Lindsley made a calculation at top speed: with the defender charging onto Lindsley's line and the throw already in the air, he knew the price for a catch was likely a high speed collision. He readjusted, jumped to avoid the defender, and still got a hand low enough to touch the disc, but he couldn't hang on.
Grant Lindsley – Dangerous Play Call
Visibly frustrated, he immediately called for a dangerous play foul, arguing that he was forced off his line by reckless behavior, but after a brief conference by the observers was overruled. Under USA Ultimate rules, with no contact, there can be no dangerous play.1 Another turnover.
Revolver dug in to save possession and got a stall on Spielman upheld, finishing a laborious defensive stand in their own end zone. But then Antoine Davis threw the disc away and the lefty Spielman got open on the backhand sideline and ripped a breakmark flick to Wodatch for another break and a four-point lead, 7-3.
There were more fireworks before the game hit halftime. At 7-4, Eli Kerns took off after pull, charging toward the PoNY backfield and looking for a block. Keegan, back to the defense to receive a centering pass, got hit at full speed by a careening Kerns.
The crowd gasped. The PoNY sideline exploded. Play stopped immediately, with Kerns crumpled on the turf and Keegan being half-pulled away from the scene by his teammates, still standing, visibly angry, and clearly in pain. Kerns came off the field a few moments later under his own power, with a PMF to his name.
When play resumed, PoNY got the disc in Harper Garvey's hands and Garvey hit Jagt with the pass to take the game to an 8-4 score at halftime.
New York's defensive success was the star of the show, but PoNY's O-line was also outstanding. They offered San Francisco just a single turn in the first half. Jimmy Mickle, Chris Kocher, Ben Jagt, Little, and Keegan were all completely in sync. Mickle couldn't be slowed by Rasmussen or Byron Liu, and Kocher spent the late afternoon getting the better of John Stubbs.
"I also think as a defense we compromised on some of the principles we've had in the past around having the best marks in the game. It showed," said Revolver assistant coach Mike Payne. "[PoNy] were able to survey the field and get the throws they wanted to get without having to go to their second or third option. They went to their first option so often."
In the second half, Revolver wanted adjustments from their offense. As PoNY's defenders continued to poach spaces that made hitting isolated cutters difficult, they agreed on a slight adjustment.
"The main change we wanted to make was to use the handlers to attack the sides and then, once we got it to the sides, to attack the middle—constantly gaining yards either to the upwind side and upfield," said Revolver captain Simon Higgins. "I think we just tunneled in on the sideline a handful too much and then weren't able to look at the rest of the field very well. PoNY did a great job with their poaches. I'm not taking anything away from them. They had the game plan perfect for us. And their poaches were super effective."
One adjustment wasn't enough to hang with PoNY. Jones and co-coach Ben Van Heuvelen knew they needed to keep the defenses moving.
"Teams no matter what will get comfortable with whatever you're running. So if you don't have three or four good defenses you're running, then teams are going to be able to get comfortable eventually and make it through," Jones said.
With Revolver still guessing out of half, George Stubbs turned a backhand early in the point and Ben Katz dialed up a scoring throw for Alex Ladomatos. Instead of adjusting, Revolver conceded even more ground to PoNY.
All the offense needed to do was take over. And for a large chunk of the second half, that's exactly what happened. PoNY spread the disc around and kept moving at high speed—no New York player finished with more than two goals or two assists; Keegan was the only one with both. They were displaying a cohesion usually reserved for, well, Revolver. Whichever one of San Francisco's formidable D-lines came on the field and no matter how they marked, New York scored with ease.
"We believe we have the best D-line in the world, so we've seen at practice everything that the world can offer," said Keegan.
Nothing Revolver did flustered the offense. Their one turnover and break chance came and went in the first half. They were stuck trading holds with a line led by Jimmy Mickle in top form and Kocher out-cutting his matchups.
"You gotta tip your hat to PoNY's O-line, who I think only gave us the disc once? And we didn't convert the break," said Lindsley.
Five points would've been enough for Jones to believe the defense he conceptualized last April was enough to dethrone the defending champions. But his players were busy putting together their finest game of the season and weren't done yet. They were hungry for more and ready to deliver. All Jones had to do was give instructions.
"That was the most serene, calm, intense feeling I've ever had in my life. I don't understand it. It was like I was pointing and clicking on a desktop and guys were just going. All the work was done two months ago," said Jones.
At 12-7, the defense came down in zone and forced a short field drop from Sanchez. Milo Snyder scored a few minutes later to push the lead to six. Then a Jordan Marcy throwaway turned into a Tyler Haskell score. And, suddenly, in Revolver's moment of dread, Jones allowed himself to relax.
"I thought we had it in the bag when we scored the fourteenth point. And I was like, 'There's no way my offense is going to get scored on nine straight times,'" he said.
That's when Kittredge, back on the field with a standard D-line, got the nod to put the game away on the throw from Drost. And like that, the title of best team in the country became New York's. Revolver retreated to a corner behind the far end zone after receiving their silver medals as PoNY and their supporters took in the early San Diego evening.
"This year has been a few years building," said Keegan. "Each year now, PoNY's had the best season in team history. And this one's awesome. No team has ever won Nationals without making semis in ultimate history.2
"From the bottom of my heart, this team is the most fun and the most loving team I've ever been a part of and I just love it."
---
The rule is different in World Flying Disc Federation play, and the call would likely have been upheld. ↩

This is true for the men's division. In 1999, San Francisco Fury won the title in their first Nationals appearance. Multiple Mixed Division teams have accomplished this feat. ↩