Our writers' preseason choices for the best players from D-I and D-III!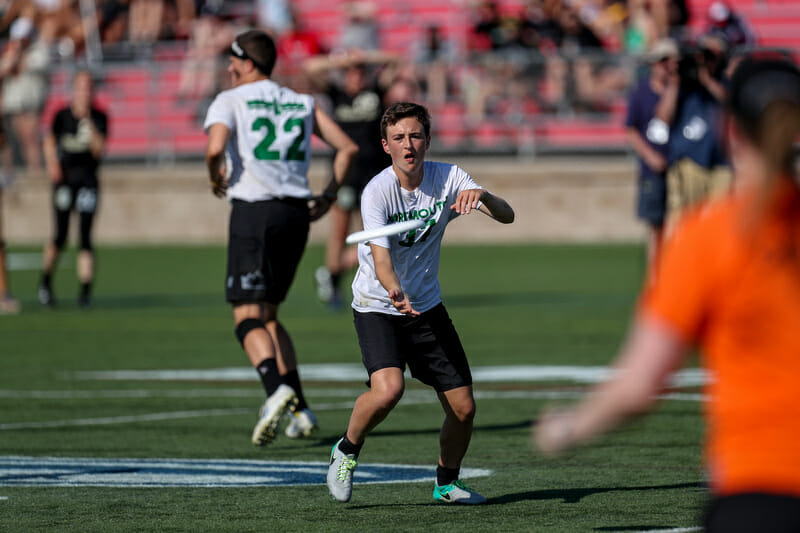 Ultiworld's 12 Days of College Ultimate are presented by Spin Ultimate; all opinions are those of the authors. Please support the brands that make Ultiworld possible and shop at Spin Ultimate!
It's time to unwrap some presents as we introduce the 12 Days of College Ultimate. Through December 21st, we will be releasing one gift per day, though don't count on getting any partridges in pear trees: it's all college ultimate. From highlight videos to player chatter to a giant bracket, we've got a little something for everyone.
On Day 7 of the 12 Days of College Ultimate, we asked our staff for their preseason choices for the seven players they could put on a line together on "universe" point. Mr. Swackhammer has issued his challenge and we need seven D-I and D-III college players to defend the planet. Or something. You get the idea. Less ado, more hype.
D-I Women's
Jac Verzuh (Dartmouth)
Caitlyn Lee (Dartmouth)
Claire Trop (Dartmouth)
Dena Elimelech (UC San Diego)
Ella Hansen (Oregon)
Ellen Au-Yeung (British Columbia)
Domenica Sutherland (Texas)
Keith Raynor
Ella Hansen (Oregon)
Claire Trop (Dartmouth)
Sadie Jezierski (Ohio State)
Jac Verzuh (Dartmouth)
Dena Elimelech (UC San Diego)
Caitlyn Lee (Dartmouth)
Ellen Au-Yeung (British Columbia)
Scott Dunham
Sadie Jezierski (Ohio State)
Dena Elimelech (UC San Diego)
Caitlyn Lee (Dartmouth)
Jac Verzuh (Dartmouth)
Anna Thompson (Penn)
Claire Trop (Dartmouth)
Ella Hansen (Oregon)
Daniel Prentice
Dena Elimelech (UC San Diego)
Ella Hansen (Oregon)
Caitlyn Lee (Dartmouth)
Domenica Sutherland (Texas)
Ellen Au-Yeung (British Columbia)
Claire Trop (Dartmouth)
Jac Verzuh (Dartmouth)
Katie Raynolds
Jac Verzuh (Dartmouth)
Jessie Sun (Pittsburgh)
Dena Elimelech (UC San Diego)
Claire Trop (Dartmouth)
Caitlyn Lee (Dartmouth)
Ellen Au-Yeung (British Columbia)
Ella Hansen (Oregon)
Graham Gerhart
D-I Men's
Matt Gouchoe-Hanas (North Carolina)
John Randolph (Brown)
Mike Ing (Pittsburgh)
Dillon Lanier (Carleton)
Tannor Johnson (UMass)
Elijah Long (North Carolina)
Joe White (Carleton)
Hugo Sowder
Tannor Johnson (UMass)
Dillon Lanier (Carleton)
Matt Gouchoe-Hanas (North Carolina)
Mike Ing (Pittsburgh)
Joe White (Carleton)
Will Lohre (Oregon)
Elijah Long (North Carolina)
Charlie Eisenhood
Joe Freund (Virginia Tech)
Elijah Long (North Carolina)
John Randolph (Brown)
Nick Vogt (Wisconsin)
Matt Gouchoe-Hanas (North Carolina)
Ethan Bloodworth (Carleton)
Mike Ing (Pittsburgh)
Pat Stegemoeller
John Randolph (Brown)
Will Lohre (Oregon)
Joe Freund (Virginia Tech)
Elijah Long (North Carolina)
Mike Ing (Pittsburgh)
Matt Gouchoe-Hanas (North Carolina)
Tannor Johnson (UMass)
Daniel Prentice
Joe White (Carleton)
Mike Ing (Pittsburgh)
John Randolph (Brown)
Matt Gouchoe-Hanas (North Carolina)
Tannor Johnson (UMass)
Mac Hecht (Brown)
Elijah Long (North Carolina)
Charlie Enders
D-III Women's
Josie Gillett (Bates)
Zoe Hecht (Oberlin)
Candy Zhang (RPI)
Hannah Finn-Erb (Mount Holyoke)
Emma Piorier (UPS)
Caroline Weinberg (Williams)
Kyra Wortley (Amherst)
Sam Echevarria
D-III Men's
Dylan Salzman (Middlebury)
Noa Chun Moy (Air Force)
Brendan McCann (Michigan Tech)
Jacques Perivier (Georgia College)
Joe Richards (Mary Washington)
Noah Zobel (Oberlin)
Justin Kunkel (Bryant)
Mike Ball1
---
Self-imposed "one player per team" rule. ↩