After a rough start, a skilled and disciplined Berkeley squad overcame Edina.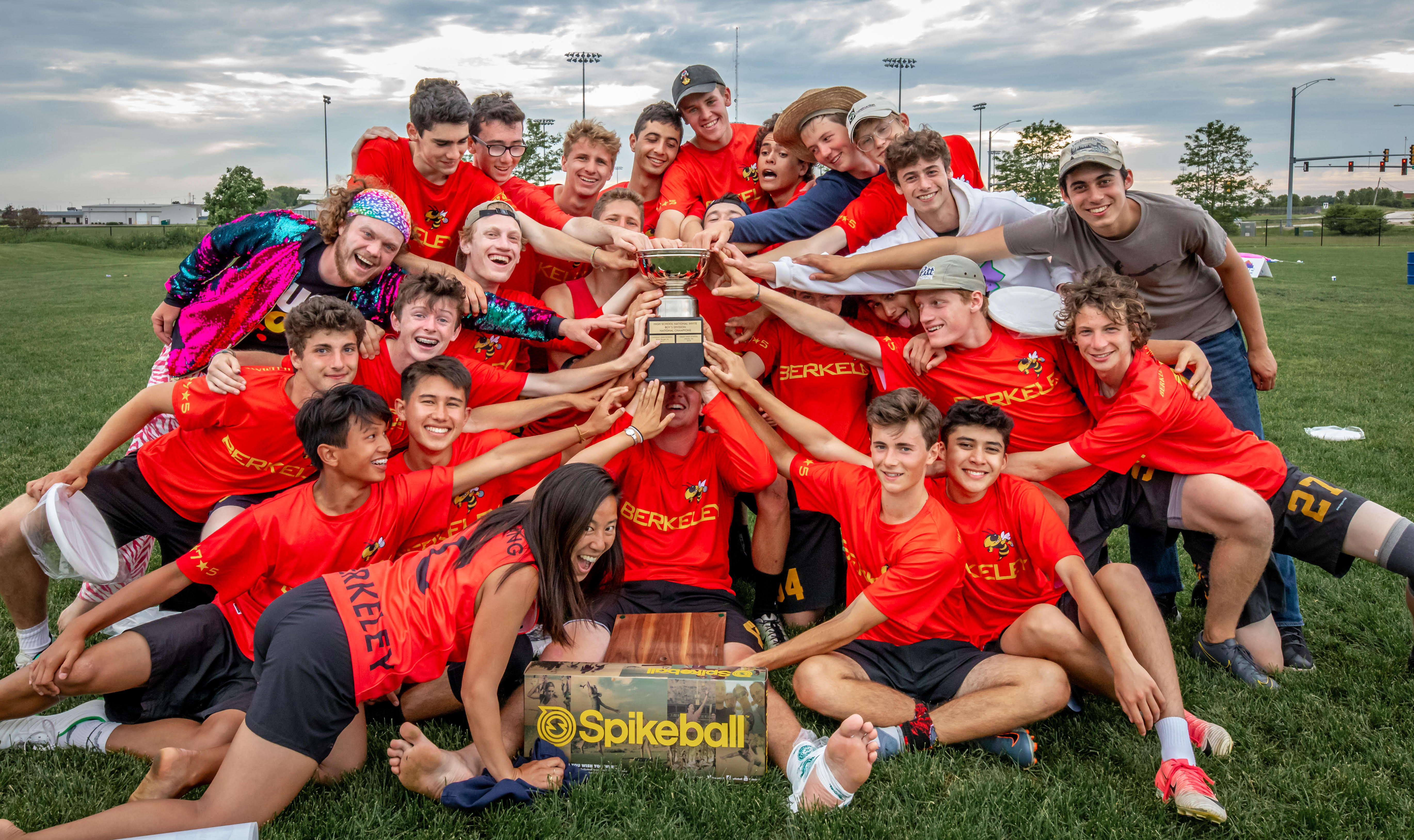 ROCKFORD, Ill. — After an inauspicious start to both the tournament and the final, Berkeley (CA) showed great resolve on their way to winning their first High School National Invite title. The talented and experienced club, led by a large senior class, looked skilled and confident in the wind. They came back from a two goal deficit that felt even larger to defeat Edina (MN) in the Boys' Division final, 13-10.
Both teams were somewhat surprise finalists, as shown by their seeds. While Edina was the no. 5 seed, Berkeley came in seeded all the way at no. 8 after losing the California State championship to Gunn. Without many results against out-of-state teams, it was tough to assess both clubs, but after top seed Grady (GA) was felled in prequarters and no. 2 Ingraham (WA) was eliminated in pool play, the championship window was open. Berkeley came back to defeat Wilson (DC) in semifinals, while Edina squeaked by Lone Peak (UT).
Edina rode that momentum to a picturesque opening to the game. After two Berkeley zone offense turnovers, including one in the red zone, the Minnesotans were able to advance the disc to the goal line from a short field position. A quick front zipper from a slanted stack out of a timeout kicked off the scoring with a valuable upwind break. And if that didn't give Edina early control, the next point certainly felt like it would. A perfect back corner pull from Edina defensive star Haakon Rondestvedt pinned the High Coup offense in their own end zone against a hungry Edina zone defense. The patient Berkeley offense managed to complete an astounding 17 passes without even threatening to exit their own end zone before Matt Johnson knifed from his spot in the middle of Edina's cup to pick off a reset from Seth Wells for an emphatic Callahan. Edina led 2-0, both breaks.
Berkeley, however, remained unfazed. Perhaps it was because they reached the final after losing their first game of the tournament. Perhaps it was because they had already made an improbable late run in the semifinals to reach the final. Perhaps it was because they knew Edina had opened their semifinal with three straight breaks, only to give that lead back and have to scratch and claw for their win. Whatever it was, Berkeley's offense was steadfast and, despite the pressure of the moment, the gusts of the wind, and quality of their opponent, their composure stood strong.
In fact, it was Edina who seemed to be crushed by the weight of the moment. Edina began to make small mistakes, and Berkeley efficiently took advantage. High Coup broke upwind on a rocket from star Leo Gordon to Riley Kirkman-Davis, past Rondestvedt no less. They nearly returned the favor for Edina's previous Callahan with a Gordon pull that stranded Edina in their own end zone, and they got a near Callahan that turned into a short field break to Gordon. Edina turned a centering pass, tossed away short throws, lost possession in the red zone, and Berkeley reaped the rewards, scoring six straight goals to make it 6-2.
Berkeley's patient and disciplined offense was relentless. Gordon and Kirkman-Davis (five assists, one goal, two blocks) were the anchors, but they got strong performances by Noah Ball-Burack, Aidan Curry, Luca Spycher, and Seth Wells. They navigated multiple lengthy red zone possessions in the face of stiff winds. Their zone defense didn't give up many easy goals until late in the game, forcing Edina's key personnel to log heavy minutes. Edina's AJ Larson, their top contributor, was forced to play both ways, and his final statline of two goals and three assists shows how effective he could be when they found him deep. But Larson and Rondestvedt each had a handful of turnovers to help keep Edina from getting back in front.
Edina nearly snuck back into the game, earning a break late in the first half, and then holding out of the halftime break and getting a break on an upwind huck from Nathan Seymour to a flying Rondestvedt. They came back to within one, at 8-7. But Berkeley, per usual, responded with a serene zone offense possession in the red zone, and then tacked on a break with another clean red zone score that made it 10-7.
California teams have not recently earned much national renown, making this a special win for Berkeley (and 2019 California state champ Gunn again played very well at the Mountain Invite in Colorado). Like many youth teams, they don't travel much, so getting a chance to take on many of the best teams from around the country and show off how strong youth ultimate is in California is a powerful motivator. And following a YCC Mixed championship last year, Berkeley's High School National Invite title is more evidence that California is churning out some of the country's best young players.