The last few spots in the championship bracket will be settled soon.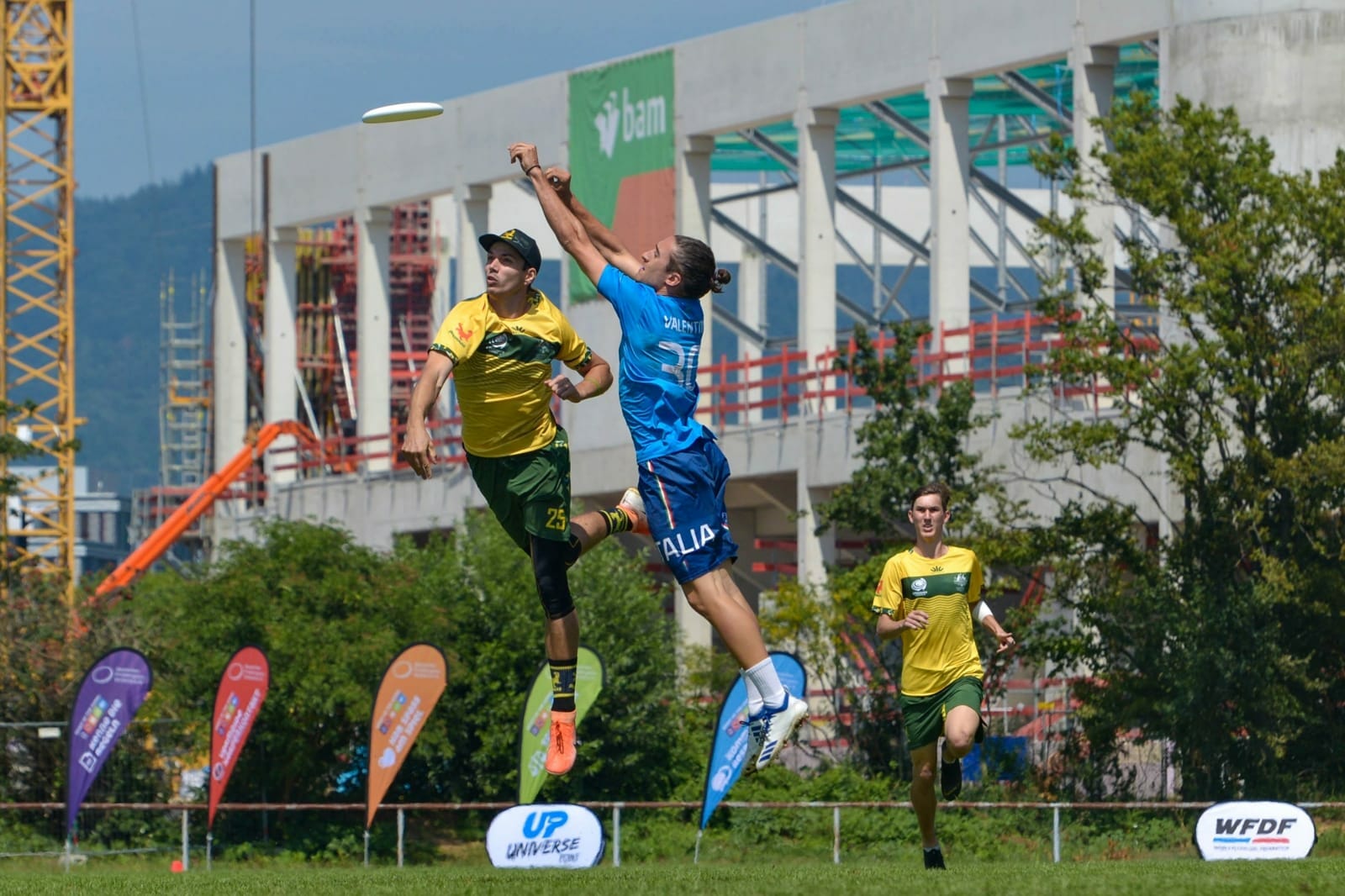 Ultiworld's coverage of the World U24 Championships is presented by VC Lookfly; all opinions are those of the author. Please support the brands that make Ultiworld possible and shop at VC Lookfly!
Men's pool play continued on Tuesday and teams are still fighting to reach that elusive top four finish in each pool to make the bracket. Here are the current pool standings and some key game recaps throughout the day.
Pool A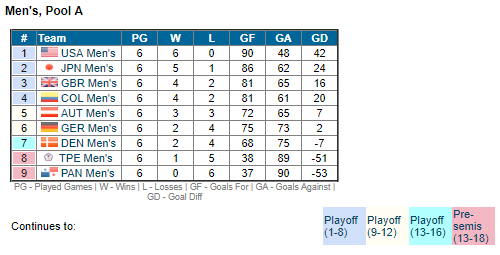 Great Britain vs. Colombia
Great Britain won a tightly contested match up against Colombia, 15-12. The first half went well for the Colombians. They were certainly putting more pressure on GB than they were receiving. Colombia ran a great poaching set that played close to matchup defense downfield while keeping two or three poaches around the disc at all times. The British seemed perplexed at times, unwilling to take the 20-30 meter blade option that Colombia was leaving open. As for the Colombian offense, they weren't perfect, but they were getting separation downfield. GB was able to apply some pressure with great handler defenders like Ethan Morrell, but Colombia took half 8-5.
In the second half, things fell apart for Colombia. Despite getting open looks to start their points, the Colombian redzone conversion rate was poor and a lot of swings hit the ground. Great Britain was happy to take the disc and often worked quickly up the field with their D-line offense using a very patient team based approach, scoring 50% of their break chances. The GB offense worked methodically to swing the disc side to side before attacking with a quick break throw or a swing to the front of the stack in stride. Great Britain took the lead on a low Colombian swing and a subsequent break side shot to go up 11-10. Although Colombia tied it on the next point, after that Great Britain pulled away. Eventually Seb Allen hit Ethan Morrell upline breaking to win.
"The game came down to mental control. We were not capable of controlling the game when were were up in score. We must work to keep our intensity level high when they are up or down in the score," said Camilo Burtago  of the British comeback, via translation from Juan Esteban Cardenas. A lot of simple throwaways gave Great Britain their opportunity back into this game, and kudos to them for taking it. Butrago said that their zone is a fluid defense that looks like a 3-3-1 and 4-2-1, the two looks are varied. The different zones look similar but work differently. It's something that they have been working on since the Under-17 division, and has been refined as the players come through the youth program.
Great Britain will be happy to take this win, and as pool play finalizes, each team will be looking to the other pool to see where their likely opponents lie. Tomorrow, Great Britain will finish the pool with Chinese Taipei and Austria, while Colombia will play USA and Austria.
Outlook
The first two spots in Pool A are officially set. USA and Japan will finish first and second, respectively, unless some crazy upsets happen (think Chinese Taipei over Japan or Panama over USA), this leaves two spots for Great Britain, Colombia, and Austria to fight over. Great Britain won today over Colombia, and Austria has played neither of these teams. While it may seem like a long shot, Austria controls their own destiny. Wins against both on Wednesday will secure their third place finish, leaving Colombia on the outside looking in. A loss against either team would almost certainly eliminate them.
Pool B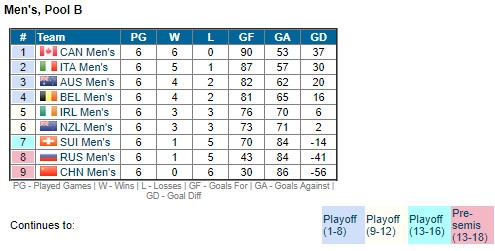 New Zealand vs. Belgium
In what was one the most dramatic games of the tournament, New Zealand kept their bracket hopes alive, beating the Belgians 15-14. This double game thriller was close start to finish, and it would come down to individual playmakers making plays. New Zealand is lucky enough to have Nicholas Whitlock on their side. If you don't know the guy, you should, second in combined goals and assists through three days with five per game, behind only to Jack MacNamara of Ireland. Whitlock was the driving force for his team's success. The focal point of the New Zealand offense, he scored or assisted on five of the eight first half scores for the Kiwis. Belgium wasn't slouching but it was hard to stop him.
This game was back and forth the whole way, with Belgium breaking out of halftime. They start most points with a ho stack or split stack to get easy meters up the field, before switching to a vertical stack to allow for their big cross field blades and hammers. An underneath run through block lead to an inside shot for the break, Belgium leading at 10-9. New Zealand responded with a swing and a big huck from Millar Mercer to Whitlock. That wasn't the only goal for Whitlock in the second half; he scored five of their six O-line goals himself, and assisted on another. In fact their one break in the second half, on the back of an Altaaf Ali layout block, was the only goal he didn't directly contributing to. This break put New Zealand back on serve 12-11. The teams traded to 14-14, and along the way Belgium showcased an aggressive offense, featuring brothers Benjamin and Rephael Jonkers, as well as Corneel Descan. Meanwhile, Whitlock was all over the place for New Zealand, initiating the offense, throwing high release flicks and doing what he does best scoring goals.
The final point was a quick one. After a centering pass to Tyler Titov-Smith, Belgium called a pick. Titov-Smith unleashed a absolute missile of a backhand after play restarted. As it flew down the field, Whitlock for New Zealand and Samuel Kinda for Belgium gave chase. Both players bid going away, but Whitlock stood up, disc overhead in celebration as New Zealand rushed the field and Belgium looked on in shock.
After the game New Zealand head coach Li Yeoh was shaking with emotion. He was so happy to see his team fight for each other, the coaching and support staff, and the people back home. "Every point, every play out there they weren't doing for themselves, but for each other," said Yeoh. Yeoh went on to highlight Nick Whitlock as an "absolute star," but said that the team relies on each other and on the depth of the team. Talking with Whitlock after the game, he undersold his stellar performance. The 19-year old finished with eight goals and three assists. "One of our goals for the tournament was to make quarterfinals, and we knew we had to win this to make that dream come true, and we pulled it off in the end," he said. "I was just playing my game, playing for the team, making plays to get us going, but playing for the boys, Li, and New Zealand." Going into the rest of the week, they control their destiny by beating Switzerland and Ireland, but they are taking each game one at a time.
New Zealand will play the Swiss and the Irish tomorrow, and Belgium will play the Australians and Italians needing wins to control their fate.
Switzerland vs. Ireland
In a game where breaks were few and far between, Ireland beat Switzerland 15-14. This game has huge implications for each team. After Belgium lost to New Zealand, it opened up top four opportunity for the bottom teams, so both teams came out knowing the game was a must win. The first half was an exhibition of zone, both teams trying to slow down the game and limit hucks. Ireland looked more comfortable against the Swiss zone, but to their credit, Switzerland managed to score time and time again. Ireland ran a zone really limiting throws in the middle of the field, while the Swiss ran a "box" 3-2-2 styled zone. Both teams figured each other out, and the holds kept coming. From 3-3 to 9-9, it was nothing but holds.
The Swiss got the upper hand at 10-9 thanks to good down field coverage and an uncontested stall called on the mark. The Irish zone is pretty interesting: a 1-3-2-1 in which they force middle in a cup on the side line, and a big wall of people when the disc is in the middle of the field. It looks to really clamp down on either sideline by taking away the easy reset.
From there, the Swiss took their one break lead as far as 12-12 before Ireland broke back and recaptured the lead at 13-12. A series of turnover-less holds knotted the game at 14-14 as Switzerland was pulling. There were four turns, and eventually Paul McDonough beat David Hiestand to the open side cone. The celebrations were measured as both teams were gassed physically and emotionally. Speaking with McDonough after the game he was clearly happy to have the win. Speaking about that last point, he was nervous that each turn may be the last of the game. Both teams were so clinical that every turn was punished by the opposing team.
Going forward, the Swiss are understandably disappointed by their showing this year, as they are now eliminated from the bracket officially and will only be playing for pride. The Irish have a small chance to make the bracket: they play New Zealand tomorrow, and with a little luck they can force a three-way tie with New Zealand and Belgium, and go through on point differential. New Zealand will certainly be looking to win, and secure their place in the bracket.
Outlook
Things could get weird in this pool. The final order is still uncertain, but Canada sits atop the group awaiting the fourth place finisher of Pool A. Italy and Australia both have to play the Belgians, who are eager, athletic, and frantically searching for another win. The Belgians, if they finish without a win tomorrow, will nervously await the result of New Zealand and Ireland. In that scenario (coupled with an Italian win over Ireland), if the Kiwis win they would finish fourth and an Irish win by three points or less points would see the Belgians through. An Irish win in this case by four or more would see them top the tiebreaker. Italian and Australian losses to Belgium would complicate matters and the final order, but I believe that Australia and Italy are currently playing for seeding as neither of them will want to finish fourth, as USA quarterfinal matchup looms. There are many potential paths, but this pool may go down to the wire.