More than 400 players applied to join the junior National Teams.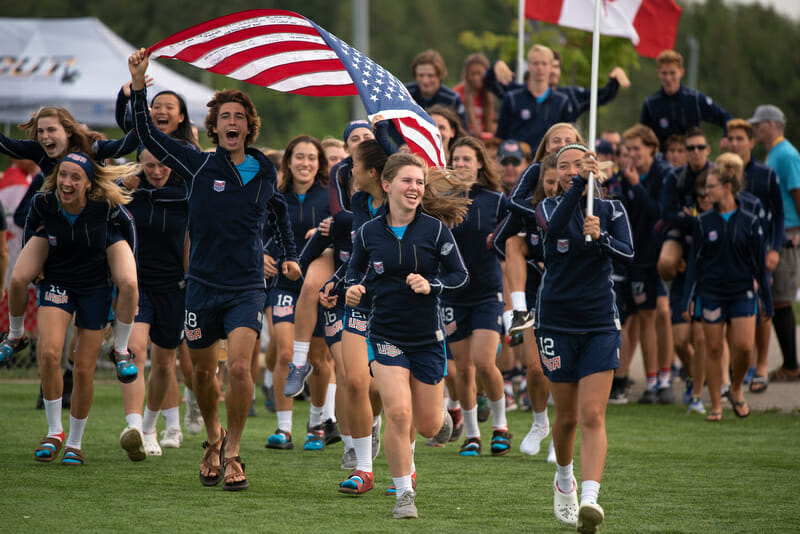 USA Ultimate announced today the 200 players invited to tryout for the Under-20 National Teams that will represent the United States at the 2020 World Juniors Ultimate Championships in Malmö, Sweden, next July. According to USAU, more than 400 players applied to try out for the two teams that will be looking to defend the gold medals won by their predecessors last summer in Warterloo, Ontario. USAU notes that the final tryout list could change based on invite acceptances.
As has been the case in the past, the rosters will be selected after a split tryout process this fall. An East Coast tryout will be held in North Carolina on November 16-17, with a West Coast tryout scheduled for the following weekend (November 23-24) in California.
BOYS' DIVISION TRYOUTS
| Name | City, St | Tryout |
| --- | --- | --- |
| Atkin Arnstein | Seattle, Wash | West |
| Eli Artemakis | Chicago, Ill | East |
| Mauricio Badillo Moorman | Minneapolis, Minn | West |
| Cullen Baker | Bellaire, Texas | West |
| James Baker Jr | South Lyon, Mich | East |
| Aaron Bartlett | Washington, DC | East |
| Thomas Bennett | Belle Harbor, NY | East |
| Luke Bleers | Naperville, Ill | West |
| Sebastian Brauer | Minneapolis, Minn | West |
| Nathan Buchholz | Stow, Mass | East |
| Justin Burnett | Stone Mountain, Ga | East |
| Orion Cable | Amherst, Mass | East |
| Jedi Casas | St Paul, Minn | West |
| David Chalmers | Atlanta, Ga | East |
| Itay Chang | Palo Alto, Calif | West |
| John Clyde | Austin, Texas | East |
| Patrick Connor | Austin, Texas | West |
| Simon Covington | Durham, NC | West |
| Jacob Cowan | Brooklyn, NY | East |
| Ben Dameron | Atlanta, Ga | East |
| Simon Dastrup | Chicago, Ill | West |
| Cole Davis-Brand | Amherst, Mass | East |
| James (Jace) Dean | Arlington, Va | East |
| Jasper Dean | Seattle, Wash | West |
| Max Dehlin | Alpine, Utah | West |
| Logan Diehl | Gainesville, Fla | East |
| Gabriel Dorsey | Cincinnati, Ohio | East |
| Kailas Durvasula | Seattle, Wash | East |
| Jayden Feagans | Charlotte, NC | East |
| Assaf Golan | Seattle, Wash | West |
| Charles Gordon | Baton Rouge, La | East |
| Leo Gordon | Berkeley, Calif | West |
| Ben Harris | Maplewood, NJ | West |
| Luca Harwood | Amherst, Mass | East |
| Benjamin Hewitt | Wynnewood, Pa | East |
| Ben Horrisberger | Portland, Maine | East |
| Adam Jemal | Bellevue, Wash | West |
| Hyosam (Sam) Jeon | Irvington, NY | East |
| Matt Johnson | Edina, Minn | West |
| Leo Jordan | New York, NY | East |
| Wyatt Kellman | Amherst, Mass | West |
| Riley Kirkman-Davis | Berkeley, Calif | West |
| Brennan Kramling | Raleigh, NC | East |
| Matt LaBar | Yardley, Pa | East |
| Daniel Landesman | Altadena, Calif | West |
| Adam (AJ) Larson | Edina, Minn | West |
| Martin Le | Seattle, Wash | West |
| Aylen Learned | South Orange, NJ | West |
| Jae Lee | Lexington, Mass | East |
| Langston Lee | Newton, Mass | East |
| DJ Lewis | Nashville, Tenn | East |
| Aiden Lomen | St Paul, Minn | West |
| Aidan Lopez-Escarez | Seattle, Wash | West |
| Suhas Madiraju | Charlotte, NC | East |
| Evan Magsig | Berkeley, Calif | West |
| Ke'ali Mccarter | Portland, Ore | West |
| Brendan McCluskey | Plainfield, Ill | West |
| Adin McGurk | Washington, DC | East |
| Adam McNichols | Eugene, Ore | West |
| Gunnar Mikko | St Paul, Minn | West |
| Adam Miller | Atlanta, Ga | East |
| Declan Miller | Shoreline, Wash | West |
| Felix Moren | Portland, Ore | West |
| Nick Muth | Scarborough, Maine | East |
| Alex Nelson | Seattle, Wash | West |
| Cal Nightingale | Providence, RI | East |
| Jacques Nissen | Washington, DC | East |
| Mason Palmer | Hinesburg, Vt | East |
| Eli Park | Toronto, Mich | East |
| Nicholas Phillips | Carmel, Ind | West |
| Kevin Pignone | Durham, NC | East |
| Wesley Poole | Littleton, Colo | West |
| Jake Powell | Decatur, Ga | East |
| Jedidiah Pratt | Shoreview, Minn | East |
| Elliott Rosenberg | Oakland, Calif | West |
| Aaron Rosenthal | Washington, DC | East |
| Zachary Rosner | Palo Alto, Calif | West |
| Marcelo Ruggiero | Arlington, Va | East |
| Ben Schwartz | Denver, Colo | West |
| Will Selfridge | Salt Lake City, Utah | West |
| Josh Singleton | Chapel Hill, NC | East |
| Zachary Slayton | Plano, Texas | West |
| Charlie Smith | Boca Raton, Fla | East |
| Luca Spycher | Berkeley, Calif | West |
| Erik Stewart | Verona, Wis | West |
| Sam Swiatek | Naperville, Ill | East |
| Michael Tao | Palo Alto, Calif | West |
| Ben Thoennes | Eugene, Ore | West |
| Asa Thomson | Northampton, Mass | East |
| Conner Truitt | Lakewood, Colo | West |
| William Turner | Seattle, Wash | West |
| Max Van Sickle | Boulder, Colo | West |
| Robin Vickers Batzdorf | Brooklyn, NY | East |
| Chris Walsh | Chapel Hill, NC | East |
| Sean Wiles | Cary, NC | East |
| Otis Williams | Seattle, Wash | West |
| Jake Worthington | Austin, Texas | West |
| Joshua Wu | Lexington, Ky | East |
| Tristan Yarter | Maplewood, NJ | East |
| Jinyao (David) Zhou | Seattle, Wash | West |
Head Coach: Reid Koss (Seattle, WA)
Assistant Coaches: Andy Neilsen (Chicago, IL) & Russell Wallack (Amherst, MA)
GIRLS' DIVISION TRYOUTS
| Name | City, St | Tryout |
| --- | --- | --- |
| Sophie Acker | Pelham, Mass | East |
| Mary Andrews | Florence, Mass | West |
| Olivia Arellano | Fairfax, Va | East |
| Carly Atwell | Austin, Texas | West |
| Harper Baer | Carrboro, NC | East |
| Charis Barry | Sugar Grove, NC | East |
| Kate Barry | Cedar Hills, Utah | West |
| Tanya Bearson | Berkeley, Calif | West |
| Clara Bils | Minneapolis, Minn | East |
| Quincy Booth | Decatur, Ga | East |
| Liana Bradley | Durham, NC | East |
| Harper Brooks-Kahn | Florence, Mass | East |
| Maggie Brown | Seattle, Wash | West |
| Mae Browning | Montpelier, Vt | West |
| Ali Brzostowicz | Superior, Colo | West |
| Cara Burks | Los Altos, Calif | West |
| Jessie Chan | Newton, Mass | East |
| Emma Chin | New York, NY | West |
| Sophie Chowgule | Park City, Utah | West |
| Erica Collin | Middleton, Wis | East |
| Cordelia (CeCe) Collinson | Arlington, Va | East |
| Grace Conerly | Columbus, Ohio | West |
| Izabella Cope-Musleh | Durham, NC | East |
| Ellie Cubrilovic | Chapel Hill, NC | East |
| Marguerite Downey | Boston, Mass | East |
| Anna Dreher | Portland, Ore | West |
| Lula Dutille | Lexington, Ky | East |
| Alyssa Ehrhardt | Sugar Grove, NC | East |
| Therese Enders | Cincinnati, Ohio | East |
| Eva Fischer | White Bear Lake, Minn | West |
| Elise Freedman | Lafayatte, Colo | West |
| Abigail Freund | Arlington, Va | East |
| Allison Fridkin | Atlanta, Ga | West |
| Claire Fukuchi | Radnor, Pa | East |
| Chagall Gelfand | Seattle, Wash | West |
| Abbie Gillach | Boulder, Colo | West |
| Leana Girton | Seattle, Wash | West |
| Lauren Goddu | Seattle, Wash | West |
| Olivia Goss | Seattle, Wash | East |
| Victoria Gray | Seattle, Wash | West |
| Acacia Hahn | Eugene, Ore | West |
| Lily Harris-Hendry | Northfield, Mass | East |
| Abby Hecko | Seattle, Wash | West |
| Monica Hoang | Seattle, Wash | West |
| Nikka Ibale | Seattle, Wash | West |
| Angelina Jeantette-Coca | Kirkland, Wash | West |
| Klara Karlson | Leverett, Mass | West |
| Addie Kern | Loveland, Ohio | East |
| Addison Kerwin | Atlanta, Ga | East |
| Karta Khalsa | Leverett, Mass | East |
| Alison Kidd | Minneapolis, Minn | West |
| Cice Kim | Colorado Springs, Colo | West |
| Aria Kischner | Seattle, Wash | West |
| Sara Liang | Pittsburgh, Pa | East |
| Syris Linkfield | Lake Oswego, Ore | West |
| Chuc Luu | Turlock, Calif | West |
| Amy Ly | Seattle, Wash | West |
| Zoe Marquis | New Orleans, La | East |
| Katrina McGuire | Evanston, Ill | West |
| Leah Mickelson | Madison, Wis | West |
| Rebecca Monnin | Lebanon, Ohio | East |
| Rachel Moore | Indianapolis, Ind | West |
| Sydney Neal | Nashville, Tenn | East |
| Margot Nissen | Washington , DC | East |
| Lanie O'Neill | Chapel Hill, NC | East |
| Rachel Oram-Brown | Amherst, Mass | East |
| Hazel Ostrowski | Seattle, Wash | East |
| Sophia Palmer | Seattle, Wash | West |
| Gabriella Payoyo | Seattle, Wash | West |
| Sierra Petrash | Atlanta, Ga | East |
| Clil Phillips | Chapel Hill, NC | East |
| Kayla Pianh | Seattle, Wash | West |
| Maggie Pierce | Cape Elizabeth, Maine | West |
| Emily Pozzy | Portland, Maine | East |
| Alondra Romero | Decatur, Ga | East |
| Claire Schmitt | Washington, DC | West |
| Nadia Scoppettone | Montpelier, Vt | East |
| Adrena Seferian | Lexington, Mass | West |
| Lucy Seward | Atlanta, Ga | East |
| Abigail Shilts | Edina, Minn | East |
| Betsy Siegal | Seattle, Wash | West |
| Maya Standard | Burlington, Vt | East |
| Ellie Stanfield | LaFollette, Tenn | East |
| Phoebe Stern | Minneapolis, Minn | East |
| Jocelyn Sun | Newton, Mass | East |
| Allyn Suzuki | Richmond, Calif | West |
| Allie Swiatek | Naperville, Ill | East |
| Yvonne Tang | Warren, NJ | East |
| Thais Thomas | Alameda, Calif | West |
| Laura To | Seattle, Wash | West |
| Anna Tortorici | Mt Pleasant, SC | East |
| Helena Tremblay | Albany, Calif | West |
| Savanna Tucker | Austin, Texas | West |
| Thalia Tzetos | Portland, Ore | West |
| Kelsey Viadro | Orinda, Calif | West |
| Elsa Weybright | Eugene, Ore | West |
| Keziah Wilde | Arlington, Mass | East |
| Emma Williamson | Durham, NC | East |
| Theresa Yu | Ellington, Conn | East |
| Sydney Zobel | Amherst, Mass | East |
Head Coach: DeAnna Ball (Columbus, OH)
Assistant Coaches: Jason Adams (Boston, MA) & Leila Tunnell (Amherst, MA)