The Toronto 6ixers earned a finals appearance in style.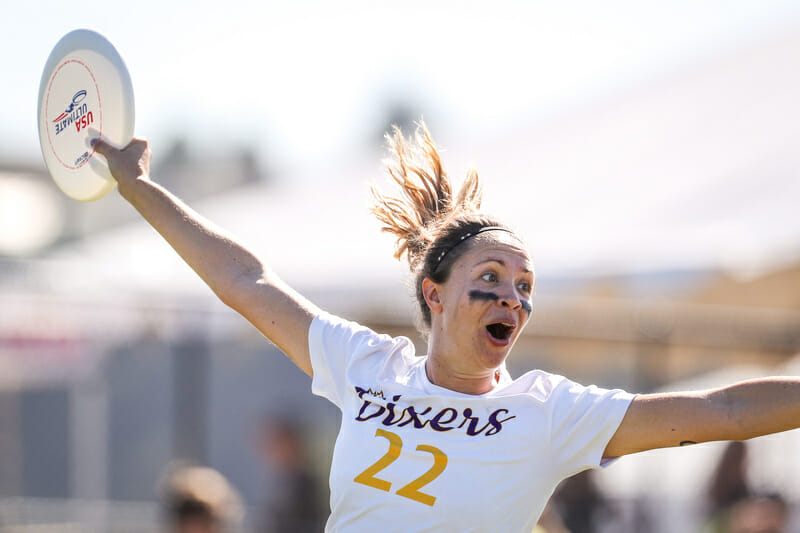 Our coverage of the women's division at the Club Championships is presented by Breakside Strength and Conditioning. Check out Breakside to find out how you can unlock your athletic potential for just $10 a month.
SAN DIEGO — Toronto 6ixers say they're not a morning team. But in their semifinal matchup with Portland Schwa, which started at 10 AM Pacific, you'd guess that it was their favorite time of day. The Canadians came out of the gates blazing hot, starting with a hold and then four consecutive breaks in less than 20 minutes. Jordan Meron, captain of 6ixers, spoke about how the squad better prepared for this morning's match compared to previous ones that didn't go their way.1
"This would have been our third morning mess up and we really wanted to avoid that. So we really made sure yesterday to do everything we could to be ready when we woke up in the morning" said Meron. "We did a lot of stretching, ate right, and we all went to bed pretty early, so that when we woke up we would be prepared as possible and focused mentally."
And focused they were. The Toronto 6ixers team that arrived at the fields was not the same one that went down 9-1 against Brute Squad in pool play just two days ago. They were instead decisive, energetic victors, easily dispatching Portland 15-8.
Toronto played like a team that deserved to be in the semifinals, and no matter what Schwa threw at them in the first half, 6ixers could not be slowed down. In a particularly difficult moment for the Schwa crew, after a long point with multiple turns, a layout attempt to catch a bad throw led to a Portland injury call and 6ixers used the opportunity to sub in Lauren Kimura. She picked up the disc, marched it down the field getting every other pass, and scored the goal on a crafty upline cut to the endzone making it 5-0.
Finally, during the sixth point of the game, Schwa got on the board. Breanna Bailey, who had a phenomenal game for Schwa, found Noelle Takahashi in the endzone to put an end to the 6ixers streak.
With newfound energy, Schwa tried to trip up the 6ixers with a zone look, and although it slowed them, it did not stop them. Brit Dos Santos cleverly found the hole through the cup to get the disc to Jordan Meron, who easily found an open look to the endzone. The rest of the first half featured holds from each team, bringing the score to 8-3, 6ixers favor at halftime.
Bobby Gough, Schwa's assistant coach, thought the gravity of the moment played a factor in that first half for his team. "It does feel like that crept in a little bit. It's easy for that to creep in a lot stronger when your first look misses by an inch and Toronto comes back and hits you in the face right away, and then they do it again and again and again. It took us a while to recover but we recovered and showed a good version of our game eventually. We just played a great team, when maybe we weren't at our best selves, to start at least."
In the second half, Schwa started on offense and worked in a clean hold. Bailey made one of the best plays of the game, getting a full-palm hand block and then streaking to the endzone to get the goal to secure Schwa's first break of the game. For a moment, it seemed like the Portland team could potentially mount a comeback, but the 6ixers went the unconventional route and put their D-line out on offense, after just the single break. As if offense had been their responsibility all season long, they moved the disc fluently and snagged a quick, clean hold making it 9-5.
As Toronto closed in on 15, Portland began to look more comfortable and confident with the disc. As the wind picked up, they had some success pinning 6ixers to the sideline with a tight zone, but ultimately it was too late. The 6ixers marched their way across the finish line. Toronto's offensive execution was near flawless throughout the game, and their defense was suffocating and unwielding. But what truly set them apart from their opponents was their depth and reliance on all players on the field.
While Portland relied heavily on a few stars — Kimber Coles, Julia Sherwood, Laura Bitterman — Toronto's success was based on the contributions of many. Brit Dos Santos and Sarah Jacobsohn had two assists and two goals a piece, Sarah Bobak had two assists and a goal, Jenna Mcleod and Adrianna Rowe each had two goals, Jordan Meron and Hannah Dawson had 2 assists each, and the rest of the goals and assists can be attributed to another half dozen players. This win was also accomplished while one of the most powerful handlers in the division, Lauren Kimura,  sat for most of the game due to a non-contact knee injury she sustained during the match.2
Portland Schwa may have not gotten the outcome they hoped for in this game, but their run through the tournament was impressive to say the least. Gough said despite the loss, the team is feeling happy and proud. "Jenica Villamor gave a great halftime speech kind of bringing everybody into the moment that we were living. Just in this program's history, reaching semis for the first time in 20 years and having this unexpected success and how we have had a lot expectation in this tournament that we've surpassed several times ever already. Every point in that game, got us to closer to finishing as a top four team in the nation, which is amazing for us."
---
Remember their 15-4 loss to Fury at Pro Championships? ↩

The seriousness of the injury in unknown, and she plans to at least try to play tomorrow ↩