There's no place like home.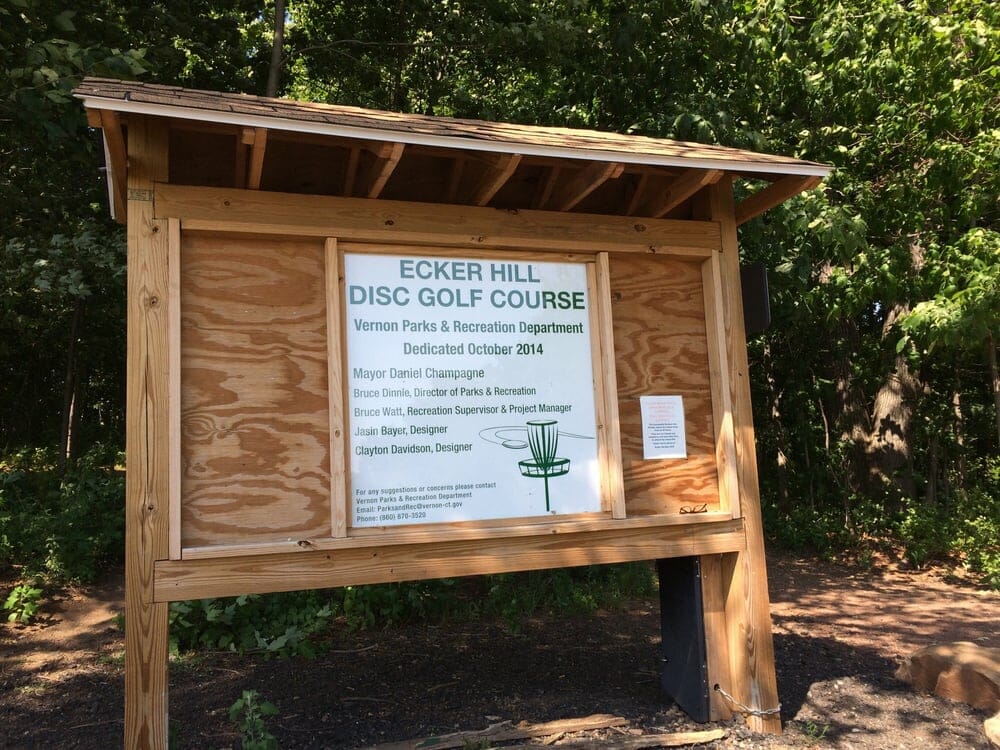 This is part three in our series on learning to play disc golf as an ultimate player. The series is presented by Innova Discs, the Choice of Champions! We put the series on hiatus for the last two months due to the coronavirus pandemic, but with disc golf courses beginning to reopen for solo and socially distanced play, it seemed an appropriate time to resume.
After a few weeks, Brent and I were starting to feel like we had a sense of how to control our hand-me-down golf discs. Don't get me wrong: we weren't good at it (in fact, we never did get one to land in one of those lacrosse goals), but we at least had some guess as to where they would land. It was time to give up on the facade that this was still ultimate training and go play an actual round of disc golf.
A quick Google search showed us Wickham Park in Manchester, Connecticut: highly rated and a convenient meeting point between us. Unbeknownst to us, Wick was closed for the winter. The next closest option was Ecker Hill, in Vernon, a few miles up the road. We agreed that if Ecker was also closed, we'd retire from disc golf forever and head back to Brent's house for our four-billionth game of NBA Street, Vol. 2.
Fortunately for us, Ecker is open year round. It's a small course perched on the side of the eponymous slope behind the town middle school. Without much of a plan we made our way to the first tee and started slinging our limited arsenal down the fairway. I don't have many clear memories from that first round but suffice it to say, we hit a lot of trees. It's a wooded, elevation-heavy course and I think we were both shocked to see nearly every hole labeled as a par-3.
Over the next few weeks we played the hell out of Ecker. Ask the locals and most will tell you that it's a garbage, fluky course that isn't worth all the hill climbs. Sure, they show up to Wednesday doubles, but that's mostly because of all the opportunities at the ace pot. Ask Jasin Bayer, one of the lead designers of the course about it, and he'll give you a shrug completely devoid of pride and say, "We did the best we could with the land we had." In fairness, that's all anyone can really ask for of a course design anyway. And all that may be true, especially in the shadow of the other courses along the I-84 corridor, but the regularity of a home course accelerated our learning curve and after a while goals began to take shape, and we could chart our progress.
Which brings me to my third Tuesday Tip for ultimate players picking up disc golf: Dedicate yourself to a "home" course. Learning how to throw golf discs is hard. Learning how to throw them in the woods is really hard. Do yourself a favor and take it slow. Play the same holes, use the same discs, and develop consistency through familiarity. You'll find it more comfortable to experiment once you've got a baseline performance expectation established, which will help you eventually master other nearby courses.
Here's a bonus tip: Do not keep score. At least not to begin. What are you going to learn? That you're a -18 handicap, like we probably were? There's no need.
I understand that for some people, like Brent, this concept is anathema to the very reason you are out there in the first place, but for me it was easy. To begin, invest in learning which discs are suited for each fairway, and in throwing them well. Throw multiple discs from the same lie. Cheat and move your lie to a place where you can actually practice a legitimate throw. When your disc hits a close tree, jog over, run that sucker back, and chuck it again. Right now, your score isn't the thing making you better.
Once you start feeling comfortable, by all means, keep score. Your mind will start setting little goals for each round:
"Get at least two birdies."
"Just finish under +10."
"No bogies through the first five."
If you go to r/discgolf, you'll find the occasional, ebullient post celebrating the poster's first time shooting par on their favorite course. We had the same experience. The first time shooting under par felt like an incredible breakthrough.
With your home course established, take that learning on the road to new courses and look for similarities like, "Hole 6 here is pretty similar to hole 7 at Ecker, so I should use [blank] disc." When you reach a plateau, go back to your home course and work on new skills; with all the thinking about how to play the course out of the way, you'll be free to concentrate completely on improving.
Plus, the best part about having a home course is that after a while you can't go home again… in a good way. Let me put it like this: did you ever have that experience of returning to your old elementary school years later? And you couldn't believe how small the desks and the gym and the hallways were?
Your home course will be the same way. Take a few months off from it and go back and you'll find yourself gliding down fairways that you used to chop up into four strokes. You'll realize that even "bad" shots can still be scrambled into pars. Maybe one day you'll play your first tournament as a pro there and vastly overachieve! Or, who knows, maybe you'll shoot your first 1000-rated round there!
Disc golf is all about confidence, and you'll never be more comfortable than in your own house.