The top five candidates in each division!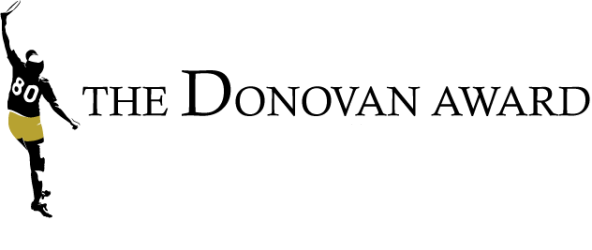 Ultiworld is excited to present the finalists for the fourth annual Donovan Award. The Donovan Award is a peer-voted award for the Division III player that best demonstrates an exceptional level of skill and athleticism on the field; upholds the principles of Spirit of the Game, equity, and fairness in their own actions, as well as holding teammates accountable to do the same; and is a leader off the field, both on their team and in the greater ultimate community.
Here are the five finalists in each division, listed alphabetically, with their bios from their nominations attached (some have been edited for clarity).
Men's Division
Oliver Boal (Senior, Lewis & Clark College)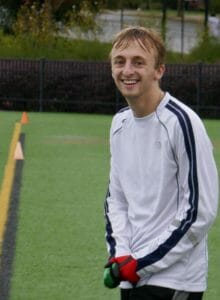 Ollie is a bright presence on and off the field with Bacchus. You can find him skying kids in the endzone and cracking jokes on the sideline immediately afterwards. He is committed to team growth and brings his qualities of leadership and companionship to every practice and Bacchus event.
Needless to say, he's an important contributor to our team identity, and we think he deserves to be recognized as a role model member of the ultimate community!
Nickname: Ollie
Height: 5'6″
Hometown: Seattle, Washington
High School: Seattle Academy
Other Sports: Ballet
Harris Cannon (Senior, University of Richmond)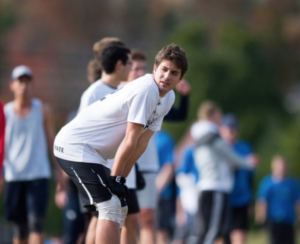 Harris Cannon bids from heights that are borderline unsafe, only for him, never for his opponents. Every time an upline is thrown, Harris is there, eating it up. Every time a deep shot goes up, a sigh of relief can be heard from the Richmond sideline, because we know Harris is going to come down with it. Harris has played through pain each season. He has never complained. When his number is called, which is on every D-line point, he steps up and plays his role to the hilt. There hasn't been one season where Harris hasn't nursed an injury at some point. Hamstrings, food poisoning, ribs, ankles, and one terrible back. He would never complain about any of them; he would just get on the field and do his thing. He doesn't believe in excuses, even if they are completely valid, like throwing up all day, and then winning the Spin Ultimate Player of the Game in our live-streamed game against Missouri S&T at FCS D3 Tune-up.
Harris was elected captain his senior year and thought, "Now is a good time to learn how to throw." If you watch his video, you will see only this year's jerseys in Harris's throwing highlights. That is not an accident. That is just the footage we have. Otherwise he was dumping the disc to 2017 Donavan winner Henry Babcock, then booking down the breakside for a deep cut. Harris got so good at throwing that he started to go every-other pass on break chances. Did he complain about this new role? Yes. The problem was he was too good at what he did. That's why he's nominated for this award.
Harris Cannon is the best at what he does. Off the field, Harris is a mentor to younger players. Rookies will look to him for advice on defense, after practice wondering how to change their positioning to make the big plays he does. Instead of saying "just be more athletic," he gives measurable goals that players can work on, and follows up with them in the subsequent weeks to check on their progress. Rookies will look to him for life advice as well, since Harris juggles many scholastic and extracurricular activities while still maintaining a social life (or as social as a life an ultimate player has). The common theme of Harris as a leader is that he cares. He cares about the program, the players, and the spirit of the game.
The best part about Harris, however, is that he is a great friend. He is loyal to those he cares about, and will always do what he thinks is best for you, even at the expense of his own well being. When you ask for his opinion, he will be honest, but he will never badger you with things you do not want to hear. He is willing to go the extra mile to make you happy.
Kees Humes (Senior, Williams College)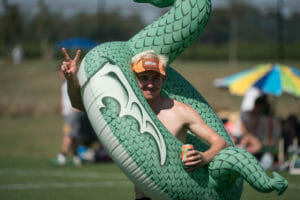 Kees Humes showed up to bucolic Williamstown, Massachusetts, in the fall of 2016 with two YCC championships, a bad haircut, and the ability to throw a flick about 60 yards further than the rest of the freshmen class. He filled in right away, serving as a steady contributor to on-the-field success and off-the-field discursive innovation. As a sophomore, Kees stepped up to become the centerpiece of an explosive O-line, leading the team to a valiant game-to-go loss to national semifinalist Middlebury. His distinctive sartorial and playing styles earned him the respect of the region, as he was alternately described as "their guy," a "super talented and dynamic thrower," and "pink hat, no pants" on the All-Region threads. As a junior, Kees went abroad in the fall and returned a changed man with the bleached blonde hair to prove it. He again was a force to be reckoned with during his junior spring, as New England's top teams built their gameplans around stopping him.
This year, Kees, now a second-year captain, worked to lead a young A-team with 13 new freshmen. He rebuilt our offense, helped teach new skills to lesser experienced players, and had us gearing up for another promising postseason run in the most competitive D3 region in the country.
Opponents can recognize Kees from miles away: the car with custom vanity plates "WUFO 20," the guy who does his own weird hip-thrust warmup, the edge-down spikes (with a smile!). Teammates know him a little differently, as the guy responsible for most of our dumb slang, a self-declared true hybrid, and Sinead O'Connor stan. He's also, though, the teammate we're most likely to see getting in extra lifts at the gym, organizing a sprint workout outside of practice or down to get some throws up on a random afternoon. Given all the hard work he puts in, it's no surprise he can hit any spot on the field from any place at any time, go every-other whenever we need him to, and draw up strategic shifts on the fly. WUFO is lucky to have had Kees as our teammate, two-year captain, offensive centerpiece and occasional bird, and we're proud to present him as our Donovan nominee.
Tom Jones (Senior, Bowdoin College)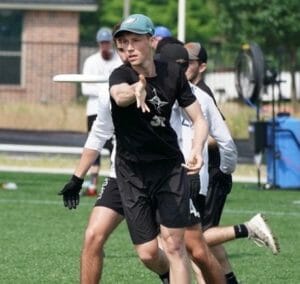 One of the Stoned Clown Think Tank's finest strategic accomplishments, besides successfully shorting oil futures, is a little play we like to call "Old Reliable." Here's how it works: 1) Point Nine goes deep. 2) One of our not-so-terrible handlers throws it to him. 3) Profit.
Don't be fooled: he's no one-trick pony, but this particular trick he excels at unlike any other stallion in the DIII men's ultimate. There's a reason we call it "Old Reliable." Without hyperbole, there is a strong argument to be made that Point Nine is the most dominant physical specimen that the division has ever seen. The man is a lean, mean, ultimate-playing machine, a veritable Adonis on the field. Of course, Da Vinci sketched the Vitruvian Man as the platonic proportional ideal of an ultimate frisbee player, but the man upstairs gave the Stoned Clown something even better than a drawing: Point Nine. This guy comes down with literally everything. I've seen him go up for a floaty flick huck and come down brandishing a 12-pack of Krispy Kremes. Point Nine is the ultimate apex predator, a shark among guppies, and the reason that Brown, the defending D1 national champions, tweeted, "We just got dunked on" this past October 19th at 9:46 AM.
Coming to Bowdoin as a quiet string bean with an Eagles cap stuck to his head, Point Nine quickly realized his potential as a lethal endzone threat. He blossomed as a defender, to the point where we openly scoffed at opponents who tried to throw deep on him. But, most concerningly for those who would dare stand in the Stoned Clown's way, he learned how to throw. Point Nine became one of Clown's best throwers by his senior year, easily breaking marks using his obscenely long arms. He would have been among our leaders in assists, goals, and Ds this season.
Last year, he led our T-5th team with 11 goals and 3 assists, and we can only imagine what would have been in store this year. But Point Nine is more than just a pair of long legs and his skill set extends far beyond the 4400 square yards of a regulation ultimate field. As a social captain this year, he showed off his abilities as a vocal leader dedicated to the success of the Bowdoin ultimate community as a whole. He led the Stoned Clown all the way to Myrtle Beach and back again, dawning a full-body warlock costume en route to a High Tide Bchampionship victory.
Point Nine is everything that DIII ultimate should be: committed to excellence on the field and excessiveness on the sideline. He truly is the full 6 foot 5 package.
Zach Levitt (Senior, Middlebury College)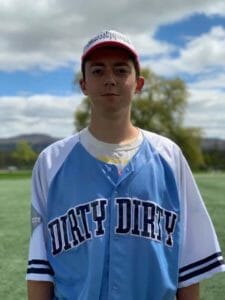 Hailing from Northampton MA, Zachary "Zeus" Levitt is as deserving of this award as the golden god himself. As captain of the Middlebury Pranksters, Zach has exemplified the spirit of a great leader on and off the field. Having played frisbee for 9 years, Zach has shown talent and developed conditioning that have allowed him to rise as one of the Pranksters' most formidable handlers, unleashing a variety of throws like lightning bolts and cuts in the handler space with the speed and voracity of a cheetah.
As a sophomore, he helped secure the Prankster's 3rd place finish at D3 Nationals, with a stunning 9 goals and 12 assists, only to return the following year to clinch the national championship with his pink-clad friends, padding his stats with 8 goals and 10 assists. Zach's cool demeanor has made him a rock in the handler space, where he is consistently a strong and reliable presence.
Off the field, Zach is an outstanding teammate, friend and community member. When the Pranksters had to decide who should carry on the mantle of swan steve, there was no question that Zach was the right person for the job. A kind, thoughtful and warm friend, Zach is always there for his teammates, as a helping hand, someone to talk to, or someone to go on an adventure with. Zach loves his art, and odds are when he's not on the field, hanging out with his friends, or doing research for professors, you can find him in his room listening to music and creating awesome art. Zach has changed our team so much for being a part of it, and touched all of our lives, and we are so honored to be nominating him for this award.
Women's Division
Sarah Bloomgarden (Senior, Mount Holyoke College)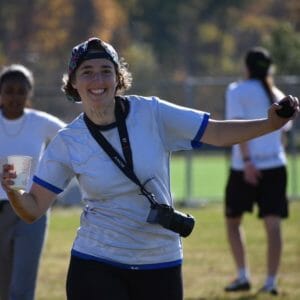 Bloomie joined Daisy Chain as a wide eyed rookie in her freshman fall, never having played ultimate before. Unfortunately, during her first year, she was never able to put her many new skills to the test since she worked weekends and missed most tournaments. By her sophomore year, she knew disc was life and did not want to continue missing out on playing opportunities. She hoped to settle her score by getting a new job and making up all the frisbee time she missed out on.
A settled score, it was! Thanks to her hard work in practice and countless hours spent throwing on Skinner Green, she solidified her role as a mainstay on Daisy Chain's starting line by Nationals in 2018. Her junior spring she hit another roadblock keeping her from playing, as she participated in a Semester in D.C. through the college. Mon Dieu! After missing her first spring season, she wasn't going to let any obstacle keep her from playing ultimate if she could help it. Instead of taking the season off, she travelled by train for countless hours on the weekends to compete with the team at tournaments. Her skills and infectious team spirit increased our playing level and directly contributed to our success in tournaments that season. She never had interest in captaining, yet she's a leader in her own right, with her consistency and spirit shining brightest.
She may not always be the flashiest player who appears in highlight reels, but she has no problem consistently grinding out cuts to help march the disc down the field, or putting her head down and working on defense to earn a turn. She sets an unmatched and exceptional example of positivity and kindness and always demonstrates how much she cares about the individual development of players. This makes her an excellent figure for leading by example and teaches our rookies the fundamentals they need to succeed. With her enthusiasm for the sport and the team, she contributes greatly towards creating a welcoming environment for all Daisy Chain players.
Bloomie's meteoric rise is not an uncommon one on Daisy Chain, as most rookies have never thrown a disc in their lives. She is the perfect example of what can come from consistent hard work and dedication. By nominating her for the Donovan Award, we hope to honor her and all that she has contributed to the team over the last four years.
Abby Cheng (Senior, Oberlin College)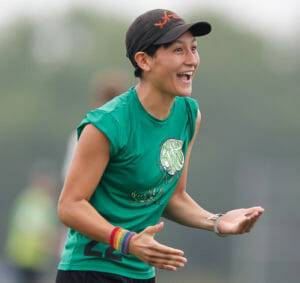 The ideal candidate for the Donovan Award is one who "emulates the characteristics of talent, grit, loyalty, warmth, spirit, commitment and generosity." We believe, so strongly, that Abby is all of those things and more. She's a baller at ultimate, which anyone who's seen her play can attest to. But beyond that, she has given her heart and soul to the Manti over the last five years of her life in an indescribable way. She has worked tirelessly for the improvement of the team and all of her teammates, leading our A team to winning the national championship last spring. There's never a moment where she's not thinking about what she can do next to make things better. She has worked tirelessly to provide a platform for diverse voices in ultimate. She's been an incredible advocate for the trans community. She's organized and run workshops and clinics and meetings and more, learning and teaching and learning and teaching us about everything from how to optimize practice time to how to best support ourselves and each other.
The Manti grew when Abby grew. With every new team she played for and every new leadership role she took on, she learned something new and she brought it back to the Manti. We appreciate that all players can be a huge part of their various programs, but we truly deeply mean it when we say that it would be impossible to compare to the way Abby has impacted the Manti. Abby is the Manti and the Manti are Abby. And she is everything that the Donovan Award was created to celebrate.
Casey Phalen (Senior, Williams College)
Casey Phalen is a wonder. She is a force to be reckoned with on the field, with her explosive speed, superhuman field awareness, and huge deep looks. Both when playing and when captain-coaching from the sideline, she is the leader we look to for energy and support.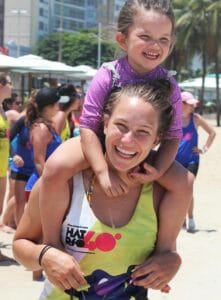 Casey was new to ultimate frisbee in college, and she almost instantly adapted her varsity soccer skills to become one of WUFA's most valuable players. As a wee sophomore, she was a starting O-line cutter, taking on leadership as the team's logistical coordinator, and that year she made the DIII All-Region Second Team for New England. For us WUFA cows, it was a no-brainer to make Casey our captain for the next two years and to crown her Madam President of the schoolwide, all-gender, multi-level frisbee organization for 2019-2020.
Casey stands out on every point she plays and her skills have been propelling WUFA to victory for four years now. She consistently out-jukes her defenders and thrives in the deep space, able to sky much taller opponents with only 5 feet 3.5 inches to her name. Not only is she one of the most athletic players on any field, but her high release backhands and the deep lunges she makes for every flick show how hard she works on every single element of her game. Her intensity and commitment to the game raise the level of play wherever she goes.. When our fave Ultiworld correspondent, Sam Echevarria, covered WUFA at DIII Nationals last year, she made sure to mention the "signature blocks from the hands of Casey Phalen." Thanks for noticing, Sam. One time Casey handblocked Josie Gillett (star, hero, gorgeous player), winner of last year's Donovan Award–and if that doesn't make her a winning candidate for this year's Donovan, we don't know what does. A
t the start of the 2020 spring season, Casey was chosen as one of Ultiworld's DIII 7 Universe Line Players. Our pal Sam also noted how lucky WUFA was to have Casey "helping coach the team" this season: she is incredibly knowledgeable about the sport, spends hours watching videos and contemplating strategy, and knows how to energize our team with affirmation and tough love. Fighting an ACL injury and prolonged recovery, she devoted herself to coaching us from the sidelines, developing brand-new players into formidable cutters. Her patience, her deep understanding of offensive movement, and her iconic Steve Jobs-ian black turtlenecks all came into play as she led WUFA in a whole new capacity.
Casey Phalen's work ethic, fierce intensity, athletic skills, and love of the game make her an incredible teammate, coach, captain, and mom friend. Not to mention, in the words of teammate Elsa: "Let it be noted that Casey is also a Virgo and we love her nurturing virgo energy." We wish we could hold onto her for another year, and we are so proud to nominate her for the Donovan award.
Tara Santi (Senior, Middlebury College)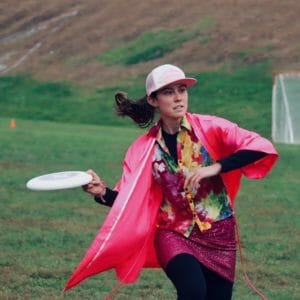 Tara Santi joined the Pranksters in the fall of 2016. Before coming to Middlebury, she played ultimate for two years at Lakewood High School in Colorado, and when she came to college, she decided to give frisbee another chance with the Pranksters. She was unprepared for the level of absurdity the Pranksters played the game with, but the community she found had her coming back for more, and Tara rapidly found herself joining in with the crazy outfits and became known for her penchant for capes. As the fastest player on most fields, Tara's opponents can only gaze longingly after her billowing cape as she sprints deep. Tara's speed is obvious not only on offense, but quickly becomes apparent with all of her run-through Ds.
As invaluable as Tara's athleticism and skill has been to the Pranksters over the past four years, even more valuable has been her spirit. Tara pushes herself to work incredibly hard and inspires everyone around her to work hard as well. She is always willing to give you feedback on how to improve while still pointing out your strengths. She also has the most positive attitude in the game and on the sideline of any player we know, and this attitude extends beyond her teammates to her opponents; last year, she represented us at our first D-III Nationals as Spirit Captain.
This past year at Middlebury, we've been lucky enough to have Tara as both a teammate and our president. Despite the jokes that have been made and the nicknames that have come out of the role, she truly is one of the most reliable and hardworking leaders our team has known. At a school with no coach and less funding than we'd like, the responsibility of securing bids to tournaments, organizing scrimmages with other teams, and organizing transportation fell to Tara. Her dedication to the team has proven to be unwavering, and her love of the sport and desire to share it with others played a huge part in the creation of our brand new B team this year. Tara's welcoming nature is a big reason new players keep coming back. The Pranksters have been incredibly fortunate to call Tara one of our own the past four years, and after the abrupt end to our season, her departure this year stings even more. Tara has embodied Spirit of the Game for as long as we've known her, and we are honored to nominate her-our Madame President-for the Donovan Award.
Jasmine Xie (Senior, Swarthmore College)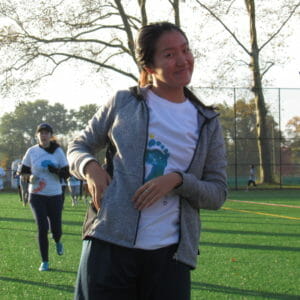 Before arriving at Swarthmore, Jasmine "Jax" Xie had never played a sport. She spent her first season cheering the team from the sideline, putting in countless hours studying the game and learning from more experienced teammates. Watching Jax play today, you'd never guess she came to the Warmothers as anything other than a seasoned pro. A captain for two seasons, Jax has become one of the most skilled and dependable members of the team. At practices, she confidently explains drills to new players with the empathy of someone who knows exactly what it means to start a sport from scratch. In competition, her handling skills are incredibly solid. She has an unstoppable around flick and commands the backfield with her quick cuts. Jax's ability to get into power position and release a beautiful lefty huck pushes our offense to be fast-paced and dynamic. Jax stays calm under pressure and injects a sense of fun into every game.
This past season, she became a sort of unofficial spirit captain, speaking on behalf of the team in spirit circles and composing one of the team's best spirit songs to date. (Ask her to sing "Unguarded" if you get the chance. You won't be disappointed.) Her commitment to upholding Spirit of the Game extends beyond the field: Jax is a strong advocate for diversity on the Warmothers and has organized and facilitated team-wide conversations regarding inclusivity and team culture. She takes an active role in uniting the women's and men's ultimate frisbee teams at Swarthmore by getting to know everyone on both teams and ensuring that the club's social space is welcoming and open to all. Jax also headed the committee in charge of organizing the team's spring training trip, an intensive week of daily practices held in South Carolina each year.
Jax devotes so much time and energy to the team because she truly cares about each and every person on it. Through her tireless dedication to the team, Jax shows us every day how much we and the sport mean to her. Her growth from a newbie to a capable and kind leader has been truly inspiring to watch. We can't wait to see where her skills and her heart take her in the future.
The Donovan Award winners will be announced next week.