Who will take gold down under?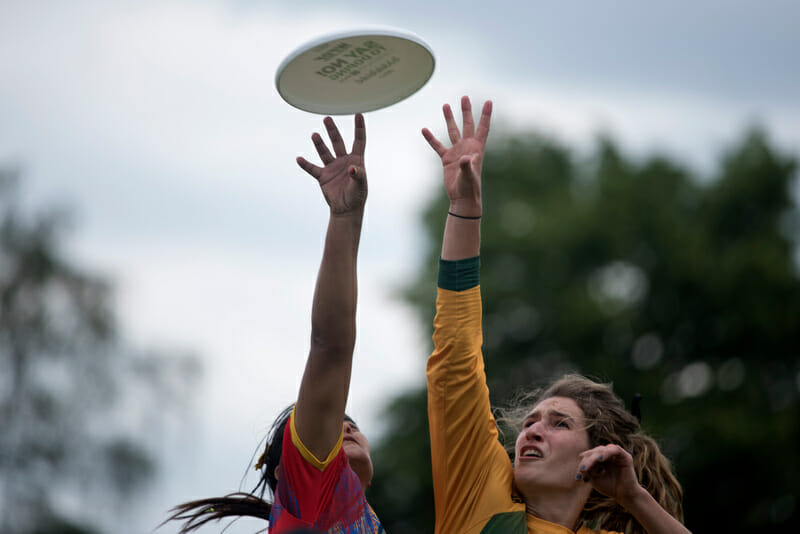 As much of the world waits for vaccine rollouts and return to play guidelines, Australia will be holding their open and women's club championships this weekend in Canberra. Both the first and second divisions in Australia will play out their games this weekend. Here is a small teaser of what to expect from first division.
Dates: April 9-12
Location: Canberra, ACT
Weather: Highs between 14-23° C, Mostly Sunny, 6-23 kph winds
Game Schedule: Ultimate Central
Streaming (Inside Australia): Kayo Sports
Streaming (Outside Australia): UltiVids/Ulti.TV
COVID Forces Some Teams to Stay Home
Even though Australia is hosting a national club championships, the global pandemic will have an effect on the playing field. Teams from the states of Western Australia and Queensland will not be able to attend due to state-level COVID restrictions. Notably this means that Sublime and Mammoth1 will not be able to attend in the open division and KAOS and Fuse will not be attending in the women's division. Division 1 in Australia usually has twelve teams per division, but this year the open division will only have nine teams and the women's division will only have eight.
The Australian Flying Disc association have released an extensive COVID safety plan for the event.
Women's Division Pools and Format
The women's division features eight teams. They will play a full round robin from Friday to Sunday morning. The top four teams after the round robin will move to semifinals on Sunday afternoon. The finals will be played on Monday.
| Seed | Team |
| --- | --- |
| 1 | Ellipsis |
| 2 | Manly Ripped |
| 3 | Rogue |
| 4 | Factory Flash |
| 5 | GWS Blaze |
| 6 | Spicy Chilly |
| 7 | Melbourne Phoenix |
| 8 | Sugar Magnolias |
Open Division Pools and Format
The open division has nine teams. They will start out in pools of five and four which will play out Friday through Saturday morning. The top three from each pool will play crossover games for bracket seeding Saturday afternoon. The bottom two teams from Pool A will carry their games into a lower pool with the bottom team from Pool B that will also play out on Saturday afternoon. The top two teams from the lower pool will also make quarter finals. Quarterfinals and semifinals are played on Sunday and the final will be played on Monday.
| Seed | Pool A | Pool B |
| --- | --- | --- |
| 1 | Sunder Slice | Sunder Dice |
| 2 | Ellipsis Men | Hot Chilly |
| 3 | Fyshwick United | Newcastle I-Beam |
| 4 | Juggernaut | Outbreak Mountain |
| 5 | Krank | |
Streaming Schedule
Times are Australian Eastern Standard Time (AEST – UTC + 10)
---
Mammoth are defending open champions ↩