A small-sided game means fewer athletes, venue flexibility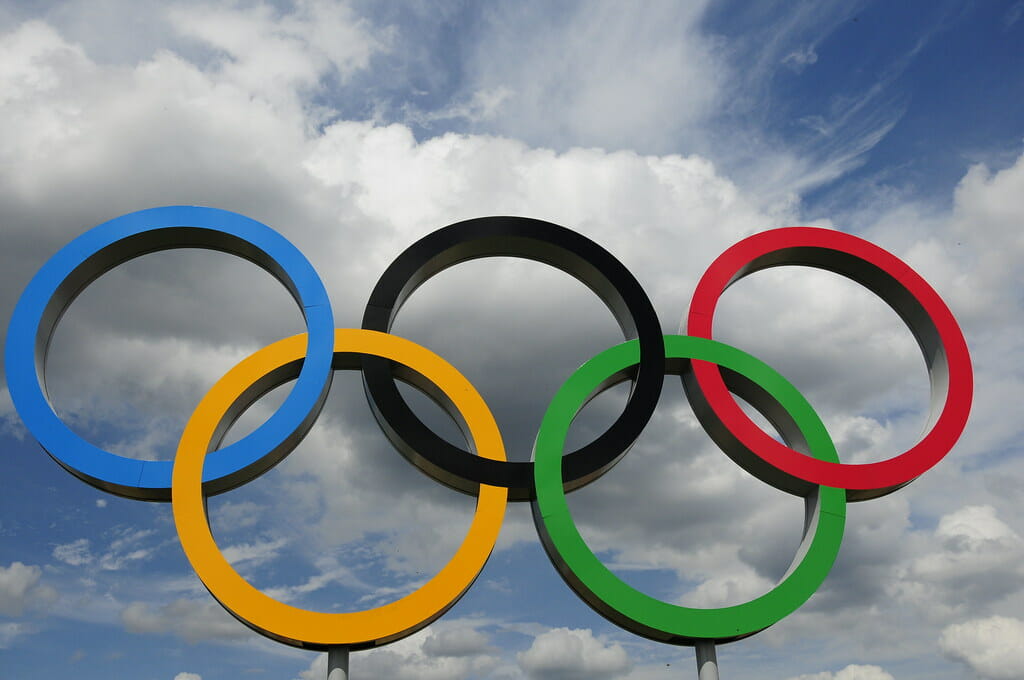 For more than a decade, ultimate has worked to position itself for potential inclusion in the Olympic Games. In 2009, USA Ultimate hired Tom Crawford, who entered with experience and connections in the Olympic world. In 2013, WFDF received provisional recognition from the International Olympic Committee (IOC) before getting full recognition in 2015. A flurry of changes at the IOC in the late 2010s raised the possibility of ultimate getting a shot as a one-time inclusion at a specific Games.
The sights are zeroed in on Los Angeles 2028.
"One of the messages we've gotten is to get your foot in the door, do a good job, and you can go from there," said WFDF President Robert "Nob" Rauch.
In October, WFDF put out a press release announcing the development of ultimate 4s, a four-on-four version of the game that was added to the USAU rules in April. Then, last week, the organization made its intentions clear: "Flying Disc aims for the Olympic programme," with a direct proposal to put ultimate 4s forth as the competitive format at the event.
"WFDF intends to propose mixed gender Ultimate 4's as the event, which can be played in existing venues on either grass in a football or soccer stadium, or on the beach," said Rauch in the statement. "Our format for this team event fully embraces gender equality, and mixed team competition has been our format at The World Games since our debut in 2001. Our sport appeals to today's youthful audience and would be an appealing addition to the LA28 programme."
The rapid development of a new game style that is played more often as "mini" than as a standard format is purely a focus on getting that foot in the door of the Olympics. The Games have a hard cap on the number of athletes that can compete, and although new sports have started to be lightly embraced (after "the process of the Olympics was all but set in stone over the last 20 years," per Rauch), the sports that have been added have largely been individual sports that need far fewer competitors.
A World Games type format — 8 teams with 14 person rosters — has been suggested to require too many participants. WFDF is proposing six person rosters for the 4s format. That would cut the athlete requirement by 57% down to 48 if you had eight teams, which is in line with the number of athletes that competed in skateboarding and surfing, two "add-on" sports at the 2020 Tokyo Games. It would also allow for ultimate to be played in existing venues at the Olympics — any open field or the beach volleyball courts would suffice.
The announcement of this new small-sided format has drawn skepticism online. Some players have said that it will water down the game and not be a compelling product. Rauch counters that most players have played in such smaller-sided games on smaller fields. "You play beach with fives," he said. "How different is fours?"
"When quota is at such a premium, I don't know how else to do it," he added.
This is part of a broader push from lots of Olympic hopefuls to create version of the game with reduced athlete requirements. Along with the 3-on-3 basketball that debuted in Tokyo, baseball has developed baseball5, a street version of the game with five players a team and no bats or pitchers. This year, World Lacrosse announced Lacrosse Sixes, a game cut down from the typical 10-on-10 to 6-on-6.
These efforts across sports federations reflect a growing optimism about the chance to get added to the Olympic program. Last week, the IOC announced that surfing, skateboarding, and sports climbing were being added to the initial program for LA 2028 after successful debuts in Tokyo. Three legacy Olympic sports — weightlifting, boxing, and modern pentathlon — were left off the program and have been asked to address internal issues in their sports by 2023 to be considered for reinstatement.
"For the IOC to proactively say, 'OK, sports climbing, surfing, and skateboarding, you're in' is a big deal," said Rauch. The IOC is looking to shift the aging demographics that watch the Games by adding more youthful, energetic sports. WFDF and USA Ultimate have pressed those elements in ultimate, along with its mixed gender standard in international competition and the frisbee's roots in southern California.
"There's no easy reason for [the IOC] to say, 'We can't consider Flying Disc because of X,'" said Rauch.
In spring 2022, the formal process for requesting inclusion in the LA 2028 Games as an additional sport added by the local organizing committee, a new feature of the Olympics that started with last summer's Tokyo Games, will open. In 2023, LA will announce their proposals for additional sports to be added to their Games. In less than two years, ultimate's fate should be decided.
WFDF has been actively working to keep ultimate top of mind amongst Olympic officials and watchers with this latest flurry of press releases. Ultimate's desire to be included in 2028 has gotten some press in the Olympic news world, but it will still be an uphill battle. Baseball and softball (with their associated large numbers of athletes) are widely considered favorites to make it onto the program. And Flying Disc is one of many sports that is hoping to get onto the program.
Even in the face of long odds, the push from WFDF continues. "It's about what getting into the Olympics would do for our sport," said Rauch. "It's going to give visibility crazily beyond what is today. It's going to introduce a lot of new people to the sport."
Here is a video of Ultimate 4s in action, recorded at the 2021 USA Ultimate National Championships: