A deep field is sure to produce a number of compelling matchups.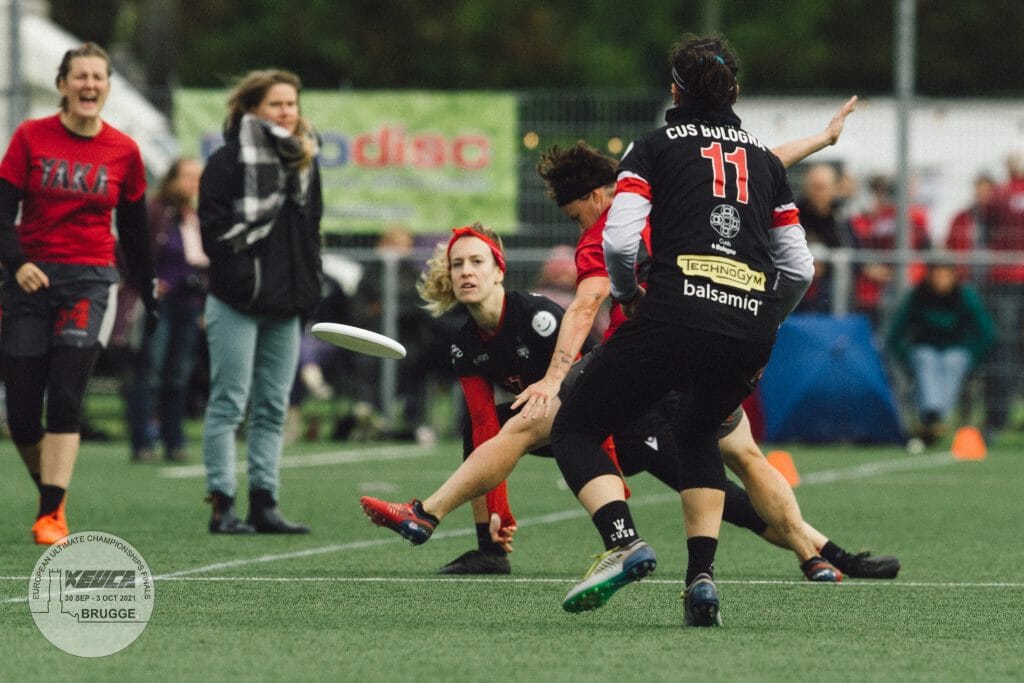 The European season kicked off recently with the Elite Invite in Bologna, and continues this week with the next big event on the calendar: Tom's Tourney in Bruges. This venue last hosted xEUCF in late September 2021, and will be the first Tom's since 2019 after the 2020 and 2021 editions were canceled due to the pandemic. It usually hosts a strong lineup of European teams, but with the slightly-shorter-than-usual games1 and the fact it's so early in the season, it's seen some strange results in the past. This year the women's division is as strong as ever and features about six teams that realistically could win the title.
Tournament profile
Dates: May 6-8
Location: Bruges, Belgium
Weather: Mostly sunny with showers on Saturday, Temperatures around 60-70°F/15-20°C and moderate wind throughout
Schedule: Tom's Tourney website
Streamed on: Tom's Tourney YouTube
The Return of Iceni
The top seed in the women's division is reigning European champion YAKA (Noisy-le-Sec, France) and the no.2 seed is the team they toppled, CUSB Shout (Bologna, Italy). Those are both pretty routine — the two best teams in Europe for the last few years, seeded where they probably should be. Third is the first point of intrigue, and it's not because the team is seeded wrongly necessarily but more because it's basically impossible to know.
Iceni (London, UK) did not play at xEUCF last season because of the different COVID restrictions that still existed between the UK and mainland Europe in late 2021, and so haven't matched up against the best teams on the continent since 2019. At that tournament2 Iceni failed to make the Euros podium for the first time since its first European title in 2006. This roster has seen significant turnover since 2019 — many players who had played for Iceni for many years now playing with London Masters Ultimate, which is seeded no.15 at Tom's — and this will be the first big test for the new leadership group ahead of a season where Iceni will be trying to take back the UK national title from Bristol.
"We got a chance to see a few of these teams at Madrid in November 2021, but for the most part this will be our first time seeing some of these teams since 2019," said first-year captain Becky Thompson. "We are really excited to be back competing in Europe after COVID and feel like we've really built into a strong squad over the last two years.
"We are a very different team from 2019 but we have a strong core coming in from 2021 and we are excited to properly kick off our 2022 season at Tom's! Despite turnover since 2019, we are the same Iceni that teams have become accustomed to seeing at tournaments. We are just really excited to be properly back in Europe this season and as a new leadership group we are thrilled to take on our first challenges at Tom's!"
Depth in the Division
After Iceni, DESKEAGH (Dublin, Ireland) returns having reached the final in 2019 and will likely feature a number of the players who have been so successful on the European stage in recent years with both Ireland and Gravity. They won't be a pushover for the big-name clubs, nor will no.5 seed Grut Ladies (Amsterdam, Netherlands). Grut, as everyone knows, are the reigning European mixed champions and their women will, if they have the full line-up of stars,3 be extremely difficult to beat.
Even beyond the top six, this tournament will feature the strong Czech and Austrian national teams,4 as well as both of Germany's top teams in Seagulls (Hamburg) and jinX (Berlin). jinX won the recent Elite Invite and may be under-seeded here. LUV (Leuven, Belgium), which made xEUCF quarters in September, will also be in Bruges along with Frizstyle (Lille, France), which won the postseason Madrid Ultimate Cup tournament last year, and London Masters Ultimate (UK), which finished third at UK nationals and will be attending master's worlds in Limerick later this year. The depth is fantastic and there's almost certain to be a lot of very close, competitive games.
Who's Playing Who?
The women's pools are wild. YAKA will face Seagulls and LUV, CUSB Shout will play Austria, jinX and London Masters, Iceni face the Czech national team, and DESKEAGH will see Grut and Frizstyle. The depth in the tournament means there should be good games in each pool. Picking a winner seems a real fool's errand but jinX is coming into the tournament in good form with its top players firing, while YAKA and CUSB are still getting back up to speed and may be missing some stars that have powered them in previous years. Iceni is the real dark horse and is very difficult to project, with a large, talented squad that is potentially lacking a huge amount of competitive experience so far this season heading to Belgium. When asked what observers could expect, Thompson said: "We are competitive, have a drive to represent Iceni to the best of our abilities, and you can expect the unexpected." Be that as it may, it's tough to pick against the winners of the last two tournaments we've seen where teams were something near full strength.
Prediction: YAKA wins over jinX, CUSB Shout and Iceni both losing in the semifinals.
---