A look at who will be competing at the European classic.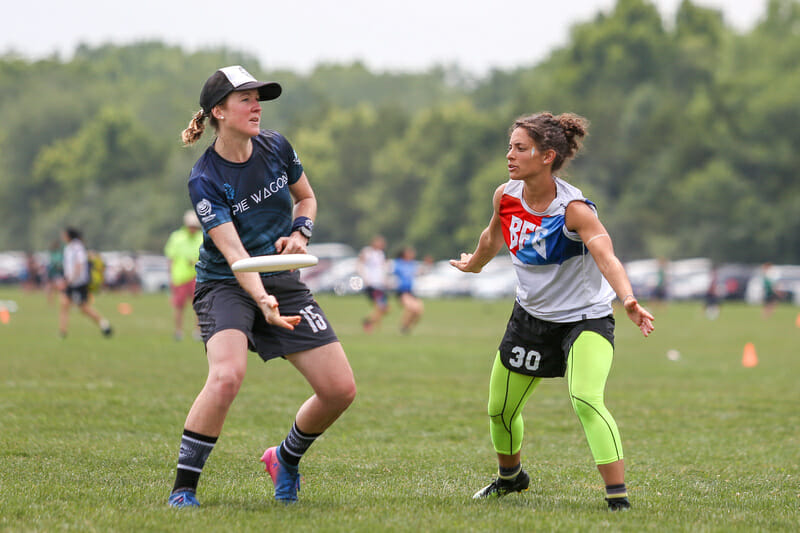 The first full European season since 2019 continues this weekend with the return of one of the best-known tournaments on the continent. The 16th edition of Windmill will see 80 teams from across the world competing in Amsterdam across three divisions and will offer some intriguing matchups to look out for in preparation for WUCC in Cincinnati and beyond. The mixed division, always the biggest at the tournament, will feature 40 teams while 26 open and 14 women's teams will also be fighting it out for the trophy.
Tournament Profile
Location: Amsterdam, Netherlands
Dates: 17-19 June 2022
Weather: Warm and sunny on Friday and Saturday with temperatures up to 29C/84F, with showers likely on Sunday. Low wind all weekend
WUCC teams: 28 (13 mixed, 10 open, and 5 women's)
Watch: Ulti.TV YouTube
Games between 10:00 and 18:45 on Friday, 09:00 to 18:00 on Saturday and 09:00 to 17:00 on Sunday (times all CET, -6 ET)
Windmill uses a Swiss draw so the seedings at the start don't really matter a great deal and it's likely that they'll change quite a lot as we go through the weekend.
Iznogood Looking to Maintain Form
Newly minted French champion Iznogood (Noisy-le-Sec) come into Windmill having won its last two tournaments, adding the national crown to a Tom's Tourney win in May. Izno has been one of the best teams in Europe for some time but has never hit these heights before. The addition of American star Joe White is the most obvious change to the roster given the massive role he has played so far, but there are plenty of other strong players on this roster, including French World Game squad members Eric Becker-Chagneux and Pierre-Louis Combret. There's little doubt they'll be playing with a kind of collective confidence they haven't had before.
The field is a very strong one with ten WUCC teams including Clapham (London), which lost to Izno in the Tom's semifinal after giving up key late breaks. Clapham is bringing close to its full roster  for the first time and will surely be chief among those team eyeing revenge against the Parisians. Mooncatchers (Brussels) are another team to watch out for, with their exciting style usually meaning either huge and thrilling wins or gutting losses, while Chevron (Manchester) are going with the bold strategy of only picking players with the same name.
Return of UK Mixed Teams
The pandemic meant that xEUCF 2021 was attended by only two British teams – Clapham and Smash'D (Cambridge), both in the open division. UK teams have played several tournaments so far this season in open and women's division competition, but this will be the first time that the mixed division makes the same leap back into competitive European ultimate.
It's a great tournament in which to do so, with all four of the UK's mixed representatives at WUCC combining with eight other European teams and Pie Wagon (Newcastle, Australia) to make 13 teams that will be flying over to Cincinnati. It will be intriguing to see if the UK teams – two-time reigning national champ SMOG (Manchester), former European champ Reading Ultimate, last year's runners-up Deep Space (London) and SMOG Rising 1 (Manchester) – can compete with the best that Europe has to offer. Last time they attended Euros, Deep Space made semis but SMOG had a disappointing tournament.2 A match between SMOG or Reading and two-time European champion GRUT (Amsterdam) would be particularly fascinating.
The Non-Europeans
There's only one non-European team in the open or women's divisions: Primadonna Girls from the United States. This team is made up largely of Molly Brown players, including World Games player Claire Chastain, former Boston Brute Squad handler Amber Sinicrope, defenders like Melissa Devlin and Sam Peletier and rising stars like Kennedy McCarthy. The team has depth, the ability to play smothering defense, and throwers that can break any mark, and will be strong favorites.
Pie Wagon will be representing Australia in the mixed division and are one of a handful of non-European teams in the mixed division. There are some very interesting teams joining them, including Rainbow Brigade, which returns after a hugely successful first tournament in 2019. RB finished just outside the bracket last time around and have put together a strong, international team of LGBTQ+ players featuring European champions, US Nationals players, and several with worlds experience. Smart money should go on them to make the bracket this time around.
Joining them is EuroTrash, a team made up of people largely from this parish – the EuroZone and Sin The Fields podcasts have come together to make a super team. Who knows what will be wrought on the fields of Europe at their hands over the course of the weekend. The confusingly named Waitlist #1 is full of star players from Seattle teams over the years, with a number hanging around in Europe to play WMUCC in Limerick shortly after Windmill, and will undoubtedly be a tough test for anyone. Rounding out the American representatives is NC Southern Hospitality, a team made up of players from as many as seven North Carolina-based programs. Several of these players are planning to remain in Europe as well to play with Masters clubs Boneyard and Ripe in Limerick.
That leaves the non-Americans, and it's a long list! Ultimate Palestine (Bethlehem) features some of the best Palestinian players and will make its debut at Windmill. TTT (Taipei) will represent Taiwan, Tiki Taka (Dubai) features expats and players from UAE, Fu Fighters (Singapore) is a team that's largely played on beach before but switches to grass, Ambush (Goa) features a number of Indian national team players, Callithrix (Rio de Janeiro) is the first team formed in the Brazilian capital, and MAMOOTS (Bogota) will add to the South American vibes. It's a hugely diverse group of teams which should mean some fun games (and some even better parties).
A Smaller Women's Division
It is a smaller women's division than Windmill is used to with only 14 teams, potentially due to the proximity of the new London Invite tournament that has attracted some of the top teams. The standard is high, though, with five WUCC teams attending and several more that would definitely be good enough to play at that level but won't be flying to Cincinnati, not to mention Primadonna Girls.
The top European team here is likely to be Dublin Gravity, which is coming off a season that ended in European bronze medals. The team has played several tournaments already this season but this will be a final warm-up for the group that will be heading to worlds. Also attending are Seagulls (Hamburg), long one of the strongest German teams, former European champion Flying Angels (Bern) and UK teams Spice (Nottingham) and SCRAM (Edinburgh/Glasgow). Both British teams are relative newcomers, with Scots SCRAM making WUCC in its second season and Spice in its debut year. The Belgian National team and Czechs 3SB (České Budějovice) will add to the quality despite not going to WUCC.
Predictions
At a tournament like Windmill predictions are often a fool's game. That said, here's some foolishness:
Primadonna Girls will face Dublin Gravity in the women's final.
Clapham will make the open final, but their opponent is a tough one. I'll go for Mooncatchers to keep it interesting.
GRUT will play one of the American-based teams in the mixed final, but I'm not sure which one.
There will be a significant amount of sock wrestling, but the field there is wide open.
---
Previously known as SMOG 2, the first second team to qualify for WUCC from the UK (and maybe anywhere? Records are unclear.). ↩

SMOG 1 finished ninth, SMOG 2 11th ↩