Mooncatchers have announced themselves as we move into power pools.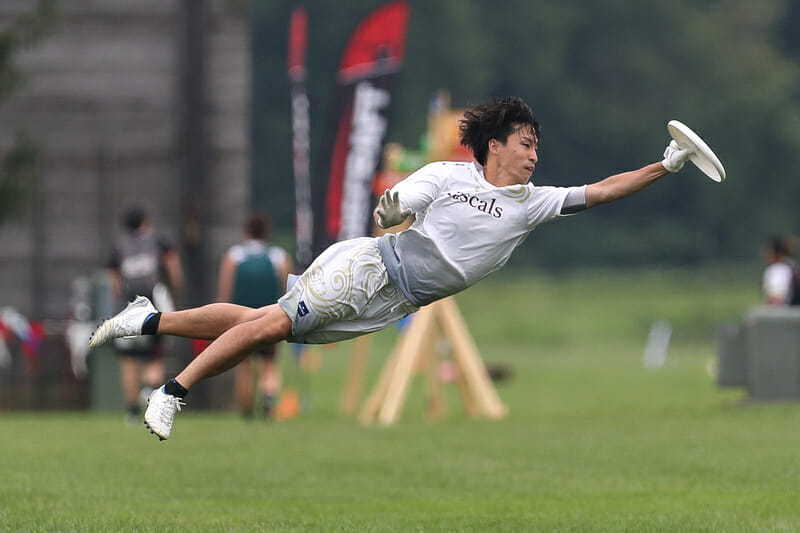 LEBANON, OH — The first days of WUCC are in the books, and the initial pool play is all wrapped up. From a Belgian team causing some major upsets, to several important pools games coming down to the wire, day 2 was a rollercoaster, and we're excited to share a quick recap of all the action.
First, let's take a look at where things stand after pool play:

Mooncatchers Exceed Expectations
The biggest story in the Open division has been the meteoric rise of Brussels Mooncatchers (BEL), who defeated both Vancouver Furious George (CAN) and Portland Rhino Slam! (USA) to take first place in Pool E.
For many of our readers who haven't heard of Mooncatchers, the defeat of two North American teams may come as a shock. But for avid European fans, Belgian success on the world stage has been a long time coming. "Most of the team started playing together when they were twelve years old, so they are like family", described Moby Espitia, a former player and former coach of Mooncatchers. "For this tournament, they've brought their Latvian friends and two Americans and I think it's a good mix."
The 'Latvian friends' in question are Arvīds Žanis Orlovskis and Didzis Malderis, both of whom played U24 in 2019, and the two Americans are Johnny Bansfield and Paul Arters from Chicago Machine. With the height of the Latvians and the experience of the Americans, Mooncatchers have been able to cause a lot of trouble so far in this tournament.
Not only are they winning games against top teams, they've been doing it in style. "Mooncatchers [excel at using the] over the tops", Espitia continued. "That's their main strength and also their main weakness. If it's not windy, and they can take the big shots, they can beat everyone, even, I think, the American teams. But they can also lose against everyone like they did in the European Championships one year ago." As someone who watched all of their games, I can confirm that Mooncatchers use hammers and scoobers with more frequency and efficacy than any other team I've ever seen. Rising stall count? Hammer. Cutter striking deep? Hammer. Teammate standing on the other side of the field unaware of what's going on? You best believe that's a hammer. But, as Espitia says, when the wind picks up, the upside down throws can become a lot riskier, and many of their turns have been the result of errant crossfield lobs.
Thankfully, this week's air has been fairly calm so far, and with a roster featuring several players taller than 6'3″ (190cm), the over-the-tops have been incredibly effective, even in traffic.
In the next round, Mooncatchers move on to power pools and will compete against Bogotá Euforia (COL) and New York PoNY (USA) to see who gets to skip the prequarterfinals when the bracket begins. Needless to say, if you have a chance to watch the Belgians compete on stream, we would recommend you drop whatever you're doing and tune in.
The Battles for Second
Other than Mooncatchers upsets, the tops of all the other pools have gone according to seed. With all the top seeds except Furious George holding fast, the real story of day 2 was who would place second in each pool and earn a coveted spot in power pools. So, we've prepared a few quick hits of which games went the distance, and who will be moving on to play with the big boys.
Montreal Mephisto (CAN) faced off against Rascals (JPN) in what many expected to be a close game. Unfortunately, it seemed that Rascals put all of their energy into upsetting Sydney Sunder (AUS) earlier in the day, and had nothing left in the tank for the Canadians. The game ended 15-8 in favor of Mephisto, who move on to play against Bologna CUSB Open (ITA) and Noisy-le-Sec Iznogood (FRA) on day 3.
By far, one of the most contentious games of the day was Birmingham Chevron (GBR) vs. Bogotá Euforia (COL). It was a game with a lot of physicality and calls, and tempers flared as it dragged on. When all was said and done, Euforia won 15-12. However, the spirit scores say more than words ever could. Chevron received a four for spirit, while Euforia received a three (an average score is 10), the lowest scores in the Open division thus far. Euforia will play Mooncatchers and Rhino Slam! tomorrow, and hopefully things will be a bit more spirited.
In Pool E – the much talked about "pool of death" – Rhino Slam! faced off against regional rivals Furious George, and defeated them 15-11. Thankfully, there was no bad blood between these teams, and it concluded with a cheery spirit circle and the exchanging of gifts. Rhino Slam! go into power pools, and will take on PoNY and Euforia.
In Pool G – the slightly less talked about "pool of death pt. 2" – GOAT (CAN) battled with Melbourne Ellipsis (AUS) in another second place game. GOAT took an early lead, but Ellipsis fought back late in the game. Tom Tullet put the team on his back, netting two chest-high layout blocks that resulted in breaks. Unfortunately for the Melburnians, GOAT managed to stabilize, and won it when the cap went off. "We kind of have a reputation of starting hot and then letting [our opponents] get back in, clearly. But we were actually able to close this one out," said GOAT handler Luc Comire. "Everyone was just willing to grind out until the end no matter what, and it turned out well." GOAT will face off against Raleigh Ring of Fire (USA) and Tokyo Nomadic Tribe (JPN).
Notable Monday Games
Basel Freespeed (SUI) was knocked into the consolation bracket after losing to Warao (VEN) and Cape Town Mutiny (RSA). On top of this, Heilbronn Bad Skid (GER) finished third in their pool after being upset by Mutiny on day 1. This has led to a conversation about whether teams should be allowed to pick up foreign players, as Mutiny had to pick up several American players to fill out their roster due to VISA issues.
After a thrilling DGP upset by Baja Ultimate (MEX) against Melbourne Juggernaut (AUS) on day 1, Iznogood (FRA) and Ghent Gentle (BEL) also had insanely close matches with the Melbourne team, beating them 15-14 and 15-12, respectively. What this means is that Baja, the first Mexican team to ever win a pool play game a WUCC, will advance to power pools and have a chance to make it to the bracket. The dream isn't dead yet!
Glasgow Alba (GBR) looked as though they were going to be sent home early as well, and needed to beat Flying Angels Bern (SUI) by a margin of three or more points to advance to power pools. To say the least, the team came together and put on a show, blowing out FAB 15-8 and keeping their hopes of a bracket run alive.
What's Coming Up
Power pools will be on the menu for today, and we're looking at some very juicy matchups. While teams in the upper power pools will be playing for a first round bye in the bracket (which, for overseas teams struggling with jet lag, might be a godsend), teams in the lower power pools will be fighting for their lives. The top two teams of these pools will move on to prequarters, while the bottom two will be swallowed up by the leviathan known as the consolation bracket. So, for today, we'll focus on who could be eliminated in the next 24 hours, and which specific games will hold the most weight for teams looking to make it to the bracket.
Pool M: Gentle (1-0), Rascals (1-0), Guayota (0-1), Baja (0-1)
This pool seems pretty cut and dry. Guayota and Baja are both good teams, but it seems unlikely that either will be able to upset the top two teams in the pool. Our prediction is that Gentle and Rascals hold seed and advance to crossovers with little trouble.
Pool N: Wildcats (1-0), Ellipsis (1-0), Ranelagh (0-1), URO Monster (0-1)
Our prediction is that Ellipsis vs. Wildcats will be the deciding game in this pool. If Ellipsis wins, they're all but guaranteed a spot in the next round. If they lose, the door will be open for Ranelagh or URO Monster to take that spot instead. Plus, the rivalry between Australia and New Zealand is always fun to watch, so we're looking forward to the regional matchup.
Pool O: Bad Skid (1-0), KFK (1-0), Alba (0-1), Warao (0-1)
Certainly the highest caliber team in Pool O, Bad Skid should have no trouble winning out. Assuming they live up to their reputation, the deciding games will be Warao's matchups with Alba and KFK. If Alba beats Warao, and Warao beats KFK, there will be a three-way tie for second, and the decision of who advances to the next round will be up to point differential. Expect teams to be playing highly-focused offense during these games, as every point will matter if what we just mentioned comes to pass.
Pool P: Furious George (1-0), Chevron (1-0), Koels (0-1), Tchac (0-1)
Now here's a wild one. The pool of death knocked two excellent teams into the lower power pool, and there are going to be four great games from this pool on day 3. While we expect Furious to win out, the remaining teams could go toe-to-toe. The deciding game will be Chevron (GB) and Tchac (FRA). If Chevron wins, they advance.