The biggest highlights of the last 10 Club Nationals.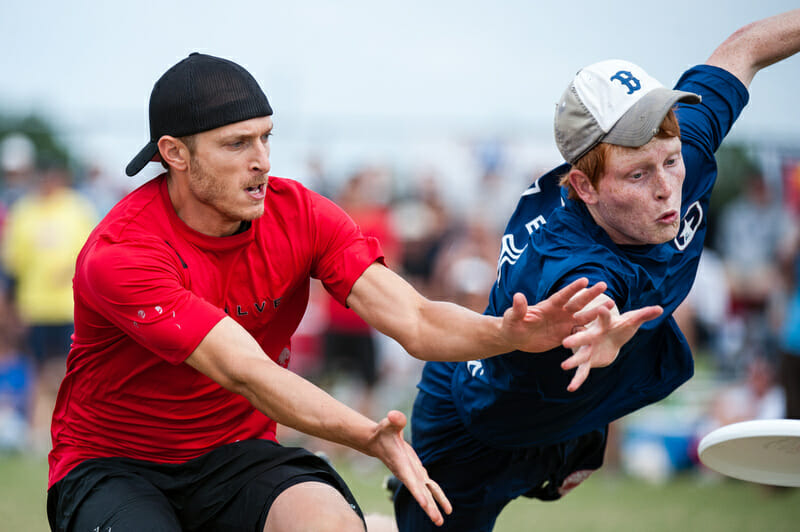 We are just days away from the first pull of the USA Ultimate club National Championships. Our anticipation has us longing for the superplays of yesteryear. We have been counting down 10 of the best highlights from the last 10 years of Nationals over on our Instagram and TikTok.
Here they are in historical order.
2012 – Dalton Smith Layout Block
Before he was well known as a daring handler, Dalton Smith was burst onto the scene with this play. The tone-setting first throw layout block established that the underdog Doublewide was going to give vaunted Revolver all they could handle. It turned out it was even more than they could manage, as the Texas team won confidently. And it all started with Smith galloping down on the pull and sizing up a block.
2013 – Anna Nazarov Layout Goal
This is the exact opposite of Dalton Smith: the Bay Area juggernaut absolutely crushing the hopes for an upset from an up-and-coming opponent from Texas. Anna Nazarov took to the air with gusto to haul in this huck to open the game with the type of run that made Fury look like they couldn't be touched, yet again.
Few players have a defensive resume that rivals Payne's combination of spectacle, frequency, and clutch. Not only does Payne hit the NOS for a burst of speed that flips the footrace results, not only does she adds a soaring bid, but she caps it off by a no-doubter interception. It hits every note.
Khalif El-Salaam and Mixtape teammate Jesse Bolton are the self-proclaimed captains of SOS, or Sit on Shoulders club. Khalif demonstrated that the term is fairly literal with one of the nastiest poster coaches ever committed to ultimate film at Nationals.
2016 – Josh Markette Scoop Catch
Patrick Stegemoeller once wrote of this catch "GET OUT OF HERE WITH THIS WITCHCRAFT." Does anybody know how he did it? Not even Cricket himself does. But this inexplicable snag during a tense national final is one of the elements of what made the 2016 club men's final a true classic.
2017 – Anna Thompson Layout D on Universe
Anna Thompson established herself as one of the club mixed division's rising stars with this remarkably big time play came on universe in the national final. There are no brighter figurative lights. But a block like this could have occurred in consolation play on a desolate grass field in the rural section of any state and still have shone brightly. It earned 2017 Block of the Year honors.
2018 – Simon Higgins Layout Goal
Vaunted Revolver reached another final in flashier style than had been there signature: a high-flying dive from star cutter Simon Higgins. We are suckers for a game-winner in the clutch, and Higgins gets big for this one, defying gravity in a play with great gravitas.
2019 – Angelica Boyden Layout Block 
One of the most shocking Nationals upsets of the modern era was set off by this soaring layout block by Angelica Boyden that had the sideline — and our reporter — going wild. Snappy reaction time and explosive athleticism combined for a sparkling interception.
Admittedly, this throw isn't quite the spectacle of some of the other plays on this list. But what it lacks on panache it makes up for in significance. With it all on the line, Ryan Osgar, whose star had risen very quickly in the year or so prior, dimed a forehand to Jack Williams to secure a long sought title for Raleigh Ring of Fire. A historical also-ran, the deep shot altered Ring's legacy forever.
2022 – Manuela Cardenas turn around block
It was no surprise when this won Block of the Year and the most memorable play of Club Nationals last year. Coming at a critical moment in the women's final, Cardenas' Spider-Gwen-esque twisting block stopped a break and helped secure Molly Brown's first title. What will Manu do this year in her first year the reigning US club champion?