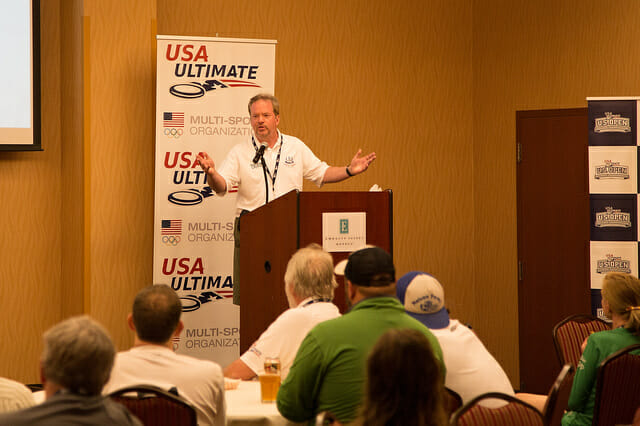 USA Ultimate CEO Tom Crawford signed a six year extension with the organization that will keep him at the helm through at least 2021. The contract also contains an automatic additional extension triggered if ultimate is added to the Olympics in that timeframe.
"On behalf of the USA Ultimate board of directors, we are very excited to have Tom continue leading our organization," said President DeAnna Ball in a statement. "He has been a tremendous advocate for our sport, and his attention to our strategic plan has resulted in enormous strides for the sport, as well as USA Ultimate. The commitment he has demonstrated is unequivocally reciprocated by the board. I have great confidence in his ability to continue to push our sport forward, both here in the U.S. and internationally."
Crawford echoed his own excitement.
"As I've said many times, I fell in love with ultimate as a unique, wicked fun and highly athletic sport," he said. "I love the Spirit of the Game ethos, and unlike other sports that talk about and even emphasize sportsmanship, ultimate has found a way to truly operationalize it, so it sticks and becomes part of the fabric of the sport, and I love that. It makes this sport very different from most other sports, and I'm energized to be sure families learn about it as a great option for their children. And I want to put our world class athletes on the big stage.
"Thus I am thrilled and truly honored that the board is pleased enough with my leadership and performance to offer me this long term agreement that allows me to continue to lead the smartest staff I've ever had the pleasure to work with and to lead the growth of ultimate and this organization for years to come. We've got some really exciting plans, and I'm truly psyched about our future!"