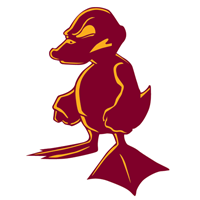 Minnesota
Based in
Minneapolis, Minnesota
Nicknames
Grey Duck
Personnel
Coaches
Tallis Boyd, Justin Gilbert
Captains
Tristan Van De Moortele, Saurav Dubey, Sam Kaminsky
Roster Announcement
mngreyduck.weebly.com
Postseason titles
Regional
titles
2017
Postseason appearances
Championship
appearances
2017
Regional
appearances
2017
Sectional
appearances

Italic indicates team received a bye to Regionals.

2017
Links
Twitter
@1Duck1Love
Website
mngreyduck.weebly.com
Facebook
facebook.com
USAU Page
play.usaultimate.org
Minnesota is a college ultimate team based in Minneapolis, Minnesota. The team competes as a member of the North Central region and the Northwoods section in the College D-I Men's Division of USA Ultimate (USAU).
Recent Ranking
Minnesota was ranked #20 in our College D-I Men's Power Rankings on January 6th, 2022.
Recent Videos
For more videos try searching our video archives on VHX.
Seasons
Year
League
Region
(finish)
Section
(finish)
Regular Season
Postseason results
Captains
Coaches
Wins
Losses
2017
USAU
North Central
(1st)
Northwoods
(2nd)
19
3

5th Place at College Championships
[3-1 record]

1st Place at North Central Regionals

2nd Place at Northwoods Sectionals


Wyatt Mekler, Tristan Van De Moortele, Sam Kaminsky
Tallis Boyd, Justin Gilbert
USAU