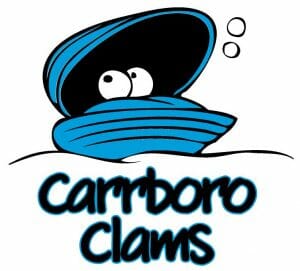 Carrboro (NC)
Established
2009
Based in
Carrboro, NC
Nicknames
Clams
Short Name
C-ULT
Personnel
Coaches
Schuyler Kylstra, Chathan Driehuys, Marc Rovner
Captains
Andrew Hoffman, Seiji Kakefuda, Josh Singleton
Postseason titles
State
titles
2019
Postseason appearances
State
appearances (10)
2019, 2018, 2017, 2016, 2015, 2014, 2013, 2012, 2011, 2010
Regional
appearances (5)
2018, 2017, 2016, 2015, 2014
Other achievements and wins
Queen City
Tune Up High
School
Champion
2015
High School
Easterns
Champion
2015
YULA Invite
Runners Up
2015
Links
Twitter
@carrboroclams
Facebook
Carrboro Clams Ultimate Frisbee
YouTube
Carrboro Clams Media
Hyper Doc
A Brief History
Carrboro (NC) is a high school ultimate team based in Carrboro, NC. The team competes in North Carolina in the High School Boys Division of USA Ultimate (USAU).
Recent Ranking
Carrboro (NC) moved up to #9 (from #17) in our High School Boys Division Power Rankings on May 18th, 2019.
Recent Articles
Currently there are no tagged articles for this team. You can try searching the full site here.
Seasons
Year
League
Region
(finish)
State
(finish)
Regular Season
Postseason results
Captains
Coaches
Wins
Losses
2019
USAU
North Carolina
(1st)
14
6

1st Place at North Carolina State Championships
Won Championship Final (CFS) 13-11
[5-1 record]


Andrew Hoffman, Seiji Kakefuda, Josh Singleton
Schuyler Kylstra, Chathan Driehuys, Marc Rovner
2018
USAU
South
(6th)
North Carolina
(3rd)
11
8

6th Place at South Regionals
[3-3 record]

3rd Place at North Carolina State Championships
Won 3rd Place Final (Durham Academy) 8-6
[5-1 record]


Brady Furey, Curtis Kinnaman, Jonah Perrin
Schuyler Kylstra, Matt Olivetti, Chathan Driehuys, Marc Rovner
2017
USAU
South
(9th)
North Carolina
(7th)
14
12

9th Place at South Regionals
[3-4 record]

7th Place at North Carolina State Championships
[4-3 record]


Jonah Kadens, Curtis Kinnaman, Matt Singleton
Schuyler Kylstra, Mike Avila
2016
USAU
South
(13th)
North Carolina
(9th)
11
8

13th Place at South Regionals
[2-3 record]

9th Place at North Carolina State Championships
[2-3 record]


Yuma Kobayashi, Dean Merritt
Britta Jones, Heather Zimmerman, Schuyler Kylstra, Patrick Welsh
2015
USAU
South
(3rd)
North Carolina
(2nd)
18
2

3rd Place at South Regionals
Lost Championship Semi-Final (CFS) 7-10
[4-1 record]

2nd Place at North Carolina State Championships
Lost Championship Final (CFS) 11-12
[4-1 record]


Britta Jones, Heather Zimmerman
2014
USAU
South
(5th)
North Carolina
(3rd)
7
4

5th Place at South Regionals
Won 5th Place Final (HB Woodlawn) 11-8
[4-2 record]

3rd Place at North Carolina State Championships
Won 3rd Place Final (East Chapel Hill)
[5-2 record]


Britta Jones, Heather Zimmerman
2013
USAU
North Carolina
(7th)
8
10

7th Place at North Carolina State Championships
Won 7th Place Final (Sanderson) 13-9
[4-3 record]


Britta Jones, Heather Zimmerman
2012
USAU
North Carolina
(3rd)
14
7

3rd Place at North Carolina State Championships
Won 3rd Place Final (Green Hope GHUF) 13-5
[5-2 record]


Britta Jones, Heather Zimmerman
2011
USAU
North Carolina
1
4

7th Place at North Carolina State Championships
Won 7th Place Final (Enloe)
[3-5 record]


Britta Jones, Heather Zimmerman
2010
USAU
North Carolina
0
6

5th Place at North Carolina State Championships
Won 5th Place Final (Jordan)
[4-3 record]


Britta Jones, Paul Corbett, Matt Koh, Lindsay Lang, and Heather Zimmerman