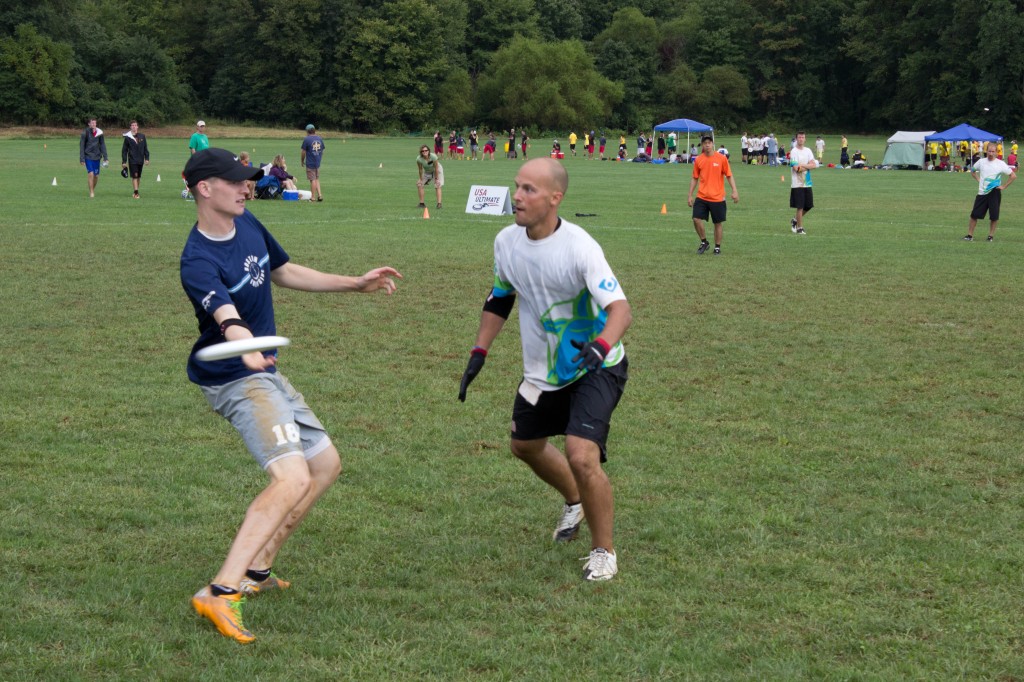 Follow all of our Chesapeake Invite coverage here. Much more to come.
This weekend's Chesapeake Invite, the most important East Coast tournament of the Club regular season, helped to clarify the strengths and weaknesses of many of the country's top club teams. Not only were the teams measuring themselves against elite competition, but the results will also have a big impact on the Nationals bid allocations, thanks to the new USA Ultimate ranking system (for an explanation, go here).
There are a lot of great stories coming out of the weekend as we look ahead to next week's Labor Day Championship, the final elite Club tournament before the Series. Let's get to it.
Ironside Sails To Victory

It was the same story as it has been all year: Boston's Ironside dominated the competition en route to the tournament title, their fourth of the season. They continued to set themselves apart from the field, going 7-0 on the weekend and never allowing an opponent to score in the double digits.
Because of a spectacular comeback upset in the semifinals (more in a moment), Ironside did not face Atlanta's Chain Lightning, the team most expected to challenge them for the title. Instead, they played Toronto's GOAT – a possible preview of the Northeast Regional final – in a game that was only close at the start, before Ironside rattled off two quick breaks to take half 7-5. They wouldn't look back, going on to win 13-9.
Ironside Wins: Madcow, Truck Stop, Tanasi, Condors, Boost Mobile, Ring of Fire, GOAT
GOAT Battles
Despite the finals loss, GOAT had an excellent weekend, going 3-1 on Saturday (including a big win against a solid Southpaw team) and 2-1 on Sunday. Their marquee victory came against Chain Lightning in the semis, where they rallied back from a 9-4 deficit to win on double game point 15-14.
GOAT's defensive line – while frequently gifted turnovers after bad decisions and simple execution errors by Chain – was focused and hungry in the second half. They played excellent offense and made some huge plays on both sides of the disc to push the Canadian squad into the finals.
Their play this weekend all but guaranteed a second bid to Nationals for the Northeast region.
GOAT Wins: Streetgang, Oakland, Southpaw, Madcow, Chain Lightning
GOAT Losses: Ring of Fire, Ironside
From Spinners To Southpaw
As we discussed in our Saturday recap, Philadelphia's Southpaw played their first tournament as a Club team this season, after much of their roster played together as the Philadelphia Spinners in the American Ultimate Disc League until earlier this month.
Considering they were working to gel as a team for the first team, they had a strong weekend, going 3-0 in pool play while improving throughout the tournament. Although they went 1-2 on Sunday, their losses were by small margins to good teams.
In fact, Southpaw ended up with a +1 point differential (see the bottom of this post for more on teams' point differentials) on the weekend, leaving them behind only the semifinalists. That fact, combined with their -1 point differential against teams ranked in USA Ultimate's Top 16, will likely put them in a position to earn a strength bid for the Mid-Atlantic region. They will need to play well again next weekend at the Labor Day Championships to make sure.
Southpaw Wins: Boost Mobile, Sub Zero, Florida United, Madcow
Southpaw Losses: GOAT, Truck Stop, Condors
Southwest Gets A Boost
Three teams from the Southwest region came to Chesapeake, each ranked in the top 20, but with games played mostly against each other. Despite skepticism about their rankings, both the Condors (Santa Barbara) and Boost Mobile (Palo Alto) were solid, breaking seed and notching some big wins in the process.
Although both teams played up-and-down, their play was probably enough to ensure at least one strength bid – and possibly two – for the Southwest, where San Francisco's Revolver – the reigning World and National Champions – are the heavy favorites to win the region.
Their extra bid may come at the expense of the Northeast. New York's PoNY, currently ranked 15th, went 0-3 against the Southwest teams, losing once to Boost and twice to the Condors.
Boost Mobile Wins: Florida United, PoNY
Boost Mobile Losses: Southpaw, Sub Zero, Ring of Fire, Ironside, Truck Stop
Condors Wins: PoNY, Cash Crop, PoNY, Southpaw
Condors Losses: Chain Lightning, Ironside, Sub Zero
Quick Hits
Chain Lightning played great, save for in the second half of their semis matchup against GOAT, where sloppy execution gave away their five point lead. Their zone to man defensive look was really giving teams trouble and their offensive line played exceptionally well. The poor play against GOAT looked like an anomaly…this team is dangerous.
Along with Chain, North Carolina's Ring of Fire showed real strength from the Southeast region. Ring went 5-1 on the weekend, with good wins against GOAT, Boost Mobile, and Sub Zero. Their only loss was to Ironside.
Minneapolis' Sub Zero still plagued by inconsistency. They notched some good wins (Boost, Condors, Truck Stop) along with some baffling losses (Florida United).
Washington DC's Truck Stop was similarly up-and-down. They lost to Madcow (Columbus) — the last seed in the tournament — in pool play but they beat Southpaw in a Regionals preview matchup on Sunday. They barely took down Nashville's Tanasi but they beat Boost Mobile. Considering they came into the weekend with the 13th seed, it will be interesting to see if they manage to hold onto a top 16 spot; it will be close.
PoNY had a very rough weekend. Their offensive line, which was missing Jack Marsh (Captain) and Dan Heijman (among others), could not take care of the disc. Early in their prequarters game against Boost Mobile, the O line gave away four straight breaks and Boost never looked back. PoNY's only wins were against Nashville's Tanasi and Raleigh's Cash Crop, two of the tournament's bottom teams. This was not the story of ECC, where they lost games but could have won almost all of them. They mostly got beat this weekend and will almost certainly fall out of the top 16 in the rankings.
Cash Crop, who earned a spot at the Invite after winning the Chesapeake Open earlier this month, couldn't hang with the top teams. They had the third worst point differential against teams ranked in the top 16.
Madcow – the tournament's last seed – surprised us by coming out fired up against Washington's Truck Stop in the first round Saturday and snatching the 13-11 victory. They would go on to take second in their pool behind Ironside and make it into quarter finals before falling to GOAT. Their 3-4 performance should be tempered by their -17 point differential, the second lowest at the Invite.
Region Analysis
Buy: Southwest (More bids coming after Boost, Condors strong play), Southeast (Ring and Chain each with just one loss)
Hold: Northeast (All-NE finals…GOAT looked good…PoNY not so much)
Sell: Mid-Atlantic (Truck Stop had a rough weekend…Oakland even worse…Southpaw still a question mark)
Game of the Tournament: Chain Lightning v. GOAT (Semifinals)
GOAT's epic comeback – which included some huge plays along the way – earns their game against Chain the nod for the Chesapeake Invite game of the tournament.   Check out the full game footage here.
Notes:
Lightning delayed play around 45 minutes on Sunday…Thank you to Curley's BBQ Truck for letting us charge our camera batteries…Chain Lightning's offensive line had just one turnover through the first three halves of play on Sunday…Due to injury, GOAT had just 13 available players in the finals…Some Southpaw players, used to playing in the AUDL, forgot to start the stall count on Saturday morning…Many games were observed, thanks to Chesapeake's USA Ultimate observer training clinic…
Video
Chesapeake Invite 2012 Game Of The Tournament: GOAT v. Chain Lightning
Ultiworld Interview: Southpaw
Team Statistics
Note that Oakland, Madcow, and Southpaw were all unranked coming into the weekend. They were not included in schedule strength calculations.
| Team | Point Differential | PD vs. Top 16 | Avg. Rank of Opponents |
| --- | --- | --- | --- |
| Ironside | +42 | +26 | 13.7 |
| Chain | +26 | +14 | 14.8 |
| GOAT | +13 | -8 | 8.5 |
| Ring of Fire | +11 | +6 | 11.4 |
| Southpaw | +5 | -1 | 15.7 |
| Subzero | +4 | +1 | 14.8 |
| Boost Mobile | -1 | -7 | 14.0 |
| PoNY | -3 | -11 | 13.2 |
| Truck Stop | -5 | -11 | 12.0 |
| Condors | -5 | -4 | 11.7 |
| Streetgang | -7 | -9 | 19.0 |
| Oakland | -8 | -7 | 16.5 |
| Cash Crop | -10 | -15 | 15.2 |
| Florida United | -13 | -7 | 16.4 |
| Madcow | -17 | -23 | 12.9 |
| Tanasi | -31 | -25 | 15.0 |