The Chesapeake Invite offered an early glimpse at many of the quarters and semis contenders in the Triple Crown Tour. See how the teams from the Men's Division looked in our tournament recap.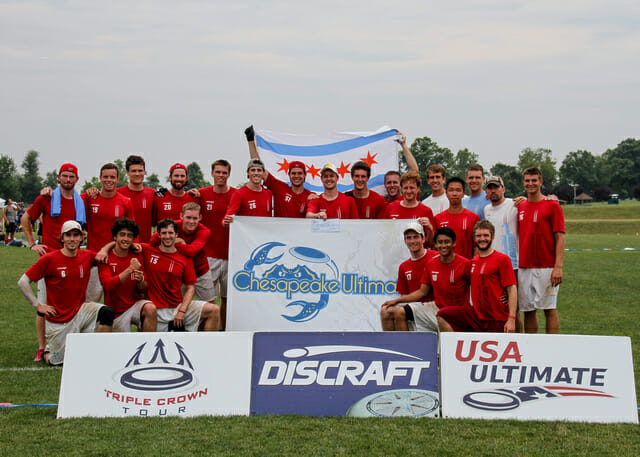 The 2014 Chesapeake Invite was a presentation for some, an interactive lesson for others, and a downright lecture for a select few teams. What did we — the reporters, volunteers, and spectators at-large — take away? Perhaps not nearly as much as the teams.
We can talk ad nauseam (those of us who follow the action closely) about the implications for various teams and what their tournament performance means, but the sense leaving this weekend is that Chesapeake Invite this year, more than any year previous, was an early season tournament. There were some new bells and whistles for sure, but even the NGN Ultimate rig couldn't take away from the "out in the woods at just another tournament" feel at Morven Park. The heat was intense, and play on the men's side was at times unpredictable. We bore witness to adjustments, tuneups, and some teams sticking it out with slim rosters or trying out a final few players.
Chicago Machine got highest marks for their work and set the curve, leaving only Chain Lightning, PoNY and Ring of Fire with better-than average grades. Truck Stop, Doublewide, and GOAT all passed without much fanfare, while Florida United, High Five received the ever-frustrating "good work, needs improvement". Sub Zero were awarded the only "incomplete" in the 12-team field. Boost Mobile looks like they have some work to do if they want to return to the show.
Machine Have Done Their Homework
We've already said quite a lot about Chicago Machine and their preparedness — but that's just it. At an early season tournament, especially for teams dealing with roster turnover, out-of-region players that can't always make practice, and just a lack of actual practice for all players, bringing consistency in this field should be lauded. If we're the instructor at this session of class, nice work Machine -we've got high hopes for you.
Remember though, we're grading on a curve.
No one was perfect this weekend. The slip up for Machine came in a late Saturday morning 13-7 loss to Chain Lightning. "We typically don't play a tournament in July. We were looking at [Chesapeake] as an opportunity to practice some things and learn a lot, which I think we did," said coach and captain Ron Kubalanza, thinking back on the team's process goals. The brief collapse on Saturday did not carry over whatsoever into Sunday, as Kubalanza and his squad returned the favor by handing Chain a 13-8 loss in the finals.
While we've done some hemming and hawing already about Machine looking like a potential semis team in Frisco this year, some questions still remain for a team that hasn't broken into the top four yet. Early Sunday morning in their last round of pool play, Machine took half 7-4 against Truck Stop, went up 9-6, and then, in a matter of minutes, the score was 9-9. Though they would hold on for the win, it was a brief lapse in focus in an otherwise dominant Sunday. "Once we stop deviating and improvising, we have more consistent success," said Kubalanza about what it took to put away DC. "It was basically just tightening the screws."
Perhaps at an early season tournament, sticking to the script is one of the best ways to get the looks needed and quick, efficient conversion of breaks. But once the rest of the Pro and Elite flights have found some rhythm — and some legs at the track, will Machine continue to find success while sticking to the script? Machine may yet need to add some creativity to their next performance if they want to continue to succeed.
Chain Working Hard to Make the Grade
A few injuries, some unforced errors, and, at times, a lack of discipline put Atlanta Chain Lightning in a big hole against Machine in the finals. Though personnel wasn't necessarily an issue, the bigger Chicago's lead became, the more it looked like Atlanta was leaning on Jared Inselmann. Involved heavily in much of the backfield movement, Inselmann had a lot of touches, but couldn't do it all himself. Chain also saw key contributions from Tyler Conger and Asa Wilson as downfield throwers along with Inselmann, often finding an open Nicky Spiva or Jay Clark. 
This core often spurred on the huck-focused team strategy, but as the finals wore on it began to make Chain look more one dimensional than they actually are.
While the finals may have given Machine the last word — an authoritative one at that — Atlanta had already proved what they could do against Machine a day earlier. A pair of close wins over High Five and Sub Zero demonstrated some grit and commitment from Chain, and against Ring of Fire in the semifinals, they put on a clinical show against their regional rivals. Overall, it won't really matter that Atlanta has advertised their fondness for deep shots. With such a capable backfield and a legacy that knows where they want to make their cuts and put their throws, Chain will continue to tune their offensive looks and transition defense to score quickly and efficiently before opponents know what hit them.
Chain really looks sharper and more dangerous than they did last season, where they only really looked tough at Nationals. A new sense of urgency — Frank Wooten said they "were not happy with the end result" — seems to be fueling the team.
Ring's Performance Averages Out 
The weekend ended with a decent result for North Carolina's Ring of Fire. They split games with Pony 1-1, were beat handily by Chain Lightning in the semis, and suffered a tough loss against Toronto GOAT, who took the game 12-1o when reinforcements from the AUDL's Rush showed up on Sunday to avenge a rough Saturday. They dispatched Boost FC, Madcow, and a similarly rebuilding Doublewide to push their weekend record to 4-3.
"Sometimes it's a combination of a lack of discipline on our guys and just a lack of knowledge in terms of what we're trying to do right now. Especially because we have eight guys that are playing with us for the first time. And there's a lot of guys that are young, that come from colleges that don't have a system. Right now, it's about getting them up to speed," said coach Mike DeNardis after Ring's semifinals exit.
What else could you expect from a team that recently underwent a major shift in organizational structure and is corralling players from as far away as New York?
Ring of Fire have a lot of talent, and a lot of history (just like Chain) at their back to drive their play during 2014. When the Series rolls around and this team has gelled, expect their entire roster to be on the same page. They'll have standout personalities from rookie Justin Allen and veteran Ken Porter, UNC Darkside stars Christian Johnson and Jonathan Nethercutt, and a whole cast of characters including Ben Dieter (former captain of Cash Crop before the merger), all of whom will combine to create and imposing threat for any opponents. Dieter, particularly, played well for Ring this weekend; DeNardis said most people consider him to be one of the top three players in North Carolina.
Despite patches of strong play, Ring looked undisciplined on offense and gave up far too many breaks.
"The weekend is kind of a mixed bag," Denardis said. Ring certainly have a few more humps to get over (and they'll have at least one more tough tournament when they bring a thin roster to Colorado Cup), but no one should be writing off Ring of Fire any time soon. "We don't take the next step until the simple things are right."
PoNY: Reply Hazy, Try Again
The New York squad burst into the conversation at last year's Pro-Elite challenge, and for a while on Saturday, it looked like that script had a chance to repeat itself. Their pool play win against Ring put them in such a strong position that even a Madcow loss couldn't stop PoNY from taking their pool. And the style of win against Ring was instructive; PoNY has just enough athleticism to get by against the elite teams — especially from an underrated younger group, including Albert Alarcon and Billy Katz — but avoids getting sucked into playing hero ball.
To say that bracket play undid their pool play progress would be harsh, but fair to those who view New York as now top 8 rather than merely top 16 caliber. They lost in Frisco to Machine last year on double game point; at Chesapeake, it was by 7. "We've been struggling with our dump sets," said captain Andrew Wilkes. "We've been able to work through it [this weekend], but against Machine, they just really clamped us down. They gave us enough pressure where ultimately we failed."
On Saturday PoNY was able to use offensive continuity (most of their cutting core returns this season) to their advantage. That unit — especially stars Jack Marsh and Chris Mazur — looked rusty on Sunday. Those two are bellwethers for the offense: rocks last year who can bring out the best in the pieces around them. But PoNY won't make quarters if they play like they did in the semis or 3rd place game. Still, now a year removed from their Terminus win, it remains unclear if that would represent failure or par for the course for the New York squad.
Doublewide Takes Huge Strides With Young Roster
While Doublewide retains some veteran Austin players this season, the team seems almost entirely new. Sure, Texas mainstays — like tall, athletic players  — are still omnipresent, but the star-studded team of the past two years is gone. This is a young, raw team; many of the players at the Chesapeake Invite had never played an elite club game before Saturday.
It showed at the start of the weekend. "We made a lot of mistakes," said Doublewide captain Jerrod Wolfe. "Dropped a pull, lots of throwaways."
But that was part of the plan. The team was playing 11 rookies on wide-open lines. "Win or lose, we weren't worried about results," said Wolfe. "July is not going to get us where we want to be in October."
Slowly but surely, Doublewide started to find a rhythm. Rookies like Chris Sackmann (who made one of the plays of the weekend with an amazing layout block on a huck to PoNY's Robbie Gillies) started to get comfortable on the field. After losing two of their first three games, Doublewide closed out the weekend with four straight wins, including a 14-13 victory over a nearly-full-strength GOAT squad.
"Our young guys got more used to the pace of the play and started to believe they can do it," said Wolfe. "It's something we talked about all week and in every huddle: 'You guys can play at this level. You haven't done it yet, but trust yourself. We trust you.'"
While Doublewide surely has lots of work to do to fill the shoes of players like Kurt Gibson, Mike Natenberg, and Kiran Thomas, no team grew as much during Chesapeake. With new offensive systems being put in place (fewer isolation plays, more of a system-based offense), Doublewide will spend most of the regular season just getting situated. Aside from Will Driscoll, who's as big a club star as anyone, the team is not packed with elite playmakers like in years past. They're not worried. "We have guys who can get the job done," said Wolfe. "We have guys who can fill roles."
Sub Zero Stuck With an Incomplete
With a record of 4-4 at the U.S. Open, Sub Zero finished 4th overall with two of their losses coming to the dominant Johnny Bravo, one to defending champs Revolver, and another to often-early-season favorite Ironside. Two quality wins came against Furious George, and they scored a major take down of Seattle Sockeye to reach the semis. The Minneapolis men worked hard and fast to beat Seattle at their own small-ball game, and opened the season with flashes of brilliance that echoed their rather stunning 2013 Chesapeake Invite performance. 
It'd be easy to say that 2013's up and down performances from Sub Zero are translating again this season, as Sub managed a meager 2-4 on the weekend, but we'd be ignoring the fact that out of 25 rostered players, 17 made the trip to Leesburg. In their first round matchup up, one player was sidelined for the weekend with an injury, and another went on and off after spending a good part of that round vomiting.
"A lot of it's fatigue," said Captain Tom Murray after Sub Zero's win-less Saturday. "Yeah, we're missing guys, but we're really missing bodies, not names."
That was certainly true. Missing a full line after a long tournament weekend and adding in the brutal Virginia heat and humidity after a mild weekend in Minneapolis quickly depleted the team's ability to perform. Murray mentioned that the O-line only had seven players to go two full days and noted that, at its core, only three of that seven were those who regularly played on the line.
A lack of bodies, hot weather, and the challenge of asking players to cover different assignments — that's a recipe for an incomplete performance. When they're whole, Sub Zero will be a very dangerous opponent in Frisco.  
GOAT Not Truly Ready For Club Season
Toronto GOAT made the trip to Chesapeake. They had some wins. They had some losses. Really, it's hard to take much away from their weekend when half of their roster was away on Saturday and their heads just aren't in the club season yet.
GOAT has long been a team that doesn't entirely show up to play until late in the year. The summer roster often looks a lot different than the fall one, and with many of the players on the roster also playing for the AUDL's Toronto Rush, which begins their playoff run this weekend, there just isn't a lot to learn about GOAT yet.
The team went 1-3 on Saturday, failing to do enough to give themselves a chance to break into semis once reinforcements arrived (after a Rush game) on Sunday. Regardless, day two was more encouraging. With Mark Lloyd and most of the offense back in the fold, GOAT beat Ring of Fire 12-10 and then took down Truck Stop as well. They fell in the 5th place game to Doublewide.
Like almost every team at the tournament, GOAT had some ups and some downs. Whether we will see another late surge towards the top of the rankings like we did last year remains to be seen.
Truck Stop Gets an E for Effort, A for Second Half Comebacks
Saturday, Truck beat (eventual tournament runners up) Chain Lightning 11-10. Later on, they beat Florida United 11-10. Where Machine may have looked for predictable sets and execution from start to finish, Truck preyed on unsuspecting opponents by grinding down multi-break leads in the second half and using what appeared to be sheer fitness and confidence (mostly in their DC Current-based core players) to take advantage of tough and unpredictable situations.
The luck, however, wasn't there on Sunday. In three more nail-biting appearances, Truck Stop fell to Machine, then to GOAT, and gave Florida United a shot at redemption.
Given the intensity the DC squad showed all weekend on defense, I occasionally found myself forgetting that three or four of the guys on the field or sideline would have their names struck from the record in 48 hours. The knockdown, drag-out nature of their games this weekend suggested that with some real practices under their belts (and perhaps, an MLU Championship win), a more organized DC squad could present real trouble for other Frisco-bound teams this season. It's important to note that the team was subbing openly, even late in close games.
The most emotional moment for Truck Stop all weekend, however, was Alan Kolick writhing in pain just off the field. After an impressive over-the-shoulder catch block, Kolick fell to the ground attempting to brace himself with his non-dominant right hand. He broke his wrist. His teammates, surrounding him in support, stayed with him until the trainer arrived, and were quiet as the next point began.
Though Kolick (an absolute monster this season for the MLU's DC Current) will need some time to heal, Truck Stop won't have much too worry about in the backfield with the creative mind and throws of Markham Shofner and methodical execution of Jonathan Neeley. Jeff Woodatch continued to rule the skies for Truck during their tryout weekend as well, and will remain a forced to be reckoned with, especially with the high profile addition of Peter Prial.
If this weekend was any indication of what Truck Stop can do when they haven't practiced, it'd be wise to keep a close eye on them after the MLU championship. With the defensive-minded Will Smolinski at the coaching helm, DC could transition well into the late club season if they can stay healthy.
Notes
– Oddly, all games — including bracket play — were played to 13. It left a sense of incompleteness on Sunday. All high-level tournaments should have games to 15 in the Championship bracket.
-Post-Saturday play, Chain Lightning's Frank Wooten anticipated Florida United as a team with a lot of dangerous pieces, speculating that they'd challenge Atlanta in due time, although perhaps not this season (FLU fell to Chain in the last round of pool play, 13-7). From the sideline however, Florida didn't seem to have the legs to beat the top contenders this weekend, nor the significant height needed to beat their opponents consistently in the air.
-Florida Gators standouts Jason Silverman, James Dahl, and Bobby Ley all played significant roles in the backfield for FLU, but often put on more of a lateral show with quick give and gos than much more. Florida had FSU's Chris LaRocque on display as well, who combined well with his college rivals for offensive scores. All told, Florida were good enough to beat the lower seeds, but not good enough to upset those above them. They did, however, take down Truck Stop in the last round of placement play on Sunday, 12-11, evening the season series at 1-1.
– Michigan High Five showed good resolve on defense, were able to claim breaks here and there against much stronger teams (Chain and Machine) this weekend, and stole a game against Truck Stop early on Saturday. Johnny Bansfield's flick hucks were nothing short of heroic. Their dominant performance at the unsanctioned No Surf  may have translated into good teamwork, but provided little elite-level experience for the Michigan squad. This team clearly belongs at a higher level, but they may not have the chops or the height to find their way to Club Championships.
– Madcow and Boost FC, like their seeding suggested, simply weren't at the level of the rest of the teams at the tournament. While both teams had some moments of nice play, they couldn't sustain excellence over the course of the weekend and they played a close game (11-10 to Boost) in the bottom of the placement bracket. Both teams have potential — Madcow has some exciting young talent; Boost hasn't even played together at a practice this season. But, like last year, simply qualifying for Nationals would be an achievement for the teams.
Not Your Typical Invite?
The Chesapeake Invite we know has always been a late-season showcase for teams gearing up for Labor Day and the series. It's also been the prize at the end of the larger Chesapeake Open, with a few last bids to the traditionally later Invite going to the top finishers. This version was more up and down, as many teams came out for their first rostered event of the season and were looking to work in new looks and players. At the end of the weekend, it felt more like an early tuneup tournament than a major event.