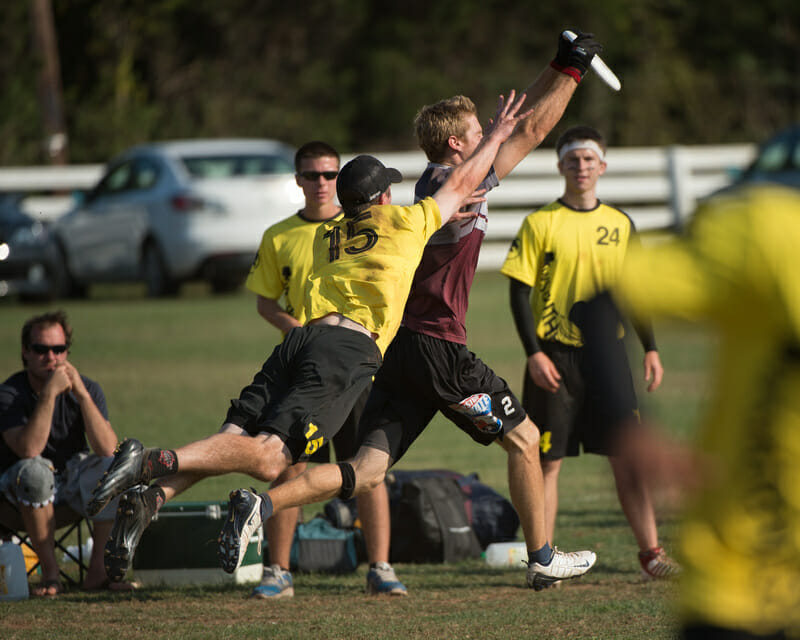 Once again, the conversation turns to observers.
Washington D.C.'s Truck Stop ground out a 15-13 victory against Philadelphia's Southpaw in a gritty, physical Mid-Atlantic Regional Finals to earn the Open Division's only bid to October's Club Championships. But the conversation after the game was focused not on the strong defense but on the foul calls, penalties, and two critical moments late in the game that the observers — had they been given an opportunity — would have overturned.
The tone was set about one minute into the game. Truck Stop received the pull to start and worked it up the forehand sideline. Captain Sean Keegan made an in cut and was knocked down by Southpaw's Frederick Brasz on a diving bid. Keegan had words with Brasz before being pushed from behind by Southpaw's Greg Owens. Observers jumped in to diffuse the situation, issuing a Team Misconduct Foul (TMF) to Keegan and a Personal Misconduct Foul (PMF) to Owens.
After a second stoppage, Brasz got a big hand block on Keegan and Southpaw punched it in for the first break of the game.
The early part of the game was dominated by defense, with six breaks coming before halftime — most in Truck Stop's favor. The game was back and forth until Truck, down 4-3, rattled off three straight, with the third coming on a Markham Shofner full field forehand huck to a streaking Jeff Wodatch, who had just connected the point before.
Truck would tack on another to take half up 8-5 after Alan Kolick made a huge bid near Southpaw's endzone to give them a short field.
"I think we're playing hard," Truck Stop captain Tommy Nicholson told Ultiworld at halftime. "Defensively we're making them look for their third or fourth option…We just need to keep doing what we're doing."
Southpaw captain Trey Katzenbach, who also captained the team during its stint as the Philadelphia Spinners in the American Ultimate Disc League, saw it differently. "Stop making bad choices," he told his team. "I don't think they've gotten a single D…Every single player on this team is an equal. Stop making hero plays."
As the game continued, the play got increasingly physical. Southpaw was warned — and eventually given a second TMF — for too much bumping on the mark. But the aggression paid off midway through the second half when Southpaw's D line earned a break to pull within one at 11-10.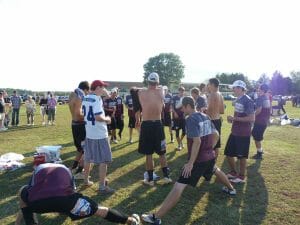 But after Truck's offense rebounded to score easily, frustration boiled over on the next Southpaw defensive point. Owens laid out for a disc he was nowhere near, pushing Keegan in the back. Owens was tagged for another TMF — the team's third — which advanced the disc to Southpaw's brick mark on a penalty.
Owens was not happy. "In what world is that a TMF?" he asked the observer. "That's a fucking bullshit call."
He was promptly given a second PMF for cursing at an observer and was — by rule — ejected from the game. Truck would go on to score to take the 13-11 lead.
More drama would follow on the next defensive point. After a Truck turnover, Southpaw's Jibran Mieser — a Rutgers sophomore and rising star (he was named 2011's Metro East Freshman of the Year) — had the disc on the sideline after a pick call. Tom Doi, his defender, indicated he was going to come in on stall two. But then, after some discussion, Doi and Mieser agreed that the stall should be seven — a clear violation of the rules. But Mieser did not make a call and was quickly stalled out for a turnover. Truck went on to score.
The Southpaw sideline was incensed. Steve Slocum, the Tournament Director, had to talk down some of the players by explaining the observers' inability to make a ruling in a situation where no call is made by a player. For a team accustomed to playing with full referees in the AUDL, it was frustrating.
The final play of the game again exposed Mieser's youth. With the score 14-13, a Truck Stop huck floated over a leaping Doi, who was bumped by Mieser as both went to the ground. Doi called a foul, and Mieser quickly made his decision: no contest. Again, the call didn't go to the observers, who would have certainly overruled the foul call – the contact appeared not to affect the play.
Instead, Truck Stop got the disc on their endzone and, after some swings, flipped it in to seal the win and clinch the bid to Sarasota.
"We kinda had to throw some of the normal offense out the window and just grind," said Keven Moldenhauer, a Truck Stop captain, after the game. He said he was happy with how hard everyone played, but that they have a lot to improve on before the Club Championships.
When asked about the fouls, he praised the observers. "When teams are being over aggressive on defense, they can call that TMF now," he said.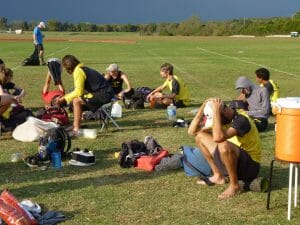 Katzenbach wasn't happy about many of the game situations, saying the stall seven "shouldn't have happened" but that his team also needed to not "lose [its] cool." But he didn't blame any of that for the loss.
"We talked about it going in, that they couldn't score going down the length of the field," he said. "And they knew that too. So they started putting up deep shots and we didn't shut them down…On top of that, our late-game turnovers weren't converted."
He also brushed aside any blame for their time in the AUDL. "It's convenient to say the Spinners were the reason we didn't make Nationals," he said. "But that's not what caused us to do poorly at the two regular season tournaments."
Southpaw narrowly missed earning a second bid for the Mid-Atlantic after losing all of their games at the Labor Day Championships, the final elite tournament that decided bid allocation. They finished the season ranked 17th — a top 16 spot would have earned a strength bid.
"It's a shame we both didn't get to go," said Katzenbach. "I think both teams from this region have the potential to surprise at Nationals."
Watch the full game footage of the Truck Stop v. Southpaw game. The cover photo is courtesy of Kevin Leclaire at UltiPhotos — check out more Mid-Atlantic Regionals photos.