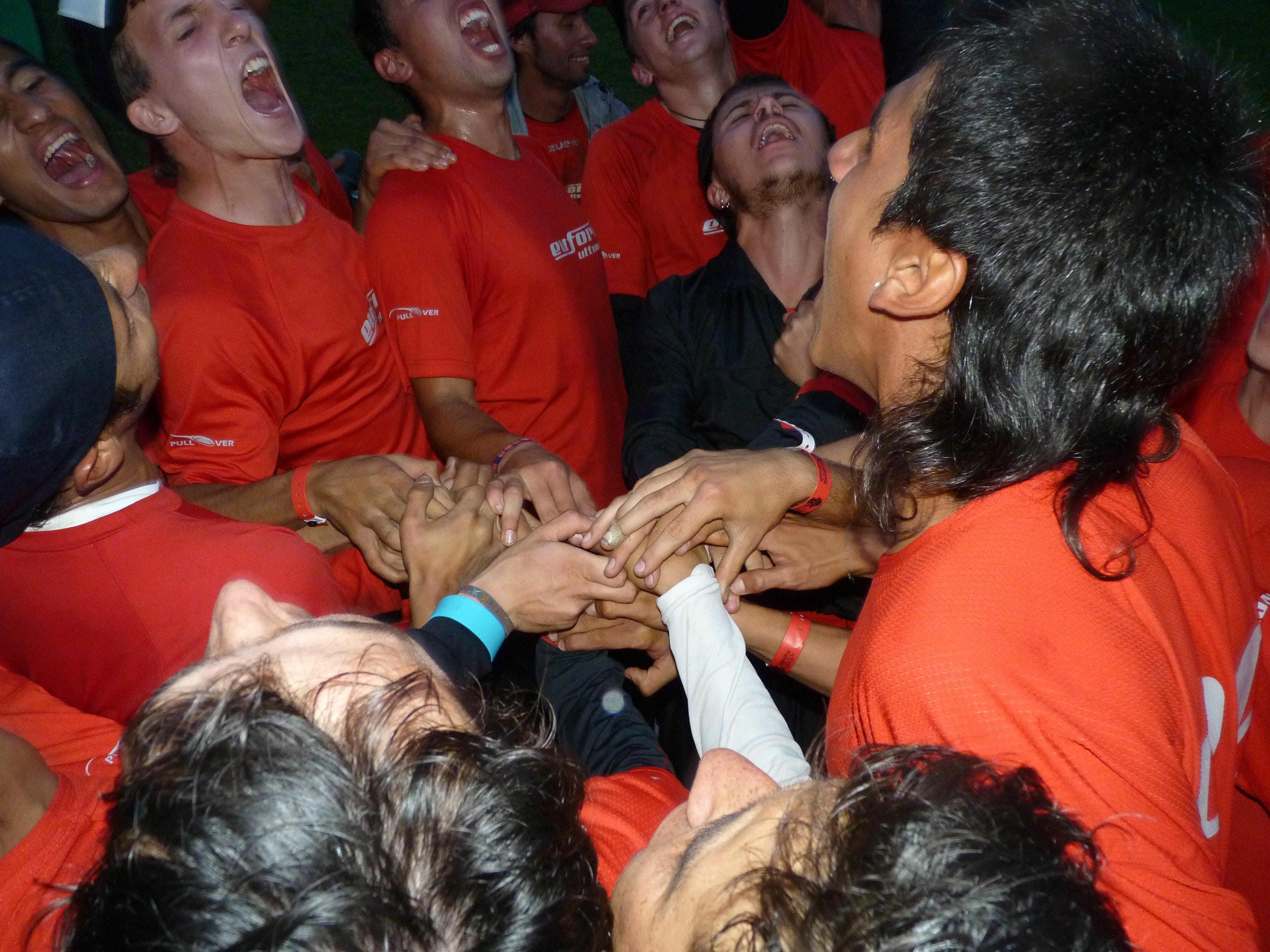 BOGOTÁ — Perhaps it was their USA tournament experience that got them there. After three days of play and a deep 25 team field, just two teams were left standing late Monday to fight for the 2012 Colombian national title in the Open Division: Euforia and Mamoots, both from Bogotá.
In July, Euforia, with the addition of a group of strong women, traveled to Boulder for the US Open and played in the Mixed division. Mamoots followed on their heels and competed in Washington at the Chesapeake Open a few weeks later. Captains for both teams said their trips were planned to prepare them for the tough competition they faced this weekend.
A chilly, drizzling afternoon didn't slow down the Bogotanian players, who made incredibly athletic plays on both sides of the disc. The game, close throughout, was dominated by a handful of top players on each squad.
Mamoots got things going early. After patient disc movement, Captain Tulio Vesga — who we interviewed in July — put up a flick bomb to Martin Franco, who jumped through the roof to pull down the first score of the game.
High pressure defense led to a Euforia drop near their endzone which Mamoots converted to take the early 2-0 lead.
Euforia's offense wouldn't make many more mistakes. On the next point, Jaime Segura found Juan Jauregai to get Euforia on the board.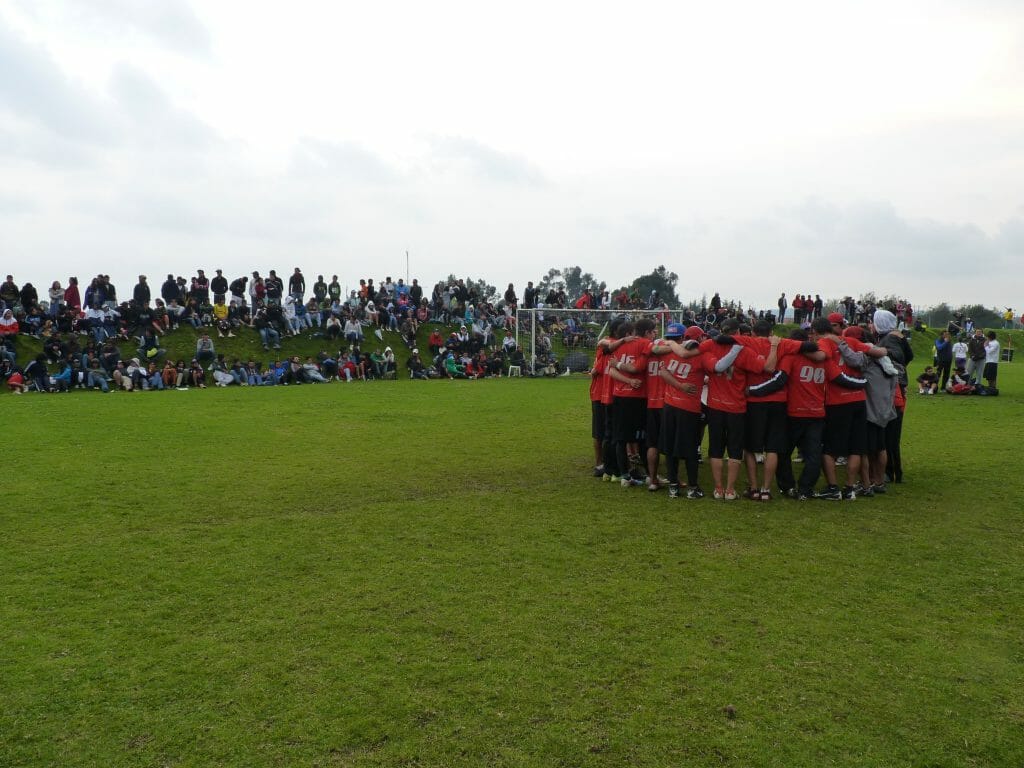 Segura — nicknamed "El Cartero" (The Pickpocket) for his knack at "stealing" the disc from other players on skies and layouts — was the clear MVP of the game, finishing with five assists, two scores, and a block, leading Euforia to the 14-13 victory.
But Mamoots wouldn't go down easy. After a turnover, Vesga kept his team ahead with a huge layout D on a Euforia dump pass. Martin Serrano would find Antonio Sanabria to maintain the two point lead.
After Segura found Juan Jauregai with a highlight reel hammer, Euforia's defense would tie things up, with a patient offensive attack leading to Luis Tapias' assist to Mauricio Perdomo.
Euforia would take their first lead at 6-5 after Vesga, buried in his endzone, threw it away. Mauricio Martinez would record his first assist, hitting Sebastian Paiz for the break.
The two offenses would trade points early in the second half, with Vesga — who had five assists — making it look easy for Mamoots with a huge flick score and a clever overhead push pass to a break side cutter to keep them within one.
Euforia's offense tripped up midway through the half with a turnover on their goal line, allowing Mamoots to tie it at 10-10.
But Euforia started to play a tighter rotation, giving their stars more opportunities to make plays. Martinez would hit Segura with a big huck to put them up at 12-11. Segura caught the next score — a break — as well, to give Euforia a two point lead.
Another Mamoots huck was off the mark on the next point and Perdomo found Martinez to seal the victory.
Mamoots, racing against the clock, scored the next two points, but didn't have time to mount a full comeback. Time expired with Euforia on top.
Euforia's captain Jair Roa spoke highly of Mamoots after the game. "They're a very strong, very physical team…," he said. "Mamoots' defense started out strong, they got a pair of breaks and went up. But we stayed close. We started to make some changes on defense, we had two lines, one of them an attacking line. But we put out our strongest line – our 'universe' line – and we started to get breaks. We went up by two and maintained our lead to win."
It was a close game, but Euforia's toughest test may have come in quarterfinals, when they faced one seed and defending champions Oso, who represented Colombia at Worlds this year. Under normal bracket seeding after pool play, the two teams wouldn't have faced each other until the finals. However, AJUC — the Colombian Ultimate Players Association — uses average spirit scores to "tiebreak" teams that have equal records in pool play. That system left Oso with the 4 seed in bracket play and Euforia with the 5 seed.
Oso and Euforia, who have a heated rivalry (each has two national titles in the last four years), saw their spirit scores decline in a chippy, ugly game that desperately needed observers. On one point near the end of the game, Euforia had four scores called back on non-existent travels. That led to some poor calls from Euforia later in the game. Euforia also used a timeout they didn't have, but took advantage of the scorekeeper's failure to mark down one of the timeouts and didn't acknowledge what should have been a turnover.
But Euforia played through the adversity to pull out the 9-7 win. The two teams had a 15 minute huddle after the game to talk about the rough showing, showing just how important a role spirit plays in Colombian ultimate.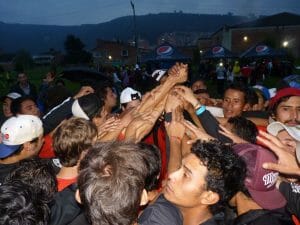 Euforia's finals matchup against Mamoots was much cleaner, despite some questionable calls by both teams. Emotions were high after the game, but the two sides came together in a "spirit circle" and had good things to say about each other.
Euforia's win earned them the national title for the first time since 2009, the year of the first National Championship under the new AJUC leadership.
Mamoots, Colombia's oldest club team with 14 years under its belt, hasn't won a national title since 2003.