A new semi-pro effort in Colombia will highlight mixed ultimate.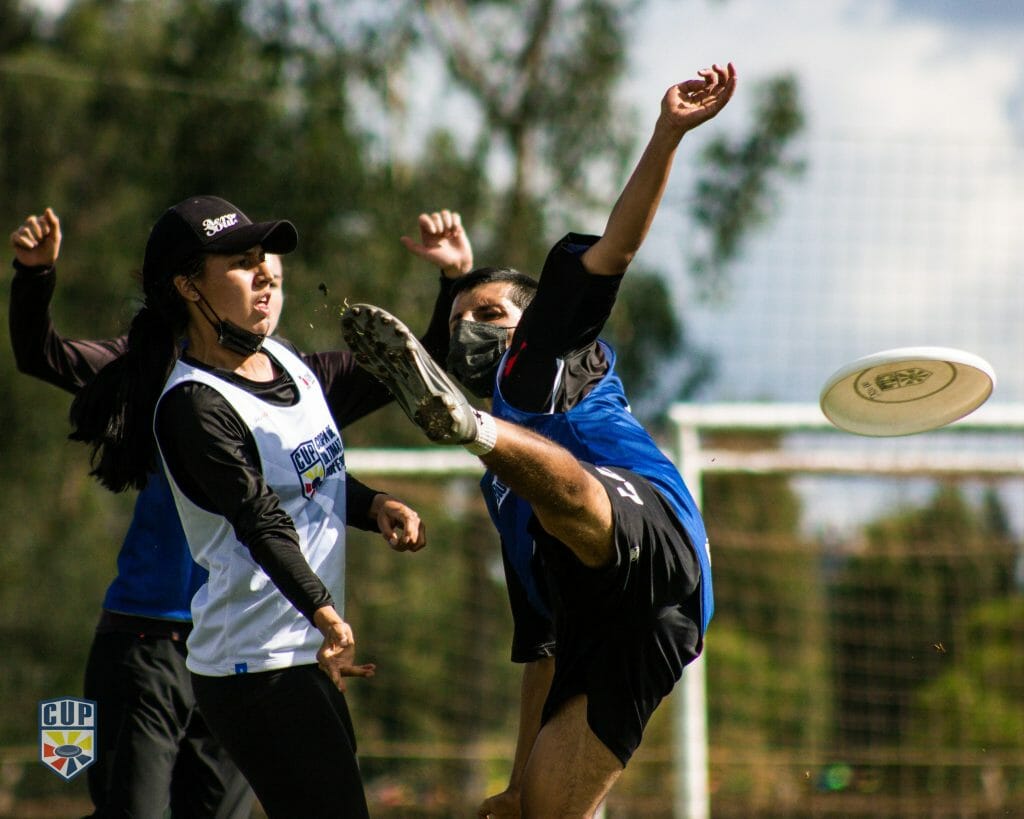 Another new semi-professional league is about to take the field.
This weekend marks the first event of the Copa de Ultimate Profesional (CUP), an effort from organizers in Colombia to bring the sport and its values to a wider audience in Latin America. Four mixed teams will compete in a three-day tournament, with a round-robin seeding teams into a bracket, with two semifinal winners advancing to a final game on Monday.
Tournament Profile
Date: November 13-15, 2021
Location: Bogotá, Colombia
Weather: Highs in the upper 60s F, mostly cloudy with scattered thunderstorms on both Saturday and Sunday
—
The tournament will be played 7-on-7 under the WFDF ruleset. Each of the four teams is made up of 18 players — nine men-matching and nine women-matching — from all over Colombia. The player pool includes many of the country's top players, including several of the stars of Medellín Revolution, like the Cardenas twins, Yina Cartagena, and Elisabeth Mosquera. Rosters were selected by team captains in a live draft held on YouTube in late September.
The Copa de Ultimate Profesional is trying to professionalize the sport as an entertainment business in the country, but doing so while staying true to the sport's values. According to the league's Facebook page, CUP sees its on-field product as a way to "promote gender equality, fair play, and trust." Organizers of the event are promoting it as "edutainment," a way of teaching the values of the sport through the country's elite athletes.
"The sport of ultimate frisbee is designed to promote the physical abilities of a high-performance athlete and the Olympic values: excellence, respect, and friendship," says CUP CEO Diego Afanador.
While Medellín Revolution participated in the Premier Ultimate League (PUL), this is the first semi-pro league based in Colombia, a country where the sport has grown exponentially in the past fifteen years. A number of split-gender semi-pro leagues have been in operation in North America over the past decade, but CUP will be the first mixed-gender league in the Western hemisphere. The Australian Ultimate League pioneered a mixed gender semi-pro event in 2019. Similar efforts have been attempted in the United States and Europe in recent years, though neither the United Ultimate League nor UltiLeague garnered enough financial support to get off the ground.
How to Watch & Schedule
All of the Series games will be streamed on the league's YouTube channel. All times listed are Eastern.
Saturday
8:00 AM: Nómadas de la Montaña vs. Cóndores de loas Andes
10:00 AM: Armadillos de Tierra Adentro vs. Voladores del Oriente
2:00 PM: Voladores del Oriente vs. Nómadas de la Montaña
4:00 PM: Cóndores de loas Andes vs. Armadillos de Tierra Adentro
Sunday
8:00 AM: Nómadas de la Montaña vs. Armadillos de Tierra Adentro
10:00 AM: Voladores del Oriente vs. Cóndores de loas Andes
2:00 PM: Semifinal
4:00 PM: Semifinal
Monday
11:00 AM: Final