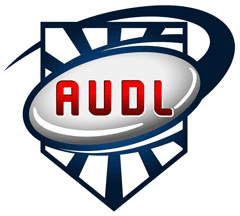 The American Ultimate Disc League announced today that it will establish a $25,000 prize pool exclusively for players on teams that win the Conference Finals and Championship Game in 2013.
Each Conference champion will receive a $5,000 purse to be split amongst the players and the overall AUDL champions will split another $15,000. The money is not for the franchise or the team owner — it is set aside only for players.
"The AUDL is excited to provide this new program as we feel it focuses on the very thing that makes this league great, its players," said Steve Gordon, Commissioner of the AUDL, in a statement. "Our intent is to provide the most exciting competition in professional Ultimate and we expect that to begin in game one of the regular season and carry right through to the Championship Game. We believe this is the largest cash award ever given entirely to Ultimate players and it shows our appreciation for all of their hard work, dedication, and sacrifice."
Although details about player compensation are left to each team to decide, this will offer a substantial monetary incentive for players to win.
"Players currently making decisions about their 2013 season should be excited to see the AUDL step up with this kind of prize money," said Tim DeByl, owner of the Madison Radicals, in a statement. "This shows the level of commitment the AUDL has in making this league a huge success."
Last year, there was a bonus paid to the Philadelphia Spinners organization for winning the championship, but there was no accompanying player prize pool.
This announcement signals the first major infusing of money from the new ownership and investment group, Ultimate Xperience Ventures, run by Toronto Rush Chairman and top Cisco executive Rob Lloyd.