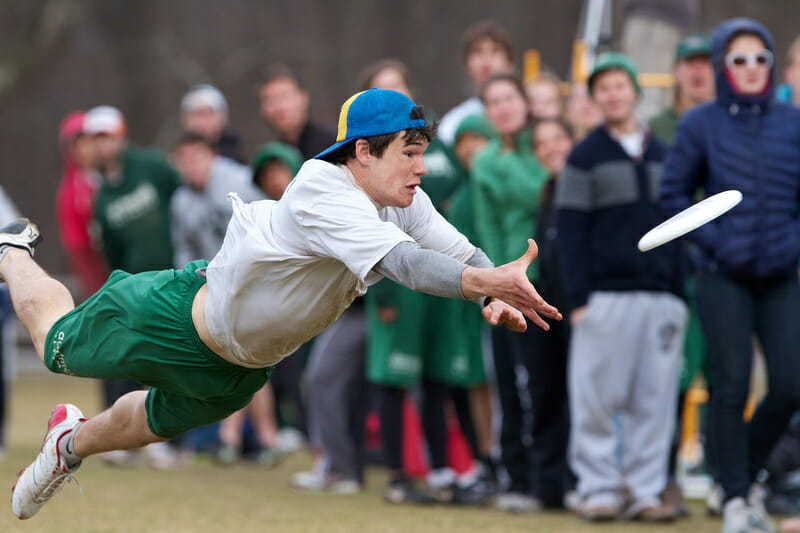 After narrowly missing out on a third bid to the College Championships, the New England Region went from fairly predictable to a battle. With three very good teams in Dartmouth, Tufts, and Harvard competing for just two spots in Madison, nobody can relax. Dartmouth, undefeated against New England teams this year, is the early favorite, but Tufts has shown an ability to always show up at full strength at Regionals.
Harvard has had big out-of-region success, but has tripped up recently against their biggest Regional rivals. Can they show up this weekend? Lots of questions to be answered in just two days.
THE FAVORITES
#13 Dartmouth
While Dartmouth's only marquee victory of the season came against Colorado in a meaningless Friday night showcase at Easterns, there is a reason they come in as the top seed: they have not lost to a New England team this season. With two wins over Tufts and one over Harvard, the Pain Train has established themselves as the team to beat in New England this year.
Dartmouth has spent their season developing their bench players, which at least played a role in their missing out on an additional strength bid for the New England region. Coach Brook Martin believes that the team will need that depth — something they lacked last year — to win on Sunday.
Despite building down the roster, this is still a team that relies on strong play from its stars. Ian Engler (U23 Mixed Team USA) and Spencer Diamond are Dartmouth's biggest threats; both had solid performances at the New England Open, when they took down Tufts and Harvard back-to-back in semis and finals. They have also had great play from Andrew Pillsbury.
Dartmouth uses a patient offensive attack with good handler motion to move the disc downfield, but look to be quick in transition. Their matchup against Tufts at the New England Open showcases their strengths.
But they were facing a Tufts team that was not at full strength, and one that has shown signs of being a top 10 team in the country. Does Dartmouth simply have their number? Or will Tufts, at their Regionals peak, be able to take down Dartmouth?
One thing Dartmouth has going for it is the number one seed, which means they are likely to get a much easier matchup in the semis than Tufts.
Key wins: Tufts, Harvard, Colorado, Cornell
Key losses: Texas, Florida State, Georgia Tech, Stanford
#15 Tufts
Tufts may not have been at full strength at the New England Open, but they certainly were at Metro Boston Conferences, where they crushed everyone, including their crosstown rival Harvard twice, 12-8 and 15-6.
Tufts looked like one of the country's best teams at the Stanford Invite, winning four straight before narrowly losing to #2 Oregon in the semifinals. That same team wasn't on display at Easterns, where they finished 1-4.
Tufts is known as an very fundamentally sound team, valuing possession and not turning the disc over a lot. While they're not afraid to put it deep, they are more conservative than many teams in that regard.
Captain Robby Perkins-High is a big playmaker for the E-Men, who also get contributions from Gene Buonaccorsi (also a captain) and Nino Figliola. But their depth has always been their biggest weapon.
They have veteran coaching and a variety of defensive looks to keep their opponents off balance. They are looking for their third straight qualification for College Nationals, and their second consecutive New England Regionals title. Given their wealth of experience and their consistency of peaking at the right time, they have to be considered a favorite to take one of the two bids this season.
Key wins: Harvard, Colorado, Texas, Arizona
Key losses: Dartmouth, Harvard, Central Florida, Colorado
THE BUBBLE TEAMS
#14 Harvard
Harvard got off to a hot start this season with a semifinals appearance at Queen City Tune Up, a tournament that included a strong win over Tufts and a good performance in a loss to North Carolina.
They then made it to the finals of three consecutive tournaments — Centex, New England Open, and Boston Conferences — but lost in the finals each time (to Texas, Dartmouth, and Tufts, respectively). Those last two have to be a big concern for Redline. Although they have shown the ability to compete with each of their biggest Regional rivals, they haven't been able to put together a complete game late in the season. Will they find that consistency this weekend?
Harvard relies on strong play from Misha Herscu and former Tufts star Piers MacNaughton (both were 1st team All-Region last year). Herscu is widely considered one of the best players in the Northeast, with an effective all-around game on both sides of the disc. Adrian Pforzheimer and Allen He are also important for Redline's success.
The team is not as good as it was a couple years back with Callahan winner George Stubbs on the roster. But they did have the most consistent and strongest performance against out-of-region teams this year. But that hasn't translated to wins against their in-region rivals. The big question is: can they execute? Against Dartmouth at the NEO, they had mental errors and drops that cost them the game. They'll have to erase that to earn a spot in Madison.
Brown, a powerhouse program from the mid-'00s, hasn't made much noise in recent years. But, led by strong handling from captain Charlie Kannel, they've had an excellent year and are the most likely candidate for an upset of one of the "big three" this year at Regionals.
They have had no shortage of big games. Although they lost to Michigan in the "game-to-go" for the Easterns bid at the Easterns Qualifier, they still got the 16th spot at the tournament after Michigan declined the bid. They went 0-4 at Easterns, but lost by just one to both Minnesota and Carleton and think that, had they tightened their rotation, they could have won both games.
"We're still trying to discover just how good we are, so we are hoping to reach our peak against the top teams in our region," the team told Ultiworld.
Along with Kannel, the team gets big contributions from Matt Barnes, Jacob Price, and Jordan Taylor on offense. The D line is locked down by Camen Piho, Dan Jacobsen, and 6′ 3″ freshman Sawyer Thompson.
With just six players set to graduate, this may not be Brown's year, but if they bring their best game they could definitely surprise. They have yet to play Dartmouth, Tufts, or Harvard this season.
NOTABLES
– Massachusetts only lost by one to Brown in the South New England Conferences, and put up some big scores in losses to good teams early this season at Warm Up (13-14 v. Texas, 11-13 v. Florida). A fifth seed sets them up for a big game against Brown in pool play that they'll need to win to have a shot at a bid.
– Williams made a splash early this season with a good showing on the West Coast at the Santa Barbara Invite, cracking into the early Ultiworld Top 25. They cooled off later in the season. But they're a bit of a wildcard.
PREDICTIONS
Another tough region to predict. We think the regional title could really fall to any of the three top teams, but we give Dartmouth the edge because they have an easier road, getting a more favorable semis matchup against the Pool D qualifier. Tufts and Harvard will have to battle it out in semis.
In the backdoor game, we expect Tufts to continue to shine (but it wouldn't surprise us much if they won the region either). Harvard just hasn't looked sharp in the last few weeks; can they peak this weekend?