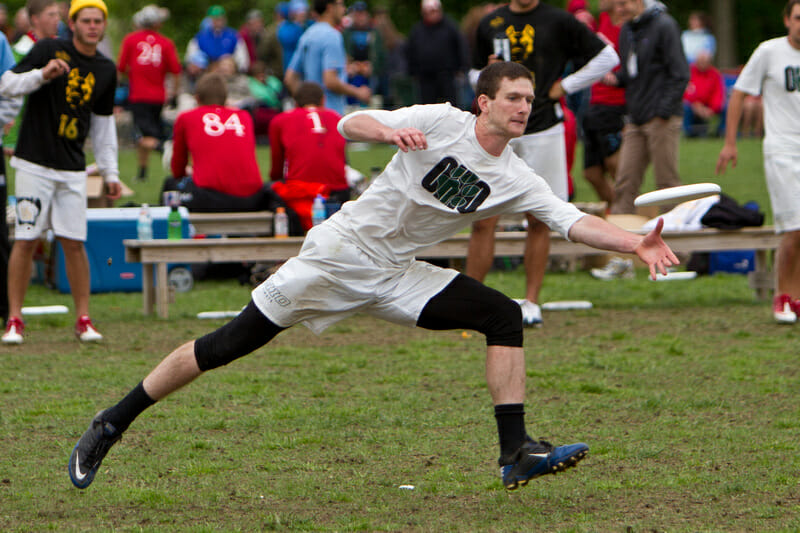 Here is Ultiworld's coverage of the 7th round of play at the 2013 USA Ultimate D-I College Championships.
OPEN
In the second round on Saturday, several 1 v. 3 seeds fought for favorable seeding in bracket play.
In Pool C, UNC and Ohio met in what was likely Ohio's last shot to make the championship bracket after dropping a game to Cal-Davis on Friday. Ohio clearly knew this as senior Mitch Cihon and senior Connor Haley (the respective assist and goal leaders in the Open Division) played some heavy points early in the game.
It paid off for Ohio in the early going as the two teams traded points to 6-5, but that was when a UNC playmaker stepped up to make a difference. Johnathan Nethercutt stepped up to pull at 6-5 and placed a beauty of a pull directly on the front cone of the endzone that spent enough time in the air for Darkside's defense to set up before the disc was put into play. Once the disc was put into play, it was a floaty throw that senior Adam Carr pulled down for a Callahan.
That Callahan led to a UNC run that allowed Darkside to take half 8-6.
Nethercutt has been playing an instrumental role for Darkside all season long and this tournament is no exception. UNC coach Mike Denardis couldn't say enough about the senior.
"Besides being an incredible thrower and smart defender, he is a heart and soul kind of guy that people look to for inspiration because he never gets down on people," Denardis said. "You need people like that on your team. His example drives our whole team higher."
UNC eventually would close Ohio out 15-9.
***
In the other game from Pool C, UCF and Luther met and, while Luther had played tight games in all of its other pool play matchups, UCF just brought too much to the table and took half 8-4. The Dogs of War would close out the game 15-10 which guaranteed them a pool victory and put them in fantastic position for the rest of the tournament.
***
In Pool B, a Wisconsin team that had yet to assert itself as the dominant team that an overall No. 2 seed should be, was looking for a win against a Harvard team that had, by far, been the most consistent pool No. 3 in the tournament up until this point.
The teams traded almost exclusively to half, which Redline took 8-7, and that's when Wisconsin made a game plan change that completely altered the outcome of the game.
"[Stepping up our marks and dump defense] was the only thing we talked about at halftime," Wisconsin coach Hector Valdivia said. "We stopped trying to poach lanes and decided that we were going to make every throw as difficult as possible."
"I think during the first half they pretty much didn't guard the around throw which made our offense really easy," Harvard coach Mike Mackenzie said. "They definitely made that adjustment. It was a good adjustment, I know that they're a smart team so I'm not surprised they made that adjustment."
The adjustment paid off. From 8-7 in Harvard's favor, Wisconsin scored 6 of the next 9 points, forcing turnovers almost exclusively based off of mistakes on reset passes, whether it was the dump defender getting blocks or, in the case of senior Andrew Meshnick, getting hand blocks near the goal line that lead to breaks while Wisconsin had a slim 11-10 lead. Eventually, Wisconsin took home a 13-11 win.
Elsewhere in Pool B, Carleton continued to exert its dominance over the field by beating Cornell 15-8.
In the sole game from Pool D Texas took on Illinois. Illinois was fighting for its second win after beating Arizona which and gave Texas some difficulty but TUFF would eventually prevail 15-11.
WOMEN'S
After the Pool C upset in Round 1, we saw more dramatic action in the second round when Iowa State (Pool C #1) and Virginia (Pool C #3) met up. Early on, Iowa State was able to settle in to a nice offensive flow and take the lead. Virginia mixed up their looks, throwing some zone and man, but were unable to stifle the connectivity of Woman Scorned's downfield play, leading to an 8-6 ISU halftime advantage.
The second half saw Hydra tighten up their zone and Alika Johnston dominate after the turn. Iowa State's offensive line continued to struggle to contain strong cutters, much like they did against Ohio State, and Johnston's agility and hucks proved difficult for Woman Scorned to stop. Melanie Chastka stepped in the handler role for Virginia and they made a run to take the lead, 11-10. Woman Scorned responded by holding on their O point and then breaking back. Sticking with zone, Hydra would reel off a few more breaks, with Johnston willing her offense forward and even playing in the cup off the pull. She'd toss in the game winning huck, a beautiful flick shot to make it 15-13. The win put Virginia in control of their own destiny: if they beat Ohio State, they'd finish first in Pool C.
Pool D had a lone game during the round, an uneven battle between Tufts and Ottawa. While the Lady Gee Gees have been putting together strong efforts in their losses, Ewo was the first team to really cruise through them. Tufts took half 8-5 and shut out Ottawa out in the second, winning 15-5.
Back in Pool C, Ohio State had a similar game against Whitman. Fever bageled the Lady Sweets in the first half, fresh off their upset of Central Florida and playing back to back games (all the #5 seeds did). The game would end up 15-4.
Not to be outdone, the top two seeds of Pool B played the bottom two seeds. Carleton matched up with Georgia, taking an 8-5 half. Like Tufts, they didn't let up in the second half, shutting out Dawgma on the way to a 15-5 victory. UBC faced off against Northwestern [WATCH]. Throughout this one, Northwestern had trouble executing, which their Coach Lauren Moore attributed mostly to nerves. British Columbia's depth shone as they ran multiple matchups at Gung Ho star Lien Hoffman and took advantage of matchups on the turn. Mirroring the scores of their fellow top seeds, their half would go to UBC and Northwestern wouldn't get on the board in the second half, leading to a 15-5 final.
See more photos of the 2013 USA Ultimate D-I College Championships on UltiPhotos.