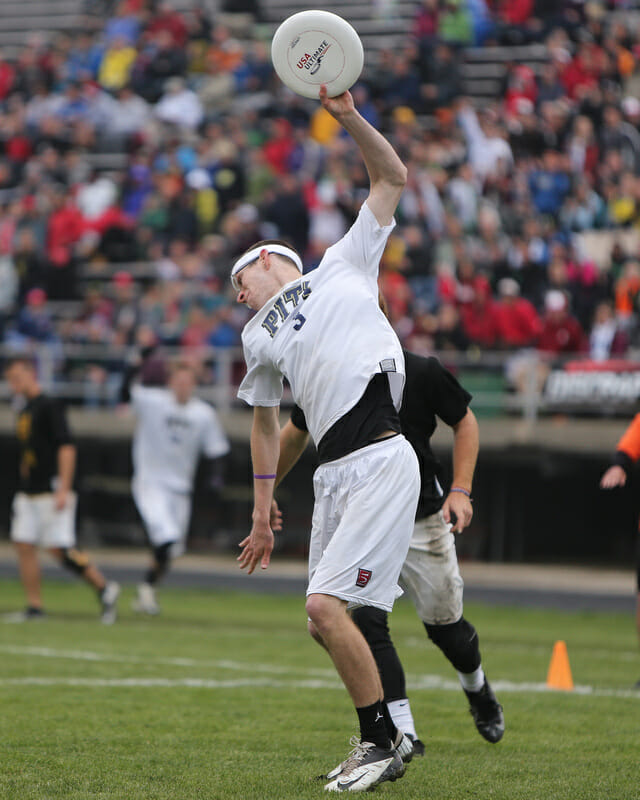 MADISON — Behind suffocating defense and stellar play from Tyler Degirolamo, Pittsburgh won their second straight National Championship with a 15-8 win over Central Florida on Monday afternoon.
Pitt never trailed in the game, starting the game with a quick lead after back-to-back explosive plays from their stars: first, a full speed layout score from Alex Thorne and then a huge Degirolamo sky over a pack of players.
"Its not hard to get up for a game like this," said Degirolamo in an emotional interview after the game. "This entire team puts in so much work. The love for this team…you just work hard, and hopefully it pays off. Each one of these players in my best friend and my brother, and it's just playing not to let them down."
He was the most valuable player on the field for Pitt, finishing the game with five assists, three goals, and a block.
He helped extend the Pitt lead to three after sprinting into the endzone to close what looked like an insurmountable gap to force Central Florida's Jeremy Langdon to jump too early, causing the disc to float harmlessly to the ground. After the team worked it down the field, he found Aaron Watson in the endzone for the score.
At that point in the game, Degirolamo had two goals, an assist, and a block, along with over half of Pitt's receiving yards and a third of their throwing yards.
"I think we defined peaking at the right time," he said. "The way we played the last few games of this tournament was unreal."
Central Florida would have two quality offensive possessions in their upcoming points, as Alex Bullock put a perfect flick huck to space for Jeremy Langdon and Daniel Jakob bombed a hammer to Mike Ogren.
On the following possession, however, they would start to unravel. Good pressure on the swing from Pitt forced a turnover and Pitt used it to take a 7-3 lead. After two more breaks out of halftime, Central Florida's heads went down.
"Tough game," said UCF coach Andrew Roca. "We weren't connecting. I'm not saying we peaked last night, but we didn't have the same fire. It's ok. It happens."
Pitt's strategic adjustments rattled Central Florida's normally free-flowing, confident offense, one that was on full display in the semifinals against Carleton. Using junk zones, varied marks, and shifting looks, Pittsburgh never allowed UCF to get into a rhythm.
"We felt that just general confusion was what we wanted to cause," said Pittsburgh coach Nick Kaczmarek. "We played a lot of different defenses that may have looked similar, a lot of variations of different things. Just trying to mix that up so there was a lot of confusion. You didn't quite know what the marks were going to do or where the downfield defenders we going to be."
Pitt's defense led to another string of breaks, this time a 3-0 run led by Trent Dillon and Marcus Ranii-Dropcho. Now with a sizable cushion, they opened their lines as they rode the game out. Tyler Degirolamo caught the final score to seal the victory.
With the win, Pitt joins elite company, becoming just the fifth team to win back-to-back College Championships.
"It feels excellent," said Kaczmarek. "I don't know how else to describe it. We put a lot of work into this season."
"I don't know how many teams have done this in the past, but I feel like this is something special," said Degirolamo. "This year's team was great, it was something special. To be able to repeat, to not give into the Championship hangover, to put in this much work and have it pay off is a great feeling."
See more photos of the College Championships on UltiPhotos.