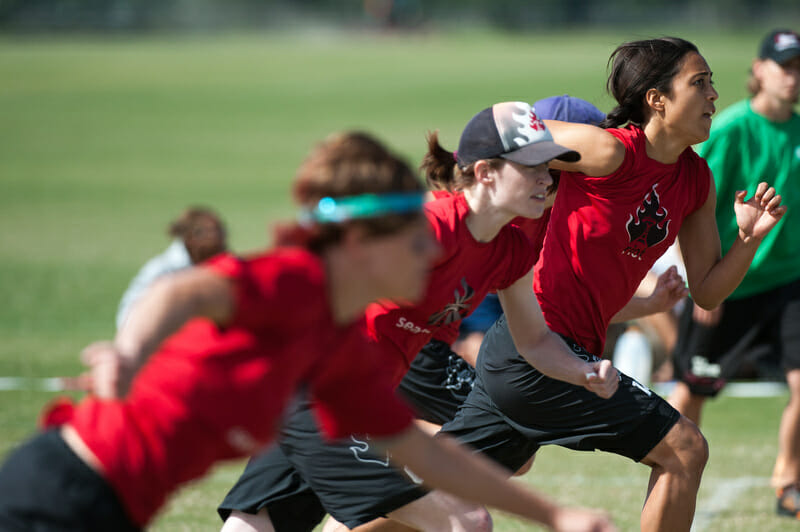 Seattle Riot is one of the world's most recognizable and decorated Ultimate teams. The name Riot, chosen by the forming Seattle team in 2000, is one culled from Seattle's history, and since 2001, the team started writing a rich history of their own: a World Championship, two UPA/USAU Championships, and six second place finishes. After their first season, the team has never missed out on the Semifinals.
It's a beautiful, proud, and incredibly impressive tradition, but it is one that can sometimes be overshadowed by that of San Francisco Fury, its longtime rival. Even a resume this jam-packed with accolades can't overcome the power of seven straight titles.
"People often seem to forget that Fury is beatable," Riot veteran and captain Gwen Ambler pointed out. "Even during its seven year run of national titles, Fury has lost important games it cared about during each season."
Riot has often been the one serving up those losses. In fact, Riot's dominance tends to be near the level of the reigning champs from the Bay Area, but without the titles to punctuate it. Even this season, they are 1-0 against Fury, beating them at their season opener, Solstice, in Eugene. They'll look to add some of the division's top contenders to their list of victims at the US Open.
"Last year, getting the opportunity to compete at a four-day tournament with a similar feel to Nationals was a great experience for our team," said Ambler, offering reasoning for attending such a far away tournament. "The US Open has truly top notch competition that will really highlight what we need to focus on for our training and practice during the season."
The Seattle roster didn't lose many names on paper. Gone are the rapidly developing Kristin Gruver and Oregon Fugue star Bailey Zahniser, who is taking time off this summer, along with Caitlin Cordell. However, on the field, many more pieces will be out of play. Alyssa Weatherford, one of the team's most dangerous throwers, is out after ACL surgery, an injury that also claimed Sarah "CO" Davis. Rohre Titcomb (Team USA Mixed) is also returning from an ACL tear, so her status is up in the air.
Like their outgoing class, the incoming crop needs a bit of context to be understood. Returning are a pair of former Riot players: Drew Johnson and Keely Dinse, both coming off a year away from the team. However, while Johnson's handling talents will help fill the void left by Weatherford, Dinse may miss the season in total with injury issues. Molly McKeon comes over from Underground, while Sabrina "Kodiak" Fong (formerly of UCLA) and Shira Stern (Washington, Bigfoot) join the team as well. Both Fong and Stern will be playing for USAU's U-23 program and are both capable handlers, though Stern could be utilized downfield.
Adding to the mix is the possible addition of Charlie Mercer (Scandal), who would be a big pickup as a top end offensive talent. She's expected to join the team at the US Open as a tryout. Another addition should be X's & O's wunderkind Ben Wiggins, expanding on a coaching role he took on late in the year last season.
For now, those pieces are coming together organically. While the US Open and the Triple Crown Tour pushed up the timeline for setting a roster, it hasn't changed the Seattle women's preparation or development schedule.
"Riot has found a general progression that has been successful for many years now," stated Ambler. She noted that the team opted to avoid rushing to define team roles and to dig in into their full offensive and defense sets, adding, "We have been focusing on individual skills and fundamentals at practice, letting individual players use those skills on the field in a fluid, dynamic way."
Their firepower has the talent and experience to find ways to succeed without much structural basis yet. While their handler core has suffered from the injuries, their top cutting group is fearsome. Team USA member Sarah "Surge" Griffith and Calise Cardenas are active and aggressive, and are backed by a stable of big athletes like Nora Carr, Hana Kawai, Hannah Kreilkamp, Callie Mah, Shannon McDowell, and Katy "Butters" Craley.
Craley, McDowell, and Mah in particular may all be positioned to make big leaps in their impact. All three are looking at their second full season on the team and give Riot scary downfield playmaking ability. The experienced guidance of Ambler, Kate Kingery, Shannon O'Malley, and Dom Fontenette should help these young players find their role.
Ambler and company know they aren't alone in gunning to remove Fury from their comfy spot on the throne. "Looking at the rosters of other women's club teams, it is clear that the depth of the division continues to grow — especially with many teams having very little turnover from last year,"  admitted Ambler. "We're excited for the competition and have been ratcheting up the pressure at our practices so we're ready."
Fury will be looking for revenge and Riot will be looking to assert themselves over a strong field in an unusual format. It should make for an exciting weekend that will give us a peak into what to expect come October.