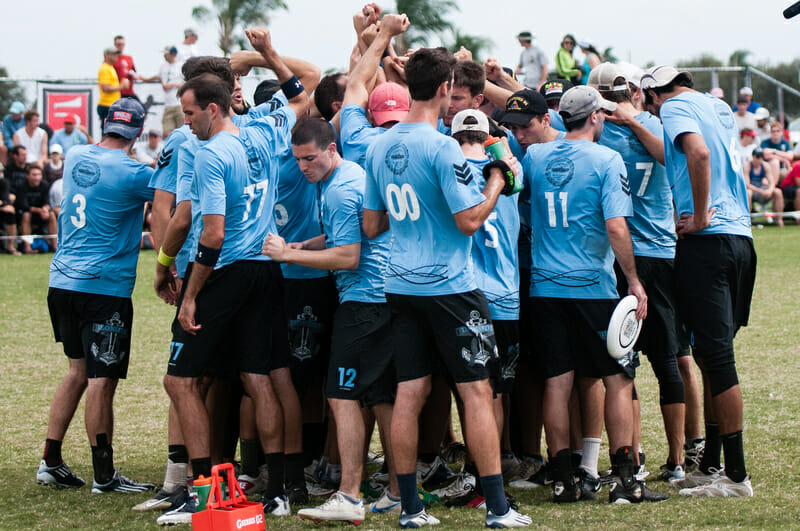 "This is Ironside's year."
With the results that Boston Ironside has had over the last five years, it's no surprise that, every year, you hear the same thing. Look at their Club Championships finishes, starting in 2008: finals, semifinals, finals, finals, semifinals. But as consistently great as Ironside has been (particularly in the regular season), they have not been able to crack through and win a title.
They came up short to Revolver in both of their finals appearances, and were stymied last year by an emboldened Doublewide team coming off of a season-defining comeback against GOAT in the quarters. However, despite their failure to finally get an elusive National Championship title under their belts, could this finally be their year?
No other top team in the Men's Division retains as much of the core of their team as Ironside. They bring back 22 of their guys after a season in which they returned 23. The vast majority of the starters are back, including Will Neff, George Stubbs, Peter Prial, Josh "Cricket" Markette, and Teddy Brower-Jarus.
"I think we're all pretty excited about that," said captain Russell Wallack, adding, "It takes a lot longer to build the sense of team chemistry and camaraderie that comes right away in college."
The team does have some notable additions, including Harvard standouts Misha Herscu and Piers MacNaughton. They lose, among others, 6'6″ Colin Mahoney.
But it's the consistency — long a word used to describe Boston ultimate — that is the story. It has gotten the Boston team off to a quick start. "The kind of work we're doing at practice is much farther along that it would have been two years ago," said Wallack.
Remember, Ironside lost just two games all of last year: a weird universe point loss to Rhino at ECC (one they later avenged 15-7 in the finals of the tournament) and a 14-12 loss to Doublewide in the semis at the Club Championships. Wallack called that Doublewide loss an "anomaly," because of the high winds that buffeted the game.
Wallack thinks they learned from that game, though, and have a new game plan for this year: stay the same, but be more unpredictable.
"One thing that we talked about as a team is coming into this season with the mentality, 'Let's not accept the norm just because it's the norm,'" he said.
They are looking to embrace what has given them success in previous years, but be willing to be a bit more flexible with their offensive sets, ones that have historically been conservative and well-known to opponents. They have been more open to new ideas at practice. They are hoping that will help finally get them over the hump.
However, in what may seem somewhat contradictory, they are also trying to ease off of the pressure of winning a championship. Wallack said he may have been too focused on winning the title last season.
"While we're all looking towards a championship, we also have an understanding that there's a lot to gain from making it through a season and not winning a championship," he said. "But, with that said, we absolutely have our eyes on a national title."
The road to the Championship will begin at the US Open, as they face the teams they will likely have to get through to win in October. They are confident and looking to win the tournament. According to Wallack, they won't be running open lines.
"There's only so much high-level competition that you get…," he said. "These kinds of opportunities are so rare that trying to conserve at all or not try to win every game is not in our game plan."
Judging by Wallack's enthusiasm ("I've never felt so good playing for this team") and their results last year, Ironside taking down the first leg of the Triple Crown Tour with a US Open title would not be a surprise.
Everyone knows, though, that the real test for this team will come in late October. This might just be their year.