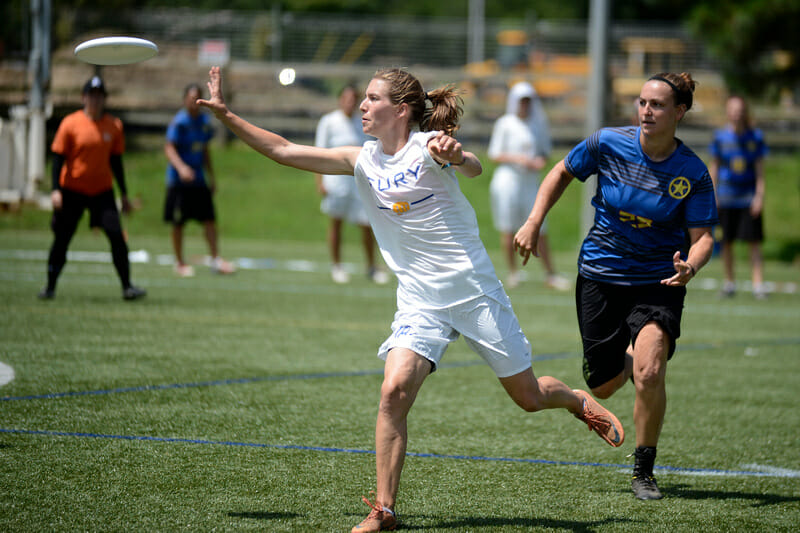 Fury invulnerability is the easy storyline coming into their semifinals match against Showdown, but things aren't as simple as they seem. Showdown actually fought Fury very tight in their pool play match – eventually losing by only three points.  Fury followed a typical pattern that led them to a perfect pool play record: pull away in the first few points, hold on for the rest. While Fury will be heavily favored to repeat that formula and head to the final, Showdown may be one of the few women's teams capable of matching up with the one seed.
"We had a good game against Fury, but Fury is a very smart team," said Showdown coach David "Salad" Melancon. "They are thinking ahead of us right now. Even though we match up against them athletically, we sometimes depend too much on athleticism, so it was good to come up against them."
Fury may be undefeated, but Showdown and the other teams in the field sense an opportunity to topple the division's reigning champion.
Fury, for their part, remains unconcerned. Coach Matt Tsang is promoting a game-by-game approach to team improvement, a theme shared by most tournament attendees. Despite Riot and Showdown pressuring Fury with comeback attempts, a calm Fury squad maintained an open rotation while shutting the door on their opponents.
Their transition offense has been their deadliest weapon. They're quick to the disc after a turn, attacking with nearby cutters while the remaining cutters stay out of the downfield lanes to leave space for isolation cutting. Fury's throwers have also been the most accurate hucking group in the Women's Division. It's a recipe that allows them to gobble up breaks.
If opponents can find a way to keep turnovers at a minimum and capitalize on Fury's mistakes, the one seed may be beatable. That means playing at the top of their game and hoping Fury isn't on theirs, which is a lot to ask against the reigning champs. All signs point to a Fury Final.
Showdown Statistics:
More top heavy than any other women's team in the semifinals, Showdown's offensive metrics show that they run through a few stud players.  Cara Crouch (Team USA) is Showdown's leader in Expected Contribution – our new statistical metric that measures how much each player increases (or decreases) the probability of her team scoring the point.
Other metrics show Showdown's offensive reliance on the co-captains Crouch and Katey Forth.  They lead the team in involvement yards (throwing and receiving yards combined) and Forth, along with Sarah "Slider" Blyth, assist scores on almost a third of the points they play.  Showdown's Usage Rate and Involvement Yards per Point graph shows an almost-College team like divide between the top 6 or 7 players and the handler-centric nature of their offense:

Defensively, Enessa Janes leads the team in both our Ultiworld D Rating and the defensive expected contribution metric.  Crouch scores well on these metrics, too.
Fury Statistics:
Perhaps more than any other women's team, Fury has spread the disc around and looked to get everyone involved.  A stacked team that shares the disc, our metrics rate almost all of their players favorably.  The two standouts from the weekend are Alex Snyder (Team USA) and Lakshmi Narayan.  Snyder is second on the team in usage rate and leads the team in involvement yards (throwing plus receiving yards) per point played.
Narayan has been solid all-around.  She has the third highest completion percentage on the team (97% for the weekend!), ranks fourth on the team in Ultiworld D Rating (four blocks on the weekend), and leads the team in total expected contribution.  Though she's not one of their highlight players, Narayan shines in our analysis because she doesn't have any one obvious weakness: A player that can make and above average contribution in throwing, receiving, and defensively is always going to be one of your best players.
As a team, Fury tends to get more yards per cut than the other women's team.  In-person, you can certainly see their willingness to swing the disc when necessary.  Their adaptability is one of their most impressive traits. They beat Nova on athleticism in a game where Fury attacked quickly upfield, completing fewer than 80 passes on their way to 15 points.  Against Japan's MUD,  they swung the disc rather than attacking directly and completed almost 200 throws.  Both the eyeball test and the data raises the question of just what, exactly, Showdown or any other team can do to throw Fury off their game.
Predictions:
Julia Longinotti (Showdown statistical coder): Fury 15 – 11 Showdown
Claire Pauley (Fury statistical coder): Fury 15 – 11 Showdown
Sean Childers (Ultiworld Statistics Editor):  Fury 15 – 8 Showdown
Keith Raynor (Ultiworld Senior Editor, Full Field Hammer): Fury 15-11 Showdown