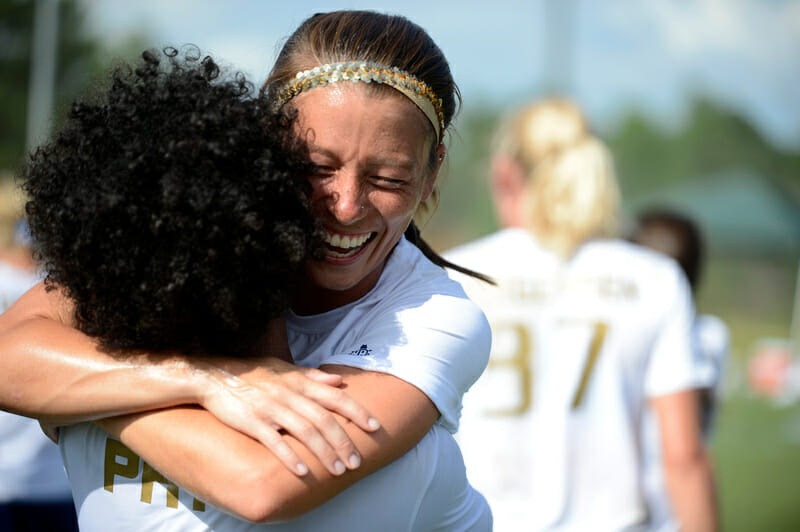 At last year's US Open, the tournament began with a shocking upset: DC's Scandal taking down Seattle's Riot. However, Riot would get their revenge when it counted in the tournament final. Later in the season, they'd knock the DC women out of the Club Championships in a tight semifinal game.
This year, the tables have turned.
Two days ago, it was Riot coming out on top in the teams' pool play game. Yesterday, it was Scandal avenging their earlier loss, defeating the Seattle women 13-7 in a impressive semifinal matchup.
"We played better as a team today than we did yesterday," said Scandal captain Octavia "Opi" Payne. The team effort manifested as a smothering defensive intensity; from the game's outset, Scandal's defense was blanketing downfield cutters, and more importantly, clogging lanes.
Prior the game, D.C. coach Alex Ghesquiere talked about refining the team's gameplan, which we saw in action on Friday. The handler defenders give big poaches into the lane, while downfield defenders fight to own the middle of the field. The effect is easy swings, but a mishmash of downfield opportunities and unpredictable defensive positions.
"We came in to this entire weekend with a focus on developing our systems and testing our systems against the best in the world," explained Payne, clearly referencing the team's terminology, "Yesterday highlighted a lot of weaknesses in our systems, and we talked about it and identified them. We really focused on making us better. The result was positive for us."
Both semifinalists established early on that they would be relying on their exceptional defenses to do the heavy lifting. Cutters were bodied up early in cuts and denied positioning. Scandal poached lanes while Riot clamped down on dumps.
On offense, aggressiveness was the opening course, with deep shots going up often. The challenge of working the full field against swarming defensive pressure encouraged these huck looks.
Scandal would open up the lead in the latter portion of the second half. Sandy Jorgensen's closing speed nabbed her a couple of Ds, and not unlike a big shot blocker in basketball, kept Riot thinking about where she was. Alisha "AK-42" Kramer came up with a critical bookends score, while Jorgensen would catch a tipped huck and toss in the continuation to take an 8-5 half for D.C.
Opportunity for Seattle to snag momentum presented itself early in the second half, when Angelica Boyden put up a smooth backhand huck to Sabrina Fong, whose bid came up inches short. It would be one of many close calls, along with another very close layout score, a contentious in/out call on the goal line, and a Molly McKeon toe in ruled out by the observer.
Throughout the game, cutter separation was at a premium. Riot was not able to haul in as many pressured receptions nor hit the tight throwing windows, while the underdog made the plays necessary to win. Between Riot's near-gamechangers and the small spaces through which offenses advanced, it is safe to say this semifinal was a game of inches.
Scandal really locked into their own sets and dictated the game after they took their lead. Their junky poach defense generated a number of bad decision turnovers. Meanwhile, their handler motion offense opened the field for strong play by Payne and Jessi O'Connor.
Interestingly, Riot maintained the open rotation they applied all weekend. Sarah "Surge" Griffith made massive impacts every time she stepped on the field, but didn't appear to play any more than any other player on the roster. Griffith confirmed this was all by design.
"That was a leadership decision going into Solstice and going into this weekend," she said. "We need to develop the whole team. This is not a time to rely on a few players, this is a time for us to develop a full roster."
Scandal's Payne, Jorgensen, and Alicia White all spent a lot of time running down on pulls for their defensive unit.
The final score for Scandal would be punctuated by an incredible sky by Sarah Itoh, who came charging in over a pack of players, getting up and extending out to snag the 13-7 game winner.
"In any game, we want to make a statement and create momentum for ourselves," stated Payne after the win, "[Even] in any half."
The six point deficit doesn't describe how close so many of the points were, but do demonstrate how impressive Scandal's defensive performance was. It was clear on the sidelines that Riot did not feel they played their best game.
"It's good to lose early in the season," Griffith said of Riot elimination, "It gives us a goal to focus on. It gives us something to motivate them for the rest of the season."
When asked about how they managed to recover from their earlier loss, Payne pointed to the mental aspect of being the favorite.
"I think there's added pressure in coming in as the winner in a rematch," she said. "There's extra pressure to stay on top. We got extra fire from being the underdog."
There's no doubt that Riot was favored in this game. It will be a lot less clear who will hold the edge the next time these teams face off. In the end, both teams know which games really matter — the ones in October — and have their focus on that. But this confidence building victory will prove valuable down the road.
Scandal will take on undefeated tournament favorite Fury in the final, to be streamed on ESPN3 today at 1:30 PM.