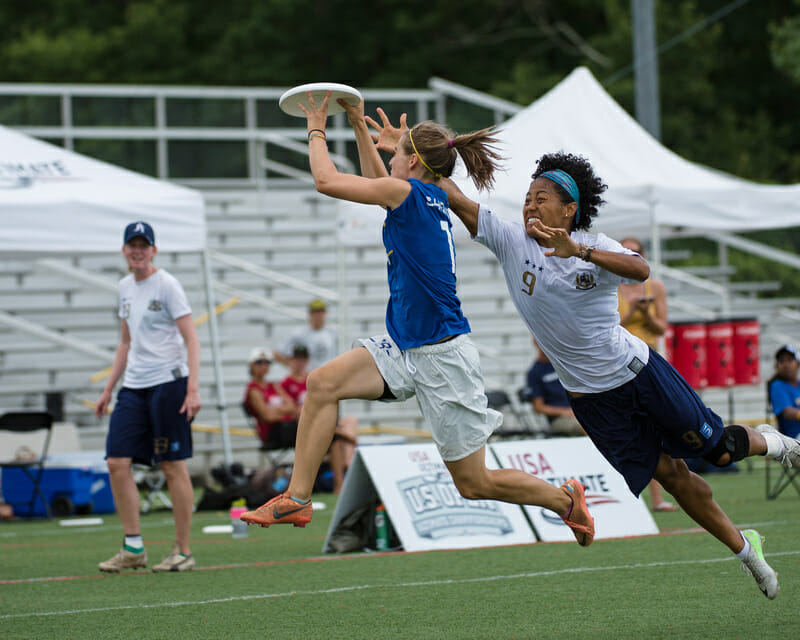 At first glance, the result of the 2013 US Open Women's Final looks like the status quo: Fury wins, everyone else loses. However, the game wasn't just business as usual for the defending champions. After being challenged every step of the way, San Francisco Fury would have to come back from an unfamiliar deficit to defeat D.C. Scandal, 15-12, for the title.
It was slow out of the gate, with D.C. looking slightly rattled receiving the opening pull. Fury would score two defensive points off the bat, made easier by Scandal throwaways. It was clear from the outset, as it was in both Riot & Fury's pool play matchup and Scandal and Riot's Semifinal, that it would be the defense that would set the tone: gaining defensive control of the matchup would be critical to the winner's success.
After a Scandal timeout, their offensive unit would work their way up the field and find paydirt, with Kath Ratcliff tossing in a high release break to Allison Maddux. Finally able to put their impressive D-line on the field, D.C.'s Crystal Davis immediately got involved on both sides of the disc, catching the game-tying break score to make it 2-2.
With the game tied at 3-3, Scandal was able to get their defense out again, and they'd deliver back to back breaks, and nearly cash in on a third. Fury had made a living making teams pay for conceding possession over the course of the Open, and the Snyder-led squad was able to capitalize on more avoidable Scandal offensive line turnovers to bring it to 6-6.
An Alika Johnston layout score past a bidding Castle Sinicrope would preserve the underdog team's one point edge on the scoreboard and provide the momentum they'd use to take an 8-7 halftime lead over the Bay Area. It was the first half Fury had lost all tournament.
Neither team played a particularly aggressive offensive half, in contrast to some of their earlier performances. Scandal had more unforced errors, but their offense also better established horizontal disc movement, and that flow often helped them slide up the field towards the endzone.
The conditions may have been a factor in the more conservative offensive play for the teams. The wind on and above the field was at about 10 mph, with gusts adding another 5-10. Longer or higher throws, be it hucks, long swings, or edged passes, were becoming more challenging. The effect was most visible on Fury's hucks, but caused problems for both teams.
D.C.'s other strength was their red zone efficiency, also assisted by their ability to move the disc from sideline to sideline. They'd go 100% in the red zone in the first half, with 7 of their 8 scores coming from that range.
Both offenses would score to open the half, but at 9-9, Scandal's red zone offense would finally snap, with Fury's Claire Sharman interfering on an Amy Hudson crossfield shot. Turning to their strength, the top seed would punish Scandal's mistake, with Sharman toeing in the upwind break for the bookend score.
Both teams would try some lane clogging looks – Fury with a wall zone and Scandal with their developing lane poaching junk – to take advantage of the wind and slow the game down. Despite a massive Payne layout and shutdown defense on Alex Snyder from Jenny Fey, a flubbed force on the mark would result in Fury holding to make it 12-11.
Switching back to man, the reigning champs would begin applying pressure to dump throws, trying to curb the D.C. team's ability to change fields. The result would be a brutal throwaway in the red zone. Loryn Kanemaru made a nice break throw to Desmond, who flipped it to Lakshmi Narayan for the critical break that would stretch the lead to two.
Fury wouldn't stop there, applying more defensive pressure, yielding another break. Kaela Jorgenson would find Cree Howard for the game's final score, making Fury the US Open champions in their first trip to the tournament. Scandal would, once again, settle for second.
The game demonstrated how Fury's depth, poise, and performance under pressure has helped keep them on top of the Women's Division. Eight different players scored on Fury's first eight goals, and while Lakshmi Narayan and Kaela Jorgenson both had great games, neither was relied upon.
Scandal, meanwhile, played Opi Payne, Alicia White, Sandy Jorgenson, and Allison Maddux frequently. Maddux had a strong game, and Kath Ratcliff put up four goals and two assists for the D.C. offense.
At half time, new Scandal coach Alex "Dutchy" Ghesquiere told his team, "This is about us." He was right. Dutchy's team had control of this game, even overcoming some of the mechanical mistakes Fury usually kills teams for, but couldn't limit those errors with the Bay Area team clamping down. Opportunity presented itself and Scandal failed to seize it; Fury did what they do best, and wrestled that opportunity to the ground in the second half.
We know what Fury is about – that they are and likely will be the favorite in every game all season – but Scandal revealed just how threatening they will be against even the best opponents. They did the same thing last season at this tournament.
This season is just waking up, rubbing its eyes in the morning light; it's that early. The final score and the results say what we all already knew: Fury is very good. That's been the story for seven years now. Scandal thinks it's time for a new story and in Raleigh, they showed they are ready to tell it.