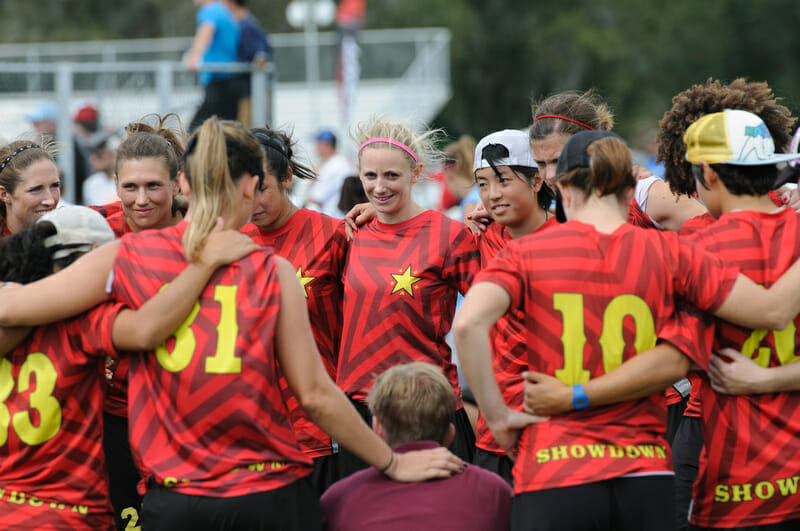 It is safe to say that Texas Showdown surprised a lot of people last season. Their run at the Club Championships started from the third spot in Pool D and ended tied for third overall. For a team that had never before made it to the semifinals at the big show, their performance turned some heads.
Expectations are one of the few changes to the Showdown roster. Just four players head out (Kayla Ramirez, Nicole Copti, Mia Iseman, and Kim Breese), leaving intact Showdown's entire offensive line.
"Our D line lost a few key players," explained captain Holly Greunke, "but we are confident that the veteran players like Anna Schott and Enessa Janes can fill in the holes left by those players."
That's right, Texas's losses look like they will be outweighed by their gains. Janes has been an elite playmaker in the Women's Division in the past and Schott's experience will also be welcomed. Both have experience with some of Showdown's returners. Becca Shelton rejoins the roster, along with Lisa Etchison.
The most valuable addition could be on the sidelines. A new coaching staff is in place: the duo of David "Salad" Melancon and Tal Taversky will look to help guide this team to new heights. They're energetic but focused, and when I spoke with them at the US Open, they told me they are letting a lot of the existing leadership and structure help maintain team consistency.
"We have a huge amount of foundation to build on," explained Taversky prior to their game against Fury. "They have an enormous amount of stuff in place, and we're trusting them a lot."
That foundation has been built by players like Katey Forth, one of the team's founders, and Cara Crouch, two time Team USA member and former Callahan winner. Forth's co-captains Sarah "Slider" Blyth and Greunke will continue to help lead the well seasoned roster.
Those four also form the core of the team's offense, providing a lot of the firepower for the line. Sarah Levinn is a rangy deep threat who is good at using all of her 5'10" height and Janel Venzant is a solid contributor who is a bit of a "glue guy" player, seemingly filling whatever role is needed at any given moment.
"We are a naturally fast and athletic team, so we model our style of play to highlight the strengths of our players," said Greunke of the team's play style. "We are efficient on offense and explosive on defense."


The roster's youngest player could be delivering a big helping of that explosiveness in her third season with the team. "Diana Charrier is one of Showdown's top young defenders," gushed Greunke, pointing to her performance at the Club Championships last season as an example. The 21 year old Charrier (Texas Melee) is a big, strong workhorse defender, a trade she will be plying in Toronto for the U-23 team. "While she is young, her mark is the best I've seen in club ultimate.  She consistently point blocks teams' best throwers."
The US Open was the debut for Showdown 2013, and had both positive signs and points for concern. They finished 4-4, playing Fury well and topping out an admittedly tired MUD. Unfortunately, they failed to beat any of the other three semifinalists from last club season, and were on the short end of a 15-5 massacre against Scandal. The coaching staff isn't concerned.
"Same two goals throughout the whole tournament: Priority one is to have fun and priority two is to communicate," said Melancon after the team's first day. He added, "We're learning about the team as much as they're learning about some of the stuff we're teaching."
During last year's Club Championships, Showdown failed to give themselves a chance in the semifinals. It wasn't much different to start this season.
"We believe it will take a combination of hard physical and mental work," Greunke said of beating the best and improving on their finish from last season. "We really believe [our coaches'] knowledge and experience combined with our mental and physical work will give us a push in the right direction."
There's a lot of season left and a lot of work for Showdown to do if they want to be headed in that direction.
Showdown will be attending Colorado Cup and the Bay Area Invite before the Series.