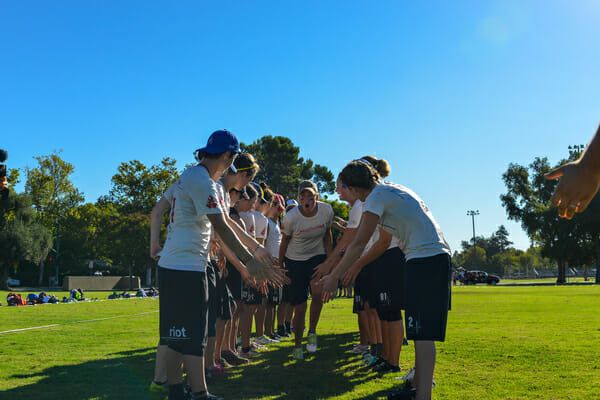 DAVIS — It isn't how you start, it's how you finish.
Seattle Riot may have begun the Pro Flight Finale by suffering a surprising loss to Austin Showdown. But chasing a pretty typical goal of improvement led to a steady increase in performance and they marched from that stumble to five straight victories, including a 13-10 win in the final over Washington DC Scandal to be crowned the tournament champion.
In the semifinal round, Riot had drawn powerhouse rival San Francisco Fury. However, they turned in their best performance of the tournament against very strong opposition. Excellent play from Rachel Bradshaw, Katy Craley, and Dom Fontenette and some clogging poachy sets helped them earn a 15-11 victory.
Meanwhile, Scandal was using a late run against tournament darling Chicago Nemesis to earn their final berth. Scandal recovered from a game opening break to take half over Nemesis. They'd make a run early in the second half, their depth and a four man cup look proving to be too much for the tired legs of that lined up across from them.
Riot came firing right out of the gate. The final was a rematch of the last round of Pool B, a pool deciding game in which Riot was able to out-grind Scandal on their way to the win. Perhaps they came in with the mental edge, rolling off three straight scores to take a two break lead to begin the game. Former Scandal player Charlie Mercer punctuated the early run with a nice snag in the air, helping force a Scandal time out.
Out of the time out, Scandal would battle through a tough Riot defensive group lead by the active pressure of Callie Mah, eventually getting on the board. Riot responded with back-to-back scores, during which Mercer took an injury substitution after getting cleated in the chest during a layout.
The wind was steady throughout the game, leading to a lot of turnovers and slow points as both squads deployed zone and junk looks. Riot continued to try to invade downfield lanes with poaches. There was also a lot of observer interaction, culminating in the type of strange call that seems to happen in every matchup between these teams.
With the score 5-2, Riot defender Shira Stern managed a big layout catch block in the endzone. When Stern rose from the ground, the disc did not come with her, but how and when that happened was a point of contention. Riot said that it was not a turnover, since the ground contact dislodged the disc. Scandal disagreed, saying the release of the disc happened after Stern completed the catch, including through the ground contact. The Seattle sideline watched with great displeasure, grumbling and sometimes shouting at the field, as the disc mysteriously was sent back to the thrower by the observer.
The issue seems to be that the disc was put back in the hands of a Scandal player. It appears the observer ruled that he did not get a good look at the play, and thus sent it back. However, the turn in dispute was Riot's turnover; the Scandal incompletion was clear and unquestionable. Stern should have been given the disc.
Scandal would turn the disc on the ensuing possession, prompting Shannon O'Malley to yell, "That's karma!" before being chided by her teammates and rather sheepishly quieting down. A short field turn would let Scandal notch the score, staying in the game with a two point deficit rather than staring a four point deficit down. From there, DC was able to get back into the game, bringing it to 7-6 before Mah would sky for the goal to take half 8-6, favoring Riot.
The second half would be filled with trap zones, turnovers, bids, and long points. Despite the impressively powerful throws and pulls of Scandal's Opi Payne, the east coast women would never find the traction to close the gap. Disciplined handler play from Gwen Ambler and Drew Johnson, along with more big plays from Craley and Mah, held of Scandal into the cap. Shannon O'Malley would reel in the game winning score, clinching a 13-10 triumph.
This all followed a weekend that started very poorly. The loss to Austin's Showdown was a stunner to kick off the tournament, but it could have been even worse. In the second round, Toronto Capitals gave them all they could handle, falling in a close 14-12 game. Rebounding from those struggles was a challenge of mental toughness.
"We brought it back to our core values. Riot's core values are excellence, trust, and love," said captain Rohre Titcomb following the Capitals game. "We decided that we were going to commit to playing in a way that we trusted each other do the right things: hitting the open people and trusting each other on defense, and loving each other and celebrating each other as we do those things, and knowing that our excellent play follows when our heart is in it."
Had they failed to commit to one another and their Riot ideology, it is not unfathomable that they might have fallen to an incredible 0-3 Saturday. Instead, they used their failure to inform their success, and now sit poised for the chance to take the #1 seed at the Club Championships. They'll need to navigate a tricky Northwest Region to do so, but that is well within their reach.
So many teams go into regular season tournaments with the undefined and ephemeral goal of "improvement." Very few hone in on that functional system of bettering their mental game, sharpening its edge in an effort to peak in the post season. Riot's experience, success, and commitment to the team pushed them to succeed where so many teams fail. That's why they sat atop the heap at the Pro Flight Finale, and, ultimately, the inaugural season of the Triple Crown Tour in the Women's Division.