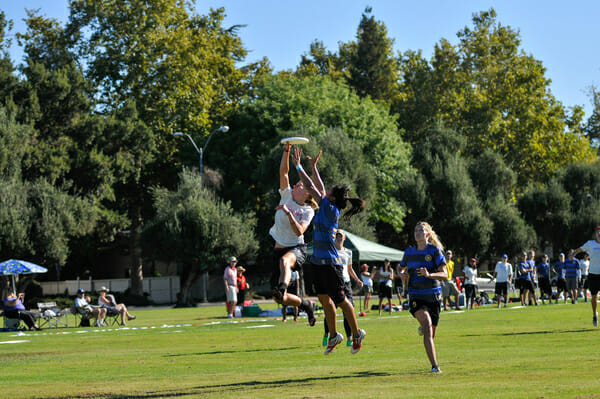 The Pro Flight Finale hosted many of Ultimate's most talented women, setting versatile offenders against harassing defenders. Players who were able to beat elite matchups made themselves standouts and players to watch during the Series. These 14 women had head-turning performances in Davis, California, and will be important pieces of their respective teams' success in Frisco, Texas.
7 Stars Line
Cara Crouch (Showdown)
One of the division's most difficult matchups, Crouch is a forceful and opportunistic cutter with all the disc skills and experience to be dangerous from anywhere. If Showdown's offense finds themselves stuck near the sideline or high in the stall count, Crouch just steps into the phone booth, reemerges in her cape, and wills herself to the disc. Few players influence the entire field and its occupants the same way she does.
Lien Hoffmann (Nemesis)
Hoffmann's versatile style of play comes up huge for Nemesis on both sides of the disc.  She is a threat from all points on the field, keeping her defender on her toes, whether handling or cutting. At the Pro Flight Finale, Hoffmann was virtually uncoverable against their opponents' best. She's an aggressive cutter and thrower, which Nemesis often used to initiate offensive possessions.
Kami Groom (Nemesis)
Groom was able to use her uncontested speed to get numerous run through D's and her tireless cutting to convert after the turn.  Groom not only made huge defensive plays but often took control of the field behind the disc. In their fast break offense, she knows exactly where to be and moves the disc as quickly as she moves her feet. She's also armed with a monstrous ability to attack the disc in the air. Zoom zoom!
Katy "Butters" Craley (Riot)
Craley's relentless cutting has quickly garnered much deserved accolades from opponents and teammates.  Her tall frame and athleticism allows her to dominate the field and make huge plays on both sides of the disc.  This weekend, Craley constantly got open in every direction, making huge gains for the offense and providing a reliable target for her throwers. And she may even be better on defense than offense.
Callie Mah (Riot)
It seems like Mah has been getting increasingly involved for Riot. On defense, she's long and disruptive, making her a challenging mark and invasive lane presence for Riot's poachier looks. Mah is also very capable in the air, making big grabs all weekend, on top of solid under cutting. Her disc skills are steadily increasing and it wouldn't be surprising to see the Seattle coaching staff placing more and more trust in her in Texas.
Paula Seville (Nemesis)
In her first season of elite women's club, Seville has become a huge asset to the Nemesis offense.  She led the offensive charge this weekend as a primary handler, being a consistent reset, using her arsenal of throws to create opportunities for her cutters and aggressively finding the endzone with give-gos.  Another calm personality on the field, Paula's decision making is that of a seasoned veteran, proving useful to an efficient Nemesis offense.
Kirsten Unfried (Scandal)
Some players don't fill up the highlight reel, but terrify opposing coaches. Unfried falls into that category, and while we caught her getting under after under after under, defenses didn't. It felt like every time Scandal found great flow, it involved Unfried finding a choice patch of open space, an unprepared defender, and a great option to quickly get the disc to. Her hands bring in virtually every throw within receiving range.
Honorable Mentions
Anne Mercier (Scandal)
One of the game's premier throwers is Scandal's shiny new toy. Mercier was immediately thrust into a central handler role, scoring a lot of touches on Scandal's offensive line. She was a driving force for the group, able to overcome chemistry issues with her sheer talent. As she gets tuned in with the team, it'll be scary to see how her skills ravage defenses.
Emily Lloyd (Ozone)
Lloyd has become an admirably productive young player in the Ozone offensive unit. As she finds her place, this cutter is learning how to expertly time deep runs off her huck-throwing teammates' unders. In the red zone, Lloyd brings a high level of physicality to help her get open in small spaces and opportunistic activations to pounce on her defenders' weaknesses.
Claire Desmond (Fury)
Desmond is one of the rising stars of Fury's younger class. Having taken a lead role for the U23 team, Desmond has returned to Fury with a more confident and aggressive style of play. She's got the big layouts — see her slow mo highlight reel shot — but her fundamental game makes a solid producer in pretty much every game. The emergence of her as a well-rounded threat just makes Fury that much more powerful.
Drew Johnson (Riot)
Drew's calm demeanor on the field helps Riot reset and advance the disc.  She is not only a reliable reset but versatile in the handler position.  There were several instances this weekend where she used her versatility to move from a handler to cutter position during the point. She was not only creating space for her teammates but never allowing the defense to become comfortable by simply creating intelligent offensive motion.
Carolyn "C" Matthews (Molly Brown)
Carolyn's fiery style of play produces huge blocks for the Molly Brown defense in key moments. She plays shut down handler D, and on the turn will use her experience and various throws to advance the disc down field. This weekend, C consistently provided Molly Brown with an open option and made it easy for her downfield receivers with leading hucks.
Sandy Jorgensen (Scandal)
If you've seen any of Ultiworld's Scandal coverage, you've probably heard tell of how Jorgensen "covers ground." As one of the game's elite athletes, Jorgensen is a kraken of the deep, emerging from seemingly nowhere to terrorize receivers and throwers alike. She also makes a great target for Opi Payne's bombs after the turn. Her lefty blade flick on the fast break is undefendable slightly more often than uncatchable.
Julia Sherwood (Fury)
Like her teammate Desmond, Julia Sherwood has gone from Fury youngster to budding star. Sherwood's got a great combination of initial burst and dynamic throwing, making her a difficult match up in small spaces and great at opening up field space. For all of her offensive talents, she's also a vicious defender that's difficult to shake, even in isolated looks.