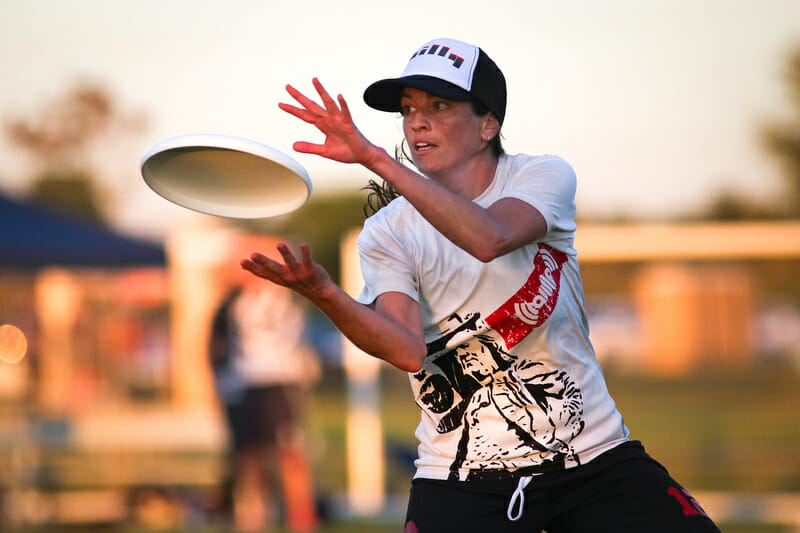 Pool D is often dubbed the "pool of death" at Nationals. The snaked format sets up a 4 v. 5 matchup that's difficult to predict at best, but this year's season saw two Boston teams — The Ghosts and Slow White — split wins throughout the summer and come in at 4th and 5th, making that matchup even more unpredictable than usual. A reloaded Cosa Nostra came in at 9th, with close games against strong competitors and one universe-point loss to Slow White, which set up Pool D to be as deadly as ever. Imagine our surprise, then, to see Pool D–and only Pool D–go to seed on Thursday.
The only close Pool D games, in fact, came in the final round when The Ghosts narrowly defeated Slow White 14-12, and Cosa Nostra came back from 5-8 at half and 13-14 late in the game, breaking for the double-game-point victory over 16th seed Steamboat. Closing that game out gets Cosa Nostra an unenviable prequarter against Odyssee, while Steamboat draws Drag'n Thrust on the other side of the bracket.
Drag'n Thrust and Odyssee were the mayors of Upset City today, picking off top seed AMP in what turned out to be the real pool of death. AMP kicked off the day with a sloppy win over 7Express, then lost by six to Odyssee and one in the final round to Drag'n Thrust. Drag'n had already squeaked out a double-game-point win in the first round over Odyssee, Pool A's "sleeping giant".
7Express dropped all three games and will face The Ghosts tomorrow morning while AMP takes on the other Boston contender, Slow White, in a nasty prequarters matchup. With the scores so close in those Pool A games, it wouldn't be a shock to see three of the four make Quarters.
Pool B was comparatively vanilla. Polar Bears rolled through their games, the most contested a 15-12 win over D'oh, and there was only one pool upset: AG 14-10 over Cahoots in the final round. Pool C though was a bit crazier, where Wild Card lived up to their name and took down both Chad Larson Experience and Mischief on double-game-point wins.
With a 14-10 win over 7 Figures, Wild Card also won the pool and a prequarter game against Cahoots. The rest of the games went to seed and CLX will face AG, Mischief taking third and drawing The D'oh Abides, 7 Figures falling fourth and facing Polar Bears in the prequarter.
Tomorrow's toughest prequarters to call are D'oh vs Mischief and Slow vs AMP, but otherwise the top seeds should move on. Given the parity and unpredictability of this year's field, there's no telling what will happen from there.
See more photos from the College Championships on UltiPhotos.