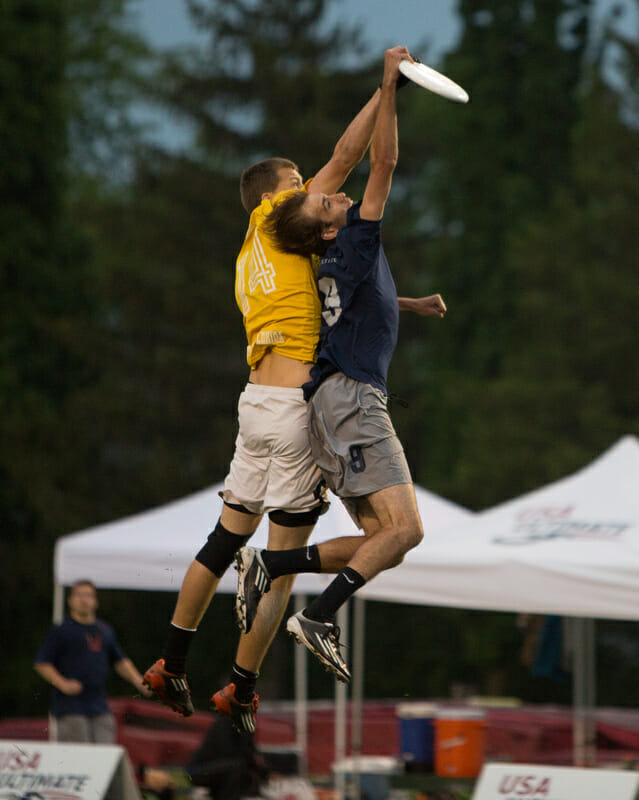 With the fall season wrapped up, teams will begin showing their true forms at some of the nation's top tournaments. Like any team, the Central Florida Dogs of War will be looking to improve upon their results from last year. With massive improvements over the course of the last decade, this last hill may prove to be the hardest to climb. With a second place finish at Nationals including a beat down of Carleton College (15-8) in the semi-finals, the Dogs of War will hunt down the only improvement in sight: a national title.
However, to make that final push, UCF will have to move past some setbacks. Having lost their 2013 Callahan-nominee, Michael Hickson, UCF struggled at the premier fall tournament, Classic City Classic. The weekend was less than ideal for the Dogs of War, suffering losses to Virginia Tech, Florida State and home team UGA, and some worried that this might be an indicator of the spring season.
UCF was also without a key downfield weapon: 6'7" defender/cutter and U23 gold medalist Mischa Freystaetter.  Ultiworld has recently learned that Freystaetter's will not be retuning to UCF this spring.  According to coach Andrew Roca, Freystaetter had planned to play as a graduate student this spring, but found a full-time job in his field instead.
"There will never be another player like him (here or elsewhere) and we'll adjust as we always do each year," Roca told Ultiworld.  He also thanked Freystaetter for his contributions to the program.
A rival Southeast coach told Ultiworld that the impact could be substantial.  "That's a tremendous loss for them — losing first Hickson and now Misha.  He was their bailout.  Other teams, in-region teams, are going to think it's possible they can take UCF down."
Yet, as Roca emphasized, UCF is used to adjusting and retooling.  For all the talk about their struggles at CCC, they still managed a third place finish. "Yes I would say that we clearly did not meet our goals," said captain Mike Ogren. "However, we were not completely healthy coming into the weekend, and the tournament itself injured a lot of important contributors."  For UCF, CCC quickly turned into a building weekend where dominating the competition became secondary to growing as a team.
The offense of UCF will be led by handlers Brawley Adams and John Best.  Of course, as the world saw at CCC, Best can make plays downfield as well.
These two veterans will be throwing to Mike Ogren, who will distribute the disc to an always changing cut sequence. The nature of this deadly offense lies in its' versatility.
Coach Andrew Roca will refuse to limit any player to a set role on the field, analyzing one on one match-ups and finding the best possible place for each player. For instance, Ogren is a more than capable handler and can be a dynamic force throwing to Best downfield. These unpredictable coaching moves can only be countered by a defense that is just as versatile, the likes of which they may not face very soon.
On both offense and defense, the big question for the Dogs of War is how they will replace 2nd Team All Region star and Callahan-nominee Michael Hickson.
Ogren addressed the challenge of replacing the lost Hickson and Freystaetter by pointing to guys who he expects to step up. "Andrew McKelvey and Kyle Reedy will be stepping into major roles this year," said Ogren. He describes Reedy (Sophomore) as a "defensive force" this year for the Dogs of War. As for McKelvey (Sophomore), a newly developed arsenal of throws will make Central Florida very deep this year on both sides of the disc.
With a plethora of veteran leadership, the attitude in Orlando has shifted from a goal of sectional dominance to regional dominance. "We obviously place a lot more weight on regional results. So if not winning the section allows us to peak better later, we accept that," Ogren said.
With such an emphasis on peak performance, expect coach Andrew Roca to be experimenting with different sets and strategies as late as April. In one of the most competitive states in all of college Ultimate, Central Florida will have plenty of experience against Nationals-level teams early on. Ogren seems to think these in-state match ups are a blessing in disguise. "Playing such quality opponents with a good amount of regularity is great for the development of all of our programs….Some of the older guys like me have been fortunate enough to get that experience playing against some of the best players in the country while in college."
After CCC in November, Central Florida received critiques for what seemed to be a poor finish. Keep in mind, in 2012 UCF had a similar CCC run that included a loss to Georgia Tech. Their finish then was not indicative of their late season run, and it most likely won't keep them from making noise this spring.
Indeed, probably the most important thing to know about The Dogs of War is that they are returning two players from the Southeast's All-Region Team, and they still return a ton of height. The top of this roster is definitely one of the best in the Southeast — if not the country — and it is by far the most experienced in the region. With Ogren, and Best on the field, UCF will make very few mistakes as they push towards Nationals. Across their roster, they will be difficult to match up with athletically.  And with a section that has sent three different teams to Nationals the last few years, Central Florida will have plenty of opportunities to test themselves early and prove to those watching that their goal of a regional peak may just push them back to a finals showing in Cincinnati this May. 
Spring Tournaments
T-Town Throwdown (Tuscaloosa, AL) January 25-26
Warm Up: A Florida Affair (Tampa, FL) February 14-16
Stanford Invite (Stanford, CA) March 1-2
College Easterns (North Myrtle Beach, SC) March 21-23
Coaches
Andrew Roca (head coach)
Daniel Jakob (assistant coach)
Captains
Mike Ogren
John Best
Alex Bullock
Jeremy Langdon