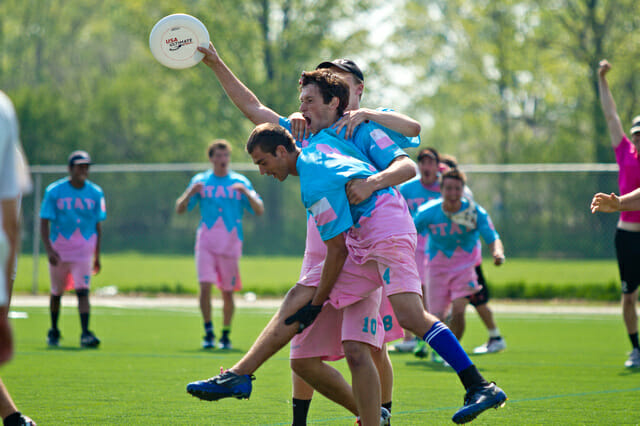 Disclosure: The author is a player for Brandeis University.
With four teams ranked in the Ultiworld top 25, including the reigning champion Middlebury College Pranksters, the Division III New England region appears to be one of the most competitive DIII regions in the country. The NE sent four teams to Nationals in 2013 — Middlebury, Amherst College, Bentley University and Brandeis University — and it looks that this year will be a similar story with numerous National-caliber teams competing for only so many spots to Ohio. Here are the top contenders:
Amherst Army of Darkness (#1): Last season, Army of Darkness had a 14-2 record in the series but watched their season end in a semifinals loss at Nationals at the hands of Middlebury. Although Amherst loses DIII NE player of the year Lock Whitney as well as John Yarchoan and Stefan Breitling, 1st and 2nd team DIII NE selections, respectively, Amherst still has a core of players they can rely on, including Andrew Edelman, Charlie McCallister and Matt DeButts.
Their ultimate program boasts an impressive 50 players between the A team and B team. Handlers Sam Hendel and Owen Marschall and cutter Bob Neel, products of Amherst's B-team from past years, come in and should provide Amherst with the depth necessary to make another run deep into the Series. Army of Darkness tended to rely heavily on Lock and Breitling last year, especially when their offense faltered, but captain Giaco Corsiglia said he is confident in the returning players to step up and take on more prominent roles. The team played well at Northeast Classic in the fall despite playing relatively loose lines. If they can distribute their talent evenly between their O-lines and D-lines, Amherst should again be the team to beat in the region come Spring.
Middlebury Pranksters (#6): Last year, the Pranksters played their best ultimate right when it counted most. Davis Whitehead threw for a Nationals-best 27 assists, while Nathan Arnosti and Will Lones caught 16 goals and 15 goals, respectively, as the team beat Puget Sound in the finals on double game point.
However, Middlebury loses all three of those players this year, with Whitehead and Arnosti graduating and Lones opting not to play this season. The Pranksters will look to seniors Patrick Adelstein, Oliver Sutro, and Jeff Hetzel to step up and lead the team as well as juniors Philip Chang and Asa Julien. Additionally, Brendan Willerford, a freshman from Seattle, has already become a defensive standout.
Middlebury was notorious last year for poking fun at the attention DIII ultimate received, but they admitted that simply playing ultimate was reward enough for their achievements. "All that needs to be said about our attitude is that playing this sport is a reward in itself for us, and there is little satisfaction for us in adopting pretenses of media-worthy, serious accomplishments," Hetzel said. Middlebury had a tough showing at Northeast Classic in the fall posting a 2-5 record, but if history is any indication, the Pranksters should be playing their best ultimate when they need to be in the Spring.
Bentley Icehouse (#13): After being seeded eighth last year at Nationals yet finishing tied for 15th, Icehouse is primed to make a deeper run into the tournament this time around. The team returns three fifth-year players in Maxwell Rick, Kevin Sparacino, and Derek Bond, as well as nine seniors, highlighted by O-line handler Alex Foo. Rick is coming off a season of experience playing with Garuda, a top NE open club team that just missed out on Nationals this past fall, and the team will look to him and Foo, who tallied 20 assists at Nationals, for leadership on and off the field.
Bentley loses some key O-line players in handler Mark Bokuniewicz, and cutter Lucas Ruffel, but newcomers Kyle Saroka and Walter Aspinwall will look to provide depth — an aspect Bentley seemed to lack last year — to an already well-experienced team. Come series-time, expect Bentley to use their well-developed chemistry to their advantage and make a run at a higher placement at Nationals this year- assuming they can survive Saturday with their seniors at graduation.
Brandeis TRON (#19): TRON qualified for Nationals last year for the first time in their team's history, placing 11th with a squad diminished by injured players and seniors at graduation. Though they lose 2013 1st team all-NE defensive handler Gabe Colton, who posted 20 assists at Nationals last year, and deep threat Matt Wiener, who tallied 19 goals, Brandeis will still be able to run their handler-controlled offense through captains Max Zaslove and 2013 1st team all-NE selection Nadav Pearl.
TRON posted a 21-8 fall record behind the play of Zaslove and Pearl, as well as fifth year player Victor Zhivich and sophomore Daniel Krigel. Brandeis' coaches have preached an attitude focused on conditioning and fundamentals this year.
"We have a team with some natural talent that gives us a good foundation," coach Sam Dinning said. "To take the next step, we're working to become one of the best-conditioned and most fundamentally sound teams in New England. If we can put in the work to accomplish those goals, we'll be proud of the season and the results will take care of themselves."
Wentworth Concrete Jungle: After securing a bid for the NE region last year, Wentworth struggled at regionals and failed to qualify for Nationals. This year, Concrete Jungle will face perhaps an even tougher challenge in the spring as they adjust to playing without 2013 NE Freshman of the Year and Garuda standout, Jeff Babbitt, who transferred to UMass-Amherst this past fall. Coach Kyle Lapatin is confident his team will still be able to have a successful season without him.
"Throughout the fall we have been evaluating what kind of team we are, what our strengths and weaknesses are, and what we need to change to be a threat in the fall with the players we have," Lapatin said. "I have never felt more prepared with this team for the spring in the six years I have been associated with it."
Wentworth's core players are cutters Neil Franklin, Matt Silverman and Mack Kirby, and newcomers Alex Kriger and Chris Pierson should round out their balanced lineup. Lapatin said the team's success this spring would be a result of a change in attitude. "We have a big mentality shift coming for this spring," Lapatin said. "We are going sub differently, play differently, and look at the game differently. If [Wentworth] is going to Nationals, this is going to be the year they do it."
Bryant Craze: Bryant had a strong fall season, placing first at their home tournament, the Holly Burns Huckfest, third at Moon Launch IV and fourth at Northeast Classic. All of these tournaments featured some of the top teams from the area and Bryant proved to be a tough team to play against regardless of the opponent. The squad loses defensive threats Chris Bello and Kyle Bannon this year, but second-year captain Joe Scully will be a player to watch in the region as he leads Bryant on both the offensive and defensive sides of the disc. Bryant adds newcomers Jacob Garfinkel and Adrian Alonso-Tavera, two former high school players that have already made an impact on the team. One of the question marks for Bryant this year will be their ability to finish close games, a trait that could lead to a late regionals exit like last year.
This year, however, Bryant expects to make a push towards a Nationals appearance. "Our biggest change has been our devotion to being serious and holding each other accountable," captain Kyle Sprague said. "We all want one thing which is to be known as a legitimate ultimate team in the New England area.  We plan to establish that with a strong run to nationals this year. It will be tough with how strong our region is, even at the DIII level, but we believe this is the year for Bryant Ultimate."
Worcester Polytech (WPI): Though WPI's season ended last year at the Conference level, their multiple defensive sets will keep opponents off balance and make them a team to be reckoned with this season. Despite losing the hucks of Matt Guilfoyle, the squad still has a formidable deep game that they tend to rely too heavily on with Ryan Thornhill and 2nd team all NE selection Ryan Turner. Louie Mistretta, Tim Defreitas and Pat Kane round off their solid set of returners and cutter Andrew Pic and handler Jarret Jacobson provide a new crop of talent. Even though WPI's season ended last year earlier than they would have liked, don't be surprised to see this team competing confidently with the best of the region in the Series.
Bowdoin: The Stoned Clown's biggest loss from last season is captain Bill Page, their main handler. Nick Benfey and August Miller will look to take over the handling reigns this year and lead a team that features seven new players, including sophomore and defensive cutter Jordan Richmond. Also new to the team this year is a positive attitude initiative called "New Clown."
"We have absolutely no tolerance for criticizing one another or making a teammate feel worse than they already do about an error," captain Salem Harry said. "[New Clown] creates a positive environment during tournaments, which is essential in a sport where a mistake almost always ends with a turnover." Bowdoin was plagued by injuries and sickness last year, but if they can stay healthy they should have a shot at competing for a Nationals birth.
Bates Orange Whip: Despite losing all their games at Regionals last year, Orange Whip has a positive attitude heading into this season. They lost a number of close games during the regular season last year, and struggled when teams made comebacks against them. This year, Bates is focusing on improving team morale. With a team full of athletes, the biggest strength for Bates will be their athleticism. They lose handlers Fergus Moynihan, Connor Abernathy, and Henry Mauck, but senior captain David Smith and junior deep threat Chris Eddy will look to pick up the slack. The question mark for Bates will still be their confidence playing in close games as well as their technical skills and decision-making. They will look to focus their offense around a few skilled handlers and a team full of athletes.
Berklee: Berklee is one of the more interesting teams in the NE region. Having just founded their ultimate program last year, GottaGoFast is an up-and-coming team that qualified for Regionals last season (though they did not play). As Berklee's only interscholastic team, the ultimate program is simply looking to introduce the sport to more students while maintaining a competitive edge. They will look to cutters Rob Ballantine, Jason Chambliss and Jason Threm to stretch the field and Elisabeth Beckwitt, Zach Calderon and Alex Roderick to handle. Berklee may not be ready just yet to take the next step into the Nationals world, but another Regionals birth this year is certainly achievable for this young team.