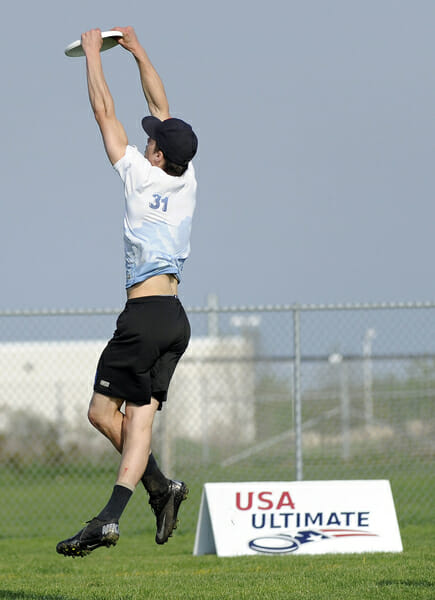 DIII Nationals is now just three days away. Stay up to date on all things DIII Men's in our DIII tag page.
Today, I'll be taking a look at the "bookends" pools of 2014 DIII Nationals — Pool A and Pool D.
Pool A
Nothing in Pool A seems too out of place from a seeding standpoint. Bentley is the tournament favorite, Lewis and Clark and GoP are seeded reasonably and while John Brown feels a seed or two too high in my eyes, I have no complaints.
This looks like the most treacherous pool at the tournament. Top seeded Bentley was definitely hoping to be rewarded a bit more for their #1 overall seed. Lewis and Clark is one of the most experienced and talented teams at the tournament and GoP is better than their showing against St. John's at Regionals suggests. When legitimate championship contenders occupy a pool's top three seeds, you're going to have some great games.
John Brown certainly won't be an easy out either. Ironfist took down 12th ranked Truman State to qualify for Nationals — a tournament that they performed in admirably last season. Ironfist was a few points away from winning 2013 Pool D with a nearly identical roster.
Pool A is defined by "good" ultimate. While many teams across the country rely on gimmicky defenses and flashy pull-plays, the four teams in this pool play a fundamental, structured game.
While each team has their star players, their systems allow for and encourage all seven players on the field to have a strong impact on any point. They all promote physical, dictating defense and the significance of a tough mark — two basic teaching points that often fall by the wayside in DIII ultimate. This pool possesses three, if not four, of the smartest teams at the tournament.
Unfortunately, as has been the case for the past few seasons, graduation falls on the same weekend as Nationals for many teams. Perhaps the most relevant of these teams is Bentley, who regardless would have needed to grind to hold seed. Now, without many of their best players on Saturday, including star handler Alex Foo, BUS may struggle.
Bentley's goal for Saturday is to simply qualify for the championship bracket and stay alive. They understand the strength of their pool and recognize that if they return their seniors fresh on Sunday, they will be tough to beat. However, if they don't finish 1st in their pool, they'll have to play an elimination cross-over against the likes of Cedarville, Richmond, or Georgia College. Never has an overall one-seed been in such murky waters.
Lewis and Clark and GoP met earlier this season at DIII Warmup, but the result is far from indicative of the parity between the two. GoP won 15-3 in a third-place consolation.
The pool-play matchup will be one of Saturday's must-watch games. Bacchus' club experience and the coaching expertise of Sean Parker make this rematch as much a chess match as it will be an ultimate game. With two teams who understand the game so well, expect adjustments and counter-adjustments based on what each team is throwing early in the game.
Will Shaw and Kyle Barton can terrorize opponents with break throws but the GoP defenders should be disciplined enough to slow the Bacchus handlers. Expect Jake Yanoviak to see time guarding these two on Carleton D-lines.
GoP's offense should be clockwork as always. Their depth and efficiency keeps their O-line fresh and allows them to run hard every point. Their vertical stack utilizes continuation on unders and it's not uncommon for their offense to score in two or three throws. Their endzone offense doesn't force the issue but will demand tight coverage from all five downfield Bacchus defenders.
Expect a high energy game where breaks are at a premium.
Don't count out Andrew Goode and John Brown to swing an upset and drastically change the dynamic of the pool. While on paper it's hard to imagine Ironfist upsetting the bigger name programs, there's no reason that this experienced team can't take down a seniorless BUS or catch Bacchus off-guard in the opening round.
It's hard to say just how cohesive Bentley will be without their seniors so I'll refrain from making specific predictions. Still, don't expect chalk out of this pool. GoP is still the cream of the crop, Lewis and Clark may be one of the tournament favorites, and JBU is peaking at the right time.
Pool D
Pool A will play their crossover matchups against Pool D. Pool D has perhaps the biggest surprise of the final seeding with Cedarville coming in at fourth overall. There's no question that Cedarville is a good team, however being placed ahead of Richmond, Elon, and even Geneseo and Lewis and Clark to some extent, seems a bit off.
Richmond may be the favorite in this pool. After struggling against Elon all season, the Spidermonkeys pieced together a great game to take them down at regionals. Cedarville, on the other hand, didn't play their best Ultimate during the series.
Pool D is always wacky. In 2011 the pool finished 3-4-2-1, in 2012 Pool D went 4-3-1-2, and last season it finished 1-4-2-3 on point differential.
Unfortunately, 16th seeded Olivet Nazarene isn't the same quality team as past 16's. The Black Penguins made Regionals by the skin of their teeth and found a way to not play perhaps the two best teams all tournament. I don't think this team wins a game in their pool.
Cedarville and Richmond face off at 2:45 on Saturday. This is the first Nationals appearance for each of these programs and both are hungry to make a statement by winning their pool. The big question in this game (and in most games Richmond plays) is who can guard James Robb? Cedarville is a long and athletic team and they'll have bodies to throw at the big cutter, but winning that one-on-one matchup might be the difference for Cedarville.
For Richmond, it'll be about physical, nagging defense. Cedarville is a senior-heavy team. They know each other well and thrive on chemistry on offense. The Spidermonkeys need to make Cedarville play outside of themselves, which means limiting continuation and making resets difficult.
A theme of 2014 Nationals is the depth of the three-seeds. St. John's and GoP are the obvious examples, but Georgia College is far from a pushover. One knock on GCSU in past seasons is that they haven't played talented teams during the regular season. This year, they went out and took it to both GoP and Wake Forest at Southerns.
They surprise their opponents at Nationals every season and 2014 should be no different. Their schedule is not ideal as they have to play Richmond and Cedarville before the two top seeds face off, however, they face Olivet directly before their elimination crossover.
Winning Pool D would be huge. The talent coming out of Pool A is very strong and getting a bye into quarters would be a huge relief. The funny thing is, Pool D's easiest crossover might be against a shorthanded Bentley team. There's no telling where Bentley finishes in Pool A but depending on BUS's performance in their pool, setting yourself up to play them in prequarters is an interesting thought.
A GoP-Georgia College rematch would be a good one. Disconnected beat Carleton on double game point and the two teams have played fairly evenly all season. A GoP-Cedarville game would be great as well. GoP is a storied program whereas Cedarville is thriving in its first year as a serious team.
Not sure how exactly it would come about but a crossover between Lewis and Clark and Richmond would be awesome — a game full of big plays, good ultimate, and fun one-on-one matchups.
Look out for a preview of Pools B and C tomorrow.