The Toronto Rush (9-0) and New York Empire (7-2) meet in their final game of the regular season on Saturday. The Empire are looking for revenge of their week 1 defeat, when the Rush rallied from three back in the 4th quarter to win 22-20.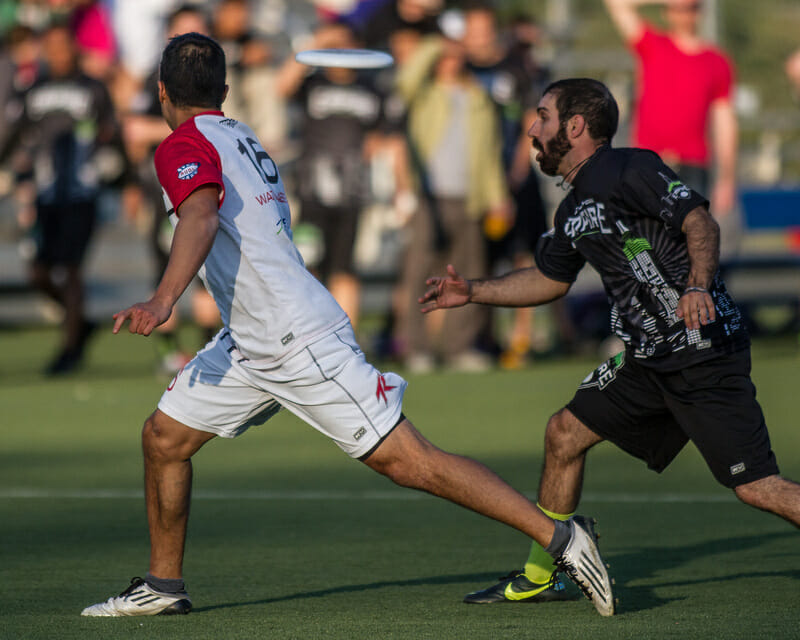 It feels like a long time ago that the New York Empire had the Toronto Rush on the ropes, heading into the fourth quarter of their Week 1 contest up by three. With the Rush looking a bit fatigued coming off of a one-point win over DC, it looked like the Empire might open the third AUDL season by handing the Rush their first-ever defeat.
But the Rush flashed their Championship pedigree by storming back late to preserve their undefeated streak dating back to 2013 with a 22-20 victory.
You can be sure the Empire are hungry for another shot at the champs.
New York travels to Toronto this weekend for the final matchup between last season's Eastern Division finalists. The Empire know to expect a tough challenge on the road against a team that will be much more finely tuned than they were in Week 1, but they also don't believe that first game was a fluke.
"If we play our game, run our sets, and stay with in ourselves, we can hang with any team in the AUDL," said Empire coach Tom Gibbons.
The Rush, though, haven't been just any team. They will be looking for their 28th straight victory, and their stars — Mark Lloyd, Jeff Lindquist, Geoff Powell, Cam Harris — have been playing increasingly well over the past few weeks. Since their slow start in Week 1, their smallest margin of victory has been five. They are averaging 9.6 points more than their opponents this season.
"We're eight games removed from the last time we played each other," said team captain Mark Lloyd. "I think people have gotten into better shape, we've worked out strategy."
It shows. After beating the DC Breeze by just one in their first game of the season, the Rush blew them out by ten in Toronto in May. That could be a poor omen for New York, who lost to DC last weekend in the first of four critical games down the stretch.
"We started playing their game instead of ours," said Gibbons. "Our offense got away from what makes it so successful, which is ground-and-pound, ball control. You don't want to get into a shootout."
The same will be true against Toronto, who have, in general, the bigger and stronger downfield athletes. The Empire have had their best success against the Rush when they focus on team defense and possession-oriented offense. It's what almost worked in game one. Lloyd says that game was mostly defined by how hard the Empire worked.
"Knowing that they outworked us for 90% of the game, and that's what allowed them to have a lead going into the final three minutes of the fourth quarter," he said. "We're going to have to be ready to work harder than them."
Gibbons thought the team really got away from their identity last week against the Breeze, and that this weekend's game is a chance to right the ship.
"We worked in practice to recalibrate who we are and where we are at this point in the season," he said. "We're going up there looking to win."
They will have to do it without center offensive handler Noah Saul, who has been the leader of the O Line this season. Saul is out to attend a wedding. Notably, he did not play in game one either.
"We're just going to adapt around it," said Gibbons. "We've got a very deep roster."
The Empire will need to find a way to fill his shoes while limiting the turnovers, which hurt them last week against DC. The offense struggled to take care of the disc — the starting seven had 15 throwaways and 2 drops.
The Empire sit in second place in the East, tied at 7-2 with the DC Breeze. The Breeze are off this week, so an Empire loss would set them back as they look to avoid a first round playoff matchup against the Rush.
For the Rush, this will be their final game against an above-.500 team until the postseason. They will be favored to finish undefeated if they come out of this weekend with a win.