A rematch of last year's National final went the San Francisco Polar Bears' way this time around, as they beat home team Minneapolis Drag'N Thrust 15-12 in the US Open final.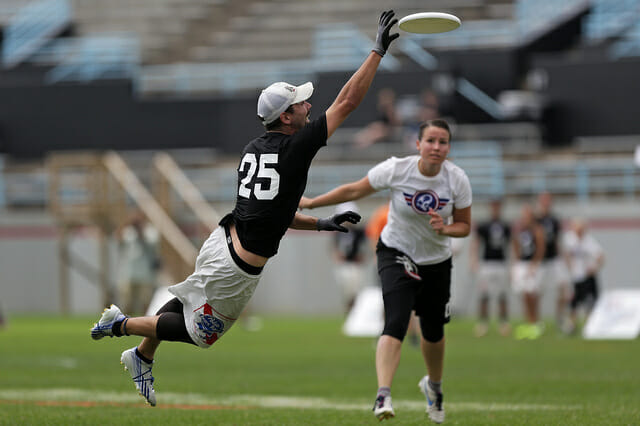 MINNEAPOLIS — In a rematch of last year's title bout at Nationals, San Francisco Polar Bears avenged their loss against the 8-0 home team Minneapolis Drag'n Thrust in the final of the U.S. Open, winning 15-12 and establishing themselves as the early frontrunners in the mixed division.
Last year's championship match, which concluded with Minneapolis as the victors, ended San Francisco's dominant streak through the second half of the 2013 season.
After taking home the Pro Flight Finale crown and cruising through a Regionals tournament stacked with strong competition, Polar Bears came into Nationals red hot. They bested every opponent they faced by at least three, even crushing some by as many as nine, until they were upset by the even hotter Drag'n Thrust, who had been primed by a handful of close wins and were hitting the peak of their focus and chemistry.
San Francisco first had a shot at revenge on Thursday in the last round of pool play. Though hanging with them at 9-8, Minneapolis eventually blew the game wide open and finished the contest on a 6-1 run.
The 15-9 loss must have only made Polar Bears that much hungrier and determined to reverse the outcome in their next meeting.
Fortunately for them, a tight 13-11 comeback win over Ames Chad Larson Experience in the semifinals Saturday, which culminated in a 3-0 run at the end to send CLX packing, afforded them just that opportunity.
Drag'n Thrust on the other hand, who went undefeated through pool play, had to battle through a messy game against Boston Wild Card in their semifinal contest.
Filled with lots of stoppages and almost 30 turnovers by the victorious Minneapolis, the game proved dizzying to watch. At 9-8 in a game to 10, however, Drag'n Thrust managed to work it upwind, call a timeout near the goal line and punch it in to advance.
The final would turn out to be similarly windy, yielding 20 turns from the winning Polar Bears, but significantly more watchable, thanks in large part to the inspired runs made by both squads.
Though not terribly clean on either side, the teams would trade to 4s.
Coming down in a junk set, San Francisco would force a turn on a swing attempt by Minneapolis near their own endzone. Polar Bears barely beat a high stall, and Eric Greenwood connected with captain An-Chi Tsou for the upwind break.
Drag'n Thrust would appear patient on the ensuing point until a huck turnover would be responded in turn by a booming outside-in flick downwind to a streaking Kevin Cocks for the second break in a row and the 6-4 lead.
Only two points later, Greg Marliave would handblock an around attempt on the sideline, before receiving the continue pass in the endzone from Adam Raty for San Francisco's third break of the half and a commanding 8-5 lead.
It seemed like a runaway contest. That is, until Minneapolis took the field again.
Drag'n Thrust Captain Austin Lien said his team realized they were running out of time during the break and got fired up as a result.
"We looked up at half and saw that we were down three breaks. Everyone got fired up by the challenge," Lien said. "It's all about getting that mentality shift."
The change was evident.
Despite receiving downwind, Polar Bears would come out flat, and Drag'n Thrust took advantage in a big way.
Four straight breaks before San Francisco could blink an eye gave Minneapolis the 9-8 lead and all the momentum.
Lien attributed much of the credit for the shift in energy to defensive adjustments that Drag'n Thrust employed, specifically that of changing their marks to try and stop Polar Bears' break throws.
Unfortunately for Minneapolis, the run triggered something within San Francisco, and they then flipped the switch.
"[The 4-0 run] gave us the kick in the butt we needed to work harder," Tsou said.
Once they stopped the bleeding at 9-9, and after a hold by Drag'n Thrust, Polar Bears stampeded through a 3-0 run of their own to take a 12-10 lead.
"Our sidelines helped us a lot," said Tsou. "They kept telling us we had the energy to grind it out and finish the point."
The teams traded some clean offensive holds before an arduous point would test the perseverance of both squads.
With Polar Bears up 13-12, a grueling point featuring plenty of exciting plays on both sides offered Drag'n Thrust their best chance at stealing the comeback victory.
Following a San Francisco huck turn, a massive backhand huck by Jay Drescher and a nice read by Jordan Hupp would give Minneapolis an opportunity on the upwind goal line. They called a timeout.
Hupp would make another great grab on a trailing throw but land just out of bounds. A San Francisco turn would give Minneapolis another shot.
A drop in the endzone on a fouled throw served as yet another missed opportunity, followed by a great throw to Hupp who, despite having plenty of time, failed to recognize his placement on the field and landed out of bounds again.
Down near the other endzone, a handful of turnovers would give Drag'n Thrust a few more chances at working it back up.
In the end, however, Polar Bears' Daniel Naruo would snag it in the endzone to end the exhaustive point and put San Francisco up 14-12.
A miscommunication on the next point would lead to an easy break for Polar Bears and the 15-12 win.
Drag'n Thrust were left wondering what could have been.
Despite the assortment of scares toward the end, Tsou found much to be proud of in San Francisco's performance on the day.
"All weekend, we had a problem having two really good halves," Tsou said. "Today, we did that."
Though the team is composed of a great many new faces with 12 new players who weren't on last year's roster, Polar Bears proved this weekend that they remain one of the elite programs in mixed.
One can expect to see a great many more good halves from the San Francisco squad this year, starting with Worlds in Lecco, Italy, next month.