Chicago Machine won the Chesapeake Invite in convincing fashion with a 13-8 win over Atlanta Chain Lightning in the final.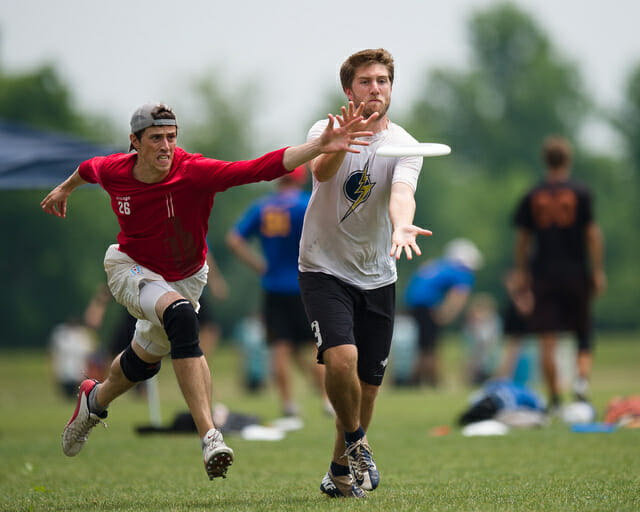 LEESBURG — Chicago Machine avenged a pool play loss to Atlanta Chain Lightning with a commanding 13-8 victory in the Chesapeake Invite final, capping an impressive weekend with a Pro-Elite Challenge title.
Machine left no questions about which team was the best on the weekend by stomping New York PoNY 13-6 in the semifinals with suffocating defense and then playing close to flawless ultimate against Chain in the final. Machine only trailed once in bracket play: when PoNY scored the first point of the semis.
AJ Nelson proved to be an impossible cover in the tall Machine offense, tallying five goals in the final along with a huge layout block to recover one of the three offensive line turnovers. Machine's O line ceded only one break, which came after a Dave Wiseman unpressured drop near midfield. They did not turn the disc over in the first half.
"We had five to seven fewer unforced turnovers [than in the previous game against Chain]," said captain Ron Kubalanza, who didn't play this weekend with a hamstring injury. "That always makes the game closer."
But it was Machine's defense that drove their success. Two early breaks to make the score 2-0, then 4-1 put the final out of reach early. Chain Lightning's deep game, which had been so effective against Machine in their pool play game, was too aggressive in the final, throwing to receivers without separation. Right out of halftime, Chain hucked into double coverage and watched what could have become a two-point deficit with a score balloon to four after Machine notched a break.
"We took a couple deep shots where it would have been a great pump, and then hit somebody under when they were looking to crash those deep looks," said Chain captain Nicky Spiva.
Machine's defense went 5/6 on break opportunities despite a deep rotation on defense. Machine also converted every point on which Chain's offense turned it over — the defensive line had just one turnover, but got it right back before putting it into the endzone.
It was a wide open game, as both teams looked early and often to the deep space. Though Chain may be known for their huck-heavy offense, it was Machine that got the better end of the up-and-down game, hitting deep cutters in stride again and again. Like they did against PoNY, Machine looked faster and significantly more polished. Much of the team has been playing together as the Chicago Wildfire in the AUDL, who will head to New York to play the Empire in the first round of the playoffs next weekend.
"I think fitness was the biggest difference in this game," said Spiva. "They looked and felt a lot faster than we did. We were chasing them a lot."
Both teams lined up and ran sprints after the game. "[This loss] is going to be a big impetus for everybody to get on the track a little bit more," said Spiva.
Despite being a few steps slow in the final, Chain Lightning had an excellent weekend and clearly separated themselves from everyone at the tournament but Machine. Captain Frank Wooten mentioned that they were glad to see Machine again and implied that the other contenders weren't at the same level. Still, they weren't satisfied with a 5-2 weekend.
"We came out here to win the tournament, and that didn't happen," said Wooten. "So, overall, not happy with the end result."
Notably, Chain was missing some key defenders for the final that had played on Saturday in their win against Machine. 6'6" deep cover David Berendes and handler defender Byron Liu — who played effectively against Bob Liu in pool play — were both out. Chicago was also missing some starters: Kubalanza as well as Neal Phelps, who captain Kevin Kelly called their best individual defender.
Both teams — and, really, every team at the tournament — were still working on determining rotations and making adjustments. Lots of rookies and bench players saw significant minutes, even in the final. Machine had 13 players with either a goal or assist.
Machine plays next at their hometown tournament, Heavyweights, on August 23-24. Chain won't play again until the Pro Flight Finale, Aug. 30-31.