USA Ultimate's Youth Club Championships -- hosted in Blaine, Minnesota -- keep growing. This weekend, 23 mens teams will compete and challenge for the YCC crown. Check out Utiworld's preview and predictions for every pool.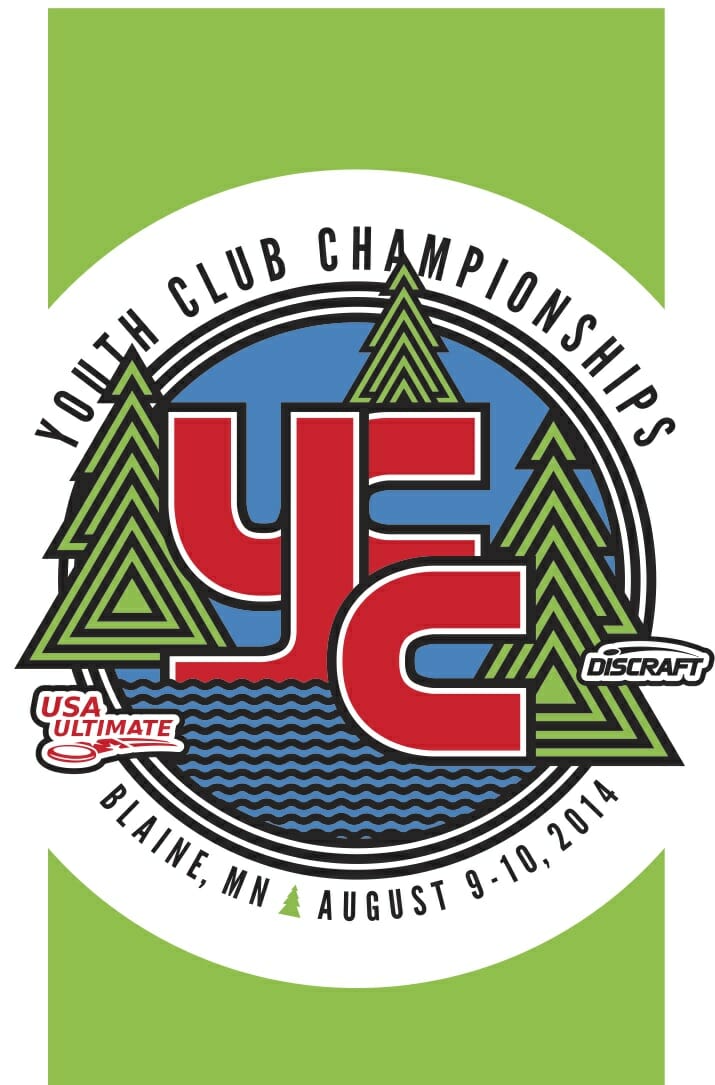 The Open Division at the Youth Club Championships (YCC) looks to be one of the most exciting and competitive fields to date. This year, the tournament hosts 23 teams in the open division compared to last year's 17. As youth ultimate grows and improves, so does this tournament.
Last year, Atlanta's ATLiens came out of nowhere to win the tournament as the tenth seed. That team dominated the competition — only losing a meaningless pool play game to Pittsburgh. Atlanta's hard defense held opponents to an average of 4.3 points per game. The ATLiens look to make another deep run, but the loss of star player John Stubbs could give them an early exit.
The Youth Club Championships are using "power pools" this year. This means that the top eight seeds are in pools A and B. It also means that every team in the power pools are guaranteed a spot in the championship bracket. The structure was necessitated by a late drop from the Charlotte U19 team.
This year's tournament will be held at the National Sports Center in Blaine, Minnesota, which is the same site as the 2014 US Open and also where YCCs themselves have been held recently. Nine players from the USA U19 National Team will be playing for various teams in this tournament.
Pool A
Atliens (Overall 1 seed)
Last year's first place finishers look to defend their title. The loss of John Stubbs, who led the team in goals and assists, certainly hurts them, but the team is not lacking in star power. Five ATLiens were invited to National Team tryouts, and three made the team. Sebastian Di Francesco, Nathan Haskell, and Anders Olson all look to play well after getting second place in Lecco.
Nathan Haskell and Sebastian DiFransesco will be playing at the University of Georgia next fall with teammates Vasily Mishin and Riley Erickson.
DEVYL (3)
After a disappointing third place finish at last year's Youth Club Championships, DEVYL looks to upset Atlanta and win Pool A. This team has a lot of top end talent and had five players invited to tryout for the U19 National Team. Andrew Lehmberg was the only player selected out of the five DEVYL's trying out, making the team as an alternate.
Andrew Lehmberg and National team invitee Saul Graves will both be playing at the University of Pittsburgh next fall.
Pittsburgh Impulse (5)
Ultimate hotbed Pittsburgh has been attending YCC since 2005. Pittsburgh placed fifth last year and is looking to improve this year. Players to watch include U19 National Team invitees Mathew Hanna and Max Shepard. Sheppard, a member of new elite Pittsburgh club team Temper, looks to lead this team to a national championship. This team lacks the star power of some of the higher seeds, but can improve on last year's performance.
Colorado Cutthroat (8)
In Colorado's eight-year history at the Youth Club Championships, they have never placed worse than tied for seventh — but they also have never placed better than second. Kerry Athey will be the player to watch on this team. They will look to copy what the University of Colorado Mamabird did and win a national championship.
Captain and U19 National Team Tryout invitee Kerry Athey will be attending the University of Oregon.
Prediction: I think Atlanta gets first in the pool; they are too talented and have the experience, having won YCC last year. DEVYL takes second in the pool based on its star players, and Pittsburgh will beat some good teams and take fifth overall again.
Pool B
Disc NW (2)
Seattle has been dominant at the Youth Club Championships since the first tournament in 2005. They hold the record for most YCC championships in the Open division with five and they hope to see a similar result this year. Seattle lost 15 players from last year's second place team, but they have reloaded and look to make another run at the championship. U19 National Team members Sam Lehman, Alexander Olson and alternate Grant Mitchell look to lead Seattle.
Seattle has two players in Alex Olson and Jack Buckner who will be attending Carleton College next year.
TriForce (4)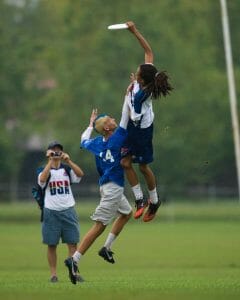 Triforce out of North Carolina is another very talented team that could win the championship. Headlining this team is the extremely athletic Terrence Mitchell, famous for a huge sky at the World Junior Ultimate Championship. Right behind Mitchell is Sol Yanuck who also played on the National Team. This is a smart, confident team that will be a tough game for anyone. With an average age of 17.4 they are one of the older teams in the tournament.
Terrence Mitchell with be attending North Carolina Central, Sol Yanuck will be attending Carleton College along with Abe Eichner and Eli Miller. This team has six players attending UNC- Chapel Hill and National Team Tryout Invitee Kevin Mateer will be attending UNC-Wilmington.
Chicago (6)
Chicago ultimate split into two teams this year, after tying for fifth at the 2013 Youth Club Championships. Illinois will now bring Chicago and Neuqua Valley to YCC as separate squads. It's unclear how this change will affect both teams. A coaching change has been made; Brodie Smith is no longer leading the team, and former Chicago Machine captains have been brought in to coach instead. I think Chicago is a mystery going into this tournament with all the major changes that have happened in the program.The main player to watch on this team is Jack Shanahan.
BUDA (7)
Boston is a mainstay in the youth ultimate scene. They thrive on having great team chemistry. Players to watch include captains Mac Hecht, Ethan Fortin, and Tannor Johnson, as well as Dylan Best and Daniel Mercer. This team will look to take advantage of its height advantage as well. BUDA looks to improve on its 2013 seventh place tie; they lost by one to eventual second place finisher Seattle in the quarterfinals last year.
Daniel Mercer will be playing at UNC-Wilmington with teammate Willie Stewart. Dylan Best will be playing at Pittsburgh.
Prediction: Seattle will take the top spot in the pool. TriForce will be too athletic for BUDA, but BUDA will beat Chicago based on smart play and team chemistry.
Pool C
Cincinnati Flying Pig (9)
Cincinnati Flying Pig barely missed the power pool and it will be a major upset if they don't win all their pool play games. Dominic Schuster, Stephen Babcock and John Paul Bort will be the players you want to watch on this team. Schuster played on the U19 National Team while Babcock and Bort were invited to tryouts. Flying Pig will live or die on the backs of these three.
Schuster, Babcock and Bort will all be attending Franciscan University next fall. Flying Pig also has a future Carleton College player in captain Eric Taylor.
Neuqua Valley Nightmare (16)
Neuqua Valley is a relative unknown coming into this tournament. This team looks to be a combination of a Chicago B Team and the Neuqua Valley High School B Team. Nine of the sixteen players on this team were rostered on Neuqua Valley's B team while two were on Neuqua's A team. If this team really is comprised of mostly B team players, then they are probably seeded too high – even at 16.
Nashville Nashvillains (17)
This is Nashville's first Youth Club Championships and they are relatively unknown. However this team does have two players who were invited to the U19 National Team tryout in Grant Given and Luke Hudgin.
Semi Michigan (23)
Semi, from Southeastern Michigan, is another relative unknown coming into this tournament. They are a small team, but eight of the twelve players are eighteen years old. So they do have some experience compared to other teams. Having twelve players at the tournament will hurt them in the depth department.
Prediction: Flying Pig takes first based on talent and experience. Nashville takes second based on top player; I think Neuqua is overseeded. It's a toss up for third and fourth between Michigan and Neuqua Valley.
Pool D
DiscNY (10)
New York VOLCANYC should be the favorite to win Pool D, but not by much. They are the most experienced team in the pool when it comes to playing in the Youth Club Championships, but they only have three eighteen year olds. With no players shining on the national level watch out for Yuval Pearl, the team's only player invited to try out for the National Team (who ended up playing with Israel's U19 team in Lecco).
Maine (15)
Maine split its mixed team into a mens team and a womens team this year for the Youth Club Championships. Last year, Maine took second in the mixed division and they're bringing the core of that team back. Maine is very athletic, and love to huck; it should be exciting to watch how the mens and women's teams perform post-split.
Indiana Inferno (18)
Indiana Inferno took 15th at last years Youth Club Championships and they are looking to do better this year. This team is more experienced and I expect them to do better than last year based on the fact they are returning a large core of players. They are also the only team in Pool D to have a player on the U19 National Team in Levi Jacobs. This team is deep and 12 of its 18 players are 18 years old; the other six are 17 years old.
Jacobs will be attending IUPUI next year with four of his teammates. 
Connecticut (22)
Connecticut Insomnia is another first year, unknown team. This team doesn't have any big name studs, but this team is one of the oldest in the tournament. However this will be the first time they will be playing together this year; team chemistry could be an issue.
Prediction: The top two spots could go to any of the top three teams. I expect some upsets to happen and see Maine taking the top spot, with Indiana losing in a close game to New York.
Pool E
Minnesota A (11)
Home team Minnesota is a huge dark horse coming into this tournament. They are seeded eleventh, but are looking to make a run for the championship. Minnesota has the largest population of youth players in the country, and has seven players from state champion Edina and four players from Central Region champions Hopkins. Watch for the Charlie Schuweiler to Alex Kunzer connection. Schuweiler, who played on the National Team, has a large assortment of throws, both right handed and left handed. Kunzer, a National Team alternate, is a former wide receiver and is one of the most athletic players in the tournament. This experienced, deep team will go as far as their team chemistry can take them as they've only been practicing a month.
Carolina Sky (14)
Carolina Sky, the North Carolina Triangle's B Team, is looking to play spoiler as the second seed in the pool. They lost all but three players from last year's team but are hoping to play well. This team is young and inexperienced, but deep. Players to watch include Sean Murray, Brian Maulucci, and Everett Dang.
South Dakota (19)
South Dakota, last year's spirit winners, are looking to improve this year after a disappointing 17th place. They have a small group of players to pull from in South Dakota, so they are pulling players from Northfield, Minnesota and Lone Peak High School in Utah. Not much has changed from last year's team besides the fact that all the returners are a year older.
DC Deadrise (21)
YCC newcomer Deadrise is looking to break seed and advance to bracket play. It's hard to get a read on this team, who is pulling players from Virginia, Maryland, and Washington DC.
Prediction: Minnesota takes the pool handedly while the bottom three battle for the second spot. In a very weak pool, I'll take South Dakota to take the second spot based purely on having YCC experience.
Pool F
Texas 2 Step (12)
Texas 2 Step is back in its second year, ready to improve on last year's fourteenth place finish. Led by U19 National team player Brett Gramann, Texas is eager to improve. Other players to watch are Reese Walters and Casey Aldridge.
Birmingham (13)
Birmingham finished right in front of Texas last year at YCCs and will look to win their pool and do better than 13th this year. This team took fourth at the ATL Classic, a tournament that the ATLiens won. Players to watch are Colby Chuck, Eric Sjostrom, and Dylan Krebs.
Minnesota B (20)
Minnesota B is a very young team looking to play spoiler. Some of these players were all-conference-caliber-players in the Minnesota Youth Ultimate league, yet didn't make the older, more experienced Minnesota A Team.
Prediction: Birmingham beats Texas in a close one. Minnesota takes third in the pool.